Posted on 11.25.08 by Widge @ 4:30 am
Comments on this: none yet.
Add your own.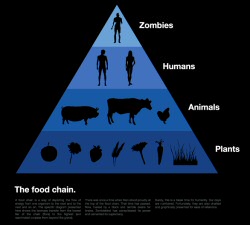 Okay, folks. It's the Threadless holiday sale. What does this mean to you, the consumer? That if you move your ass you can get some of your holiday shopping done with $5 tees. Not everything is $5, some are $10, some are $15, like the new one posted here, with zombies at the top of the food chain. There's also the vampire kit and the walrus road block reprint, which appeals to me for some reason that I can't quite explain.
I say move your ass because every time they have a sale, the inventory gets sucked dry with a quickness. So, seriously, if you want something don't wait, because you'll be crying in your espresso if you delay.
Categorized as: Headsup
Comments: None
Posted on 11.18.08 by Widge @ 4:51 am
Comments on this: none yet.
Add your own.
Trying to figure out what's coming out and what you should buy vs. rent vs. back away from slowly is not for the faint of heart. It's okay, though: I'm a professional. Here we go.
A&E returns to the Python well with The Complete Monty Python's Flying Circus Collector's Edition, a twenty-one disc monster of a set that contains every episode of Flying Circus and then, in a separate book that comes out of the box shown ("Monty Python's Everything Else"), you get, well, just that--everything else. Monty Python Live is included, as well as each of the individual members' "Personal Best" collections. Now, you might be saying, "Widge, is there anything new in here? I own the 16-Ton Megaset, why should I snag this?" As well you should ask that. The only thing that's new and never before seen are the two docus included on separate discs, "Before the Flying Circus" which attempts to show the roots of the show and then "Monty Python Conquers America," in which their storming of American shores is recounted. Beyond that, that's it. And my understanding is that the episodes have been remastered and restored and whatnot, in preparation for being released on hi-def at some point in the future. If that is accurate, then I see no indication that we're getting any version of those episodes here in lo-def. So while it's a very nice set--I especially like how it's compact, but only a completist who has no intention of upgrading to Blu-Ray at any point in the future would want to snag this. It's $89.99 on Amazon, and while the Personal Best bits are nice for what they are, I would recommend aiming instead for the 16-ton Megaset. It's priced at $57.99 and you can snag it here. I would recommend holding out for the Collector's Edition in Blu-Ray--or at least the remastered episodes. Oh, and one last bit? My favorite perk of the set is the discounted Spamalot tickets, good January 6th through March 29th. But bear in mind, the show closes January 18th. So. (Click here to buy it from Amazon.)
Categorized as: Headsup
Comments: None
Posted on 11.11.08 by Widge @ 11:53 pm
Comments on this: 2 so far.
Add your own.
There's a deluge out there. A deluge of stuff. Should you buy this stuff? I will try to navigate through the piles for you. Follow me.
If you've been reading this site for any length of time, you know that I constantly hammer on you to grab the Walt Disney Treasures releases. Just because they're Disney's answer to the Criterion Collection. And while the presentation here on Wave VIII isn't as good as we had back at the beginning, I still dig this stuff: because where else are you going to get this stuff? And they're limited editions and then if you miss one, you've got to go order them used or find them on eBay, and honestly: who needs the hassle?
Categorized as: Headsup
Comments: 2 Comments
Posted on 11.11.08 by ScottC @ 10:31 pm
Comments on this: just one.
Add your own.
There's a lot of sexy content floating about. I got these little news items and reviews and I didn't want to try to fill out whole posts on them. So I figured I'd make one big thick post. Just think of it as little nibbles to your favorite area.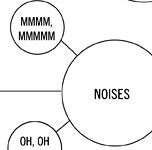 Even at the best of times, people can be at a loss for words. Especially if you're hard at work at, for example, performing sexual acts with the partner(s) of your choice. Now your mouth will be occupied doing many naughty activities, but you may feel the need to say something. This handy flow chart from Doogie Horner will help you from saying something unfortunate like "I just pooped a lot on your dog".
It has come to our attention that porn director and pioneer Gerard Damiano died on October 25th from complications resulting from a stroke he suffered in September. Damiano helped usher in the modern era of pornographic films with the legendary Deep Throat. He also helmed another classic from the Golden Age of Porn, The Devil in Miss Jones as well as The Story of Joanna, a stylish take on sadomasochism.
Categorized as: Headsup
Comments: 1 Comment
Posted on 11.10.08 by Widge @ 7:19 pm
Comments on this: none yet.
Add your own.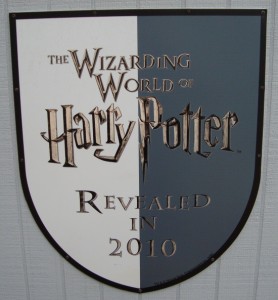 Okay, so the reason the site went a little spare for a few days is because I went to a convention in Miami, followed by a stopover for a few days in Orlando. My full report on our blitzkrieg mission to do as much Disney and Universal as we could manage shortly. But in the meantime, I thought I would share this:
As Dindrane reported last year, Harry Potter is headed for theme parkdom at Universal Orlando. So while we were there sprinting between rides, I snagged some pics. Nothing mind-shattering, mind you, so don't let your expectations get out of hand: but if there's one thing I learned on my trip, there are others who would be able to make more out of these pics than I.
First up, the shield that says 2010 is when we can expect the place to open. And if the official site is any indication, it's going to be pretty damn swank.
Categorized as: Headsup
Comments: None
Posted on 11.04.08 by Widge @ 2:16 am
Comments on this: 3 so far.
Add your own.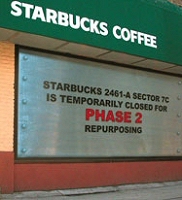 That's right, friends. Rather than deal with the divisive nature of American politics--and how lots of people will feel like they've won today, lots of other people will feel like they've lost, and most everybody on either side will, in fact, lose no matter what happens--let's take a moment and find something positive to say about Election Tuesday.
Um. Er. Ah...
FREE COFFEE AND ICE CREAM! YES, THAT's IT!
Starbucks is giving away free coffee to anybody who asks for it--since they can't give it to you for voting because it's a conspiracy against the caffeinated voting contingent in this country. And Ben and Jerry's is giving away free scoops from 5pm to 8pm.
We have to hold onto the simple good things for as long as we can. Especially if they'll melt if we don't eat them fast enough.
Categorized as: Headsup
Comments: 3 Comments
Posted on 11.03.08 by ScottC @ 2:22 pm
Comments on this: none yet.
Add your own.
Yes again Threadless presents a couple of gems that please us no end. This one is for Widge. And I think we all know why.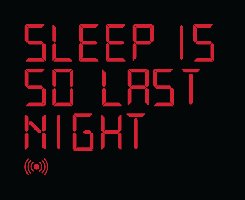 Categorized as: Headsup
Comments: None
Posted on 10.31.08 by Widge @ 10:19 am
Comments on this: none yet.
Add your own.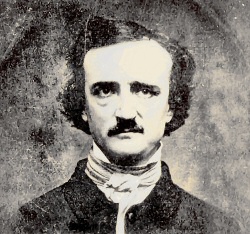 Okay, so this is nuts. I didn't realize this press release had gone out when we posted our last Poe bit, otherwise I would have included it.
Bloomsbury Auctions in New York apparently has an unpublished manuscript from Mr. Poe with "never before seen verse." It's going up for auction on December 10th. It's a version of "Irene" or "The Sleeper" and it showed up in rural Virginia. There's little point in me reiterating the press release to you, since it's just really wild and cool and all. So the full text is below for your dancing and dining pleasure.
I checked the Bloomsbury website--no updates on this and no image. I've pinged them to see if there's anything else we can share on this.
Categorized as: Headsup
Comments: None
Posted on 10.31.08 by Widge @ 4:05 am
Comments on this: just one.
Add your own.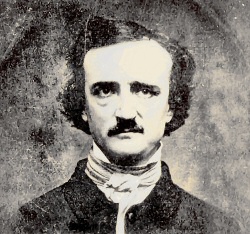 So Baltimore has a huge celebration of Edgar Allan Poe planned, since 2009 is his 200th birthday. That's on January 19th. But they're apparently having stuff all year long. You can read all about it at their official site, but here's the bit that really caught my attention:
They're apparently re-interring Poe's remains next to his grandfather, grandmother and brother Henry in Westminster cemetery on October 10th. On October 7th, the date of his death, they're having a public viewing of his body before he's laid to rest again. And then on the 10th a funeral service.
I thought I was doing good to share a cup of coffee with Poe's bust at the Poe Museum a few years back. And now I actually the opportunity to see him. On one hand, that's sorta kinda morbid as hell. On the other hand, that's still sorta kinda morbid as hell. On the third hand I keep in the drawer of my desk for just such an occasion...holy crap, I want to be there.
Categorized as: Headsup
Comments: 1 Comment
Posted on 10.28.08 by Rox @ 10:08 pm
Comments on this: none yet.
Add your own.
Widge's note: Ladies and gents, please welcome to the podium: Rox of Spazhouse, our resident artist and advocate for more lighting.
Phoenix Alchemy Lab has created a very large selection of scented wonders based on themes and holidays over the years. Such themes run from gothic to the very intriguing Neil Gaiman and Terry Pratchett perfume oils. These perfumes are oils, which which have a more concentrated scent than colognes, which are diluted with alcohol.
As the Need Coffee's Steampunk aficionado, I am happy to review two samples of Phoenix Lab's Steamworks and Research Facility perfumes. Airships, linen, velvet, gears, mechanisms, and of course goggles are some of the accoutrements to the world of steampunk. The perfume names and descriptions invoke a times and adventures that occurred in the unlimited expanse of your imagination.
First up: The Coil.
Categorized as: Headsup
Comments: None