Posted on 10.10.05 by Widge @ 6:39 am
Comments on this: none yet.
Add your own.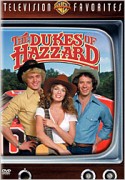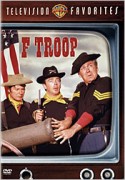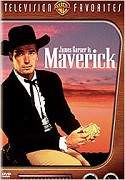 Eventually, everything will hit DVD. In fact, with high definition versions of discs around the corner (some corner, if the industry ever gets its act together), we're seeing an acceleration of titles hitting so that companies can then turn around and sell you the same content later on in an a hi-def format.
But honestly? We don't give a damn. We get the goodies and we can burn the bridge of buying it again when we come to it. Case in point: Warner Brothers has released these four titles under the "Television Favorites" banner. And while Dukes is already available in season sets (and with the episodes included here), the other three are only available here with the episodes they bring with them. Both Chico and F Troop bring six episodes a piece, while Maverick comes with three.
Bonus features? None. But for those that would whine about how season sets aren't being released for these three titles...just remember, if WB sees demand via you buying these sampler discs, they'll no doubt go back to the well.
Buy the Chico and the Man disc from Amazon.
Buy the Dukes of Hazzard disc from Amazon.
Buy the F Troop disc from Amazon.
Buy the Maverick disc from Amazon.
Categorized as: DVD and Headsup
Comments: None
Posted on 09.29.05 by Widge @ 7:41 pm
Comments on this: none yet.
Add your own.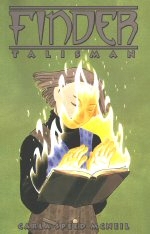 Carla Speed McNeil's Finder, published by her own Lightspeed Press, is the best comic book you're probably not reading. I've said this before, but it bears repeating. The Talisman collected trade is probably my favorite graphic novel/collection behind only From Hell. And only just behind it.
Previously, I would simply say that you could look forward to burning in hell for not giving McNeil your trade, but she's decided to take away your excuses. She announced at SPX that she's taking the comic online as a free webcomic. She'll then be taking those and collecting them into trades, since those sell nicely enough, apparently. And rightly so.
And best of all, she'll have RSS feeds. And when she does, I'll post them here. And you'll know what to do. In the meantime, go here and give her love. At the very least, read the first Talisman issue here. Then give her love. However you can make it work for you.
(more...)
Categorized as: Headsup
Comments: None
Posted on 09.27.05 by Widge @ 1:42 am
Comments on this: 2 so far.
Add your own.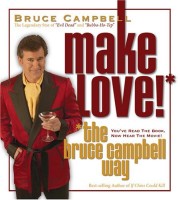 If I were you, I'd go ahead and surrender. Bruce Campbell is everywhere and the man simply cannot be stopped. He is truly a media god and you had best pledge allegiance.
First, he is an accomplished author. Following up on the success of If Chins Could Kill, now he brings you Make Love The Bruce Campbell Way. This audiobook is unique in that, rather than being a straight up reading of the work, he grabbed some friends and created an unabridged audio play, or "audio film." Brilliant. This sucker's six hours over six discs and it hails from Rykodisc. Streets today, by the way. Your waiting is at an end.
Categorized as: Headsup
Comments: 2 Comments
Posted on 09.24.05 by Widge @ 4:19 am
Comments on this: none yet.
Add your own.
Behold: Shout Factory has dropped the latest box of this genius show on your heads. And considering that it's twelve episodes across six discs, doubtless it will leave a dent. There's two episodes on each disc, so you get all the sketches you know and love, not to mention guest stars...plus each disc has a little bit of bonus goodness.
You get some Canadian PSAs, an 8mm film of a 1982 baseball game pitting the cast and writers against the crew, a featurette on a live performance Joe Flaherty did of the Sammy Maudlin Show at Second City, a talk with producer Len Stuart, retrospectives and interviews, and an episode of "The Red Fisher Show."
Categorized as: Headsup
Comments: None
Posted on 09.18.05 by Dindrane @ 3:54 am
Comments on this: none yet.
Add your own.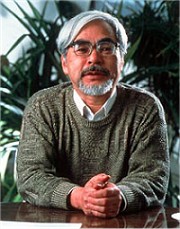 As posted on Cartoon Brew, Hayao Miyazaki has come up with the perfect way to deal with those pesky, soulless Hollywood execs:
Miyazaki taps a cigarette from a silver case. The Disney deal suits him, he explains, because he has stuck to his guns. His refusal to grant merchandising rights means that there is no chance of any Nausicaa happy meals or Spirited Away video games. Furthermore, Disney wields no creative control. There is a rumour that when Harvey Weinstein was charged with handling the US release of Princess Mononoke, Miyazaki sent him a samurai sword in the post. Attached to the blade was a stark message: "No cuts."

The director chortles. "Actually, my producer did that. Although I did go to New York to meet this man, this Harvey Weinstein, and I was bombarded with this aggressive attack, all these demands for cuts." He smiles. "I defeated him."
Of course you did, sir. You're a freaking genius.
And here's the original source in the Guardian, an article appropriately titled "A God Among Animators."
Categorized as: Headsup
Comments: None
Posted on 09.18.05 by Cosette @ 12:37 am
Comments on this: none yet.
Add your own.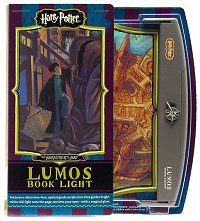 I like to read in bed--it's kind of a nightly ritual for me, and when my booklight died a sad battery-acid-induced death, I was reduced to reading by flashlight when my mate was already asleep. Very pathetic, I know. Lucky for me, Lightwedge has come out with a new booklight system that works really well. Instead of the light coming from a single bulb at the top of your page like most booklights, the Lumos light is an acrylic sheet through which an LED light passes. The cool thing about this is that the sheet illuminates the whole page, instead of just a cone of light hitting it as with a bulb.
The Lumos edition of Lightwedge's hardback-sized light has some special features as well. It comes with seven different Harry Potter-inspired switchplate covers that are interchangeable, and also features a clip-on tab to hold the light up on the top of a book. It claims to run on its four AAA batteries for forty hours, although I haven't personally used mine for that long yet. Also, the LED light is supposed to last forever, which is cool for those of us who hate having to replace those tiny booklight bulbs. Their website says that there are two light levels, but I can only seem to find one (which is fine, it's a good light level).
The only real problem I found with the Lumos light is that it can be rather cumbersome if you're trying to read in an unconventional position (I like to prop my book up sideways on the bed and read that way sometimes, which is hard to do with this light). You also have to flip the light over every time you finish a page, so it's definitely a two-handed operation. Basically, if you're reading on your lap or with the book straight in front of you, it's great. And as far as light quality goes, it's the best I've ever seen in a booklight.
Categorized as: Headsup
Comments: None
Posted on 09.14.05 by Widge @ 2:23 am
Comments on this: none yet.
Add your own.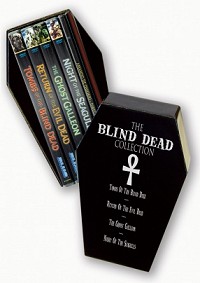 Just when I realized that Halloween is around the corner--which means it's time for another non-stop mini-horror film fest for yours truly--what should I get in the mail? Holy crap, it's the Blind Dead Collection from Blue Underground!
Okay, first up, this thing gets huge points for showing up with a sarcophagus for a case. Which is sad in another sense, because even a gigantic freaking coffin full of European horror flicks can stand up better than the latest boxed set of the Simpsons. But I digress.
This five-disc limited edition set comes with four of director Amando de Ossorio's freakiest pics, Tombs of the Blind Dead, The Return of the Evil Dead, The Ghost Galleon, and Night of the Seagulls. Who are the Blind Dead, you might well ask. The press release says it best: heretic horsemen whose eyes were burned out to prevent them from finding their way back from Hell.
Sign me up, chief. The first film comes with an alternate opening sequence, and they all come with trailers and poster and still galleries. The fifth disc covers the director, with a docu, an interview and DVD-ROM to boot. There's also a collectible forty-page booklet if all that wasn't enough. This streets September 27th. So be ready.
Categorized as: Headsup
Comments: None
Posted on 09.11.05 by Doc @ 9:49 pm
Comments on this: none yet.
Add your own.
After a few slow weeks, the game release schedule actually has a little meat on its bones this time around. While most of this week's big releases are franchise titles, there are a couple of original gems in there to keep the jaded contingent interested.
On top of the franchise heap is NHL 06, the latest in the long-running hockey franchise from EA. With a new deke system and the addition of the "skill stick" mechanic to give players greater control over the stick and puck in-game, the game seems set to reward the hardcore player by allowing a much greater variety of maneuvers. Also new is a shot targeting system that looks borrowed from last year's Gretzky NHL. The defensive AI has reportedly been vastly improved as well, with defensemen now doing a much better job cutting down shot angles and breaking up passes instead of just flattening every player you bring into the zone. With a little tweaking on the rules option screen, you can probably even get a reasonable facsimile of the NHL's newly announced rules enforcement policy for this season. As with any EA sports game, this one drops pretty much on any game-playing platform you can imagine, so at least there's something for the PC crowd this week.
Categorized as: Headsup
Comments: None
Posted on 09.10.05 by Widge @ 10:56 pm
Comments on this: just one.
Add your own.
Basically, here's the deal. Your favorite Muppet performers are going to be replaced. How do we know this? Because auditions are being held right now to that end. Jim Henson's idea was that only one performer would bring each Muppet to life...this way, you had an actual character instead of Kermit or Fozzie being brought to life by just whoever happened to be closest to the puppet at the time.
Now, of course, since Brian Henson has sold his father's legacy, it's really well within Disney's rights to do whatever the hell they want with the characters. This is not in question. However, by doing so, they run a very real risk of mismanaging the property into oblivion. Because they're taking away the one thing that still makes the Muppets special. Or, to be this bluntly in exec-speak, the one thing that still makes us want to buy product based on those characters.
Categorized as: Headsup
Comments: 1 Comment
Posted on 09.08.05 by Widge @ 4:58 pm
Comments on this: none yet.
Add your own.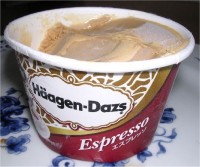 Well, we're still playing catchup on the blogosphere after DragonCon, so we missed word that this past Tuesday was National Coffee Ice Cream Day. Damnation. However, that link will take you to Morning Coffee & Afternoon Tea, where there's a plethora of links and recipes and whatnot. Like you're going to need any convincing to celebrate, late or otherwise.
(more...)
Categorized as: Headsup
Comments: None