Posted on 08.10.05 by Dindrane @ 7:15 pm
Comments on this: none yet.
Add your own.
And it pays to relieve their stress when you want to grow them on Mars. A new article from Science Daily investigates the phenomenon of anxious plants and the gases they produce to signal their problems--not unlike a teenager writing bad poetry and listening to The Cure. NASA scientists are currently trying to learn new ways to counteract this anxiety in order to create viable gardening methods for Mars.
Found via Fortean Times.
Categorized as: Headsup and Stimuli
Comments: None
Posted on 08.10.05 by Widge @ 12:54 am
Comments on this: none yet.
Add your own.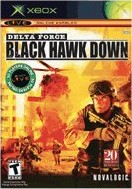 And so today we've got two versions of Delta Force: Black Hawk Down from Novalogic, taking you and putting you in the middle of the 1993 conflict in Somalia. What both versions have going for them is sixteen single player missions developed with the aid of former spec ops soldiers, multiplayer battles out the yin yang, cooperative play using split screens for up to four people, AI teammates that can recognize your voice commands, craploads of weapons that you can change-up during play and sweet in-play graphics.
The PlayStation 2 version plays across your broadband to let you involve up to 32 players. The Xbox version will allow up to 50 players. Egad. Badass military gameplay that involves you and everybody in your neighborhood too. Gotta like it.
For more info, check out the game's official site.
Buy the PS2 version from Amazon.
Buy the Xbox version from Amazon.
Categorized as: Games and Headsup
Comments: None
Posted on 08.03.05 by Widge @ 11:47 pm
Comments on this: none yet.
Add your own.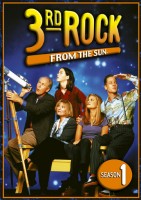 Anchor Bay is making a serious play for your coin with three TV releases: two that are high profile, one series that was before its time and nowadays would be on HBO or something and crushing people under its bootheels at the Emmys.
Let's talk about that last one first: Profit. I watched the two-hour TV movie/pilot and perhaps the first real episode, but I can tell you that the two-hour opener is worth the price of admission. Adrian Pasdar had his finest hour playing the title character in this. That character happens to be a sociopath who sees a huge corporation as the source of all the ills in his life, and he makes it his life mission to get inside and climb--and anyone who gets in his way is pretty much toast. In-credible. And evil. And fabulous. I kept seeing this promoted as "Season 1," but of course...that's all she wrote. The set comes with a crapload of interviews with cast and crew, commentaries from the creators and Pasdar, and four episodes that never were seen because the fools yanked it from the air too soon. This streets next week.
Categorized as: Headsup
Comments: None
Posted on 08.02.05 by Widge @ 10:39 pm
Comments on this: none yet.
Add your own.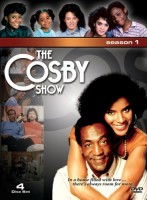 Well, it streeted today, and I know it's going to make a lot of folks happy. This first season boxed set from Urbanworks contains all twenty-four first season episodes spread over three discs. The fourth disc is for the ninety-minute TV special, "The Cosby Show: A Look Back," which aired in 2002. It's mostly a ginormous highlight reel for the entirety of the show's run, though it also comes with deleted scenes, bloopers, audition footage and the cast looking back on the show.
This show's so solid, it's hard to pick favorites. However, I'll do my best: this is the season that has Theo and Cliff discussing how much money it takes to get ahead in the world (the Monopoly bit from the pilot), Dizzy Gillespie's appearance, and Cliff's track rematch among the episodes. Nice.
Categorized as: DVD and Headsup
Comments: None
Posted on 07.29.05 by Widge @ 9:26 pm
Comments on this: none yet.
Add your own.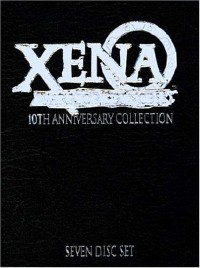 My God, has it really been ten years since Lucy Lawless came on the scene with her razor-edged metal frisbee and her war cry? We are so old.
Fans who feel the same way will be able to take solace in this, the massive seven disc 10th Anniversary boxed set from Anchor Bay. The sixteen episodes on this monstrosity were picked by the fans from the entire six-season series. Apart from features available on previous ginormous boxed sets like interviews with everybody, audio commentaries, featurettes and docus, plus fan-oriented bits that are unique to this release. The hardcore will want this.
It's available from Amazon.
Categorized as: Headsup
Comments: None
Posted on 07.27.05 by Widge @ 12:31 am
Comments on this: none yet.
Add your own.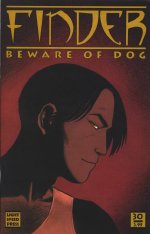 Okay, so this isn't news. I've been telling you to read Finder for a while now. Talisman is probably my favorite graphic novel/collection after From Hell.
And this isn't a recent issue I'm sporting here. But this is what creator Carla Speed McNeil (I believe it was Carla, she was in a conversation at the time, I've never met her in person and I didn't want to interrupt), put in my hand. But it's just a reminder. Read the book and love the book. Check out her website here for more info.
Categorized as: Comics and Headsup
Comments: None
Posted on 07.22.05 by Widge @ 2:02 am
Comments on this: none yet.
Add your own.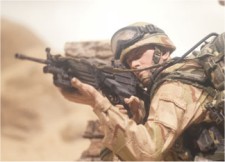 We dig McFarlane Toys. We just do. It's a combo of the badass sculpts and the fact that Todd had the testicular fortitude to tell the toy companies "Screw you, I'll do it myself." And we always respect that attitude.
Branching off into...well, branches, of the military comes Series 1 of the McFarlane's Military line. While they're concentrating on modern American fighting men right now, we can't wait to see when they start branching out and tackling other countries, other time periods.
This series has for its basic figures the Army Ranger, Navy SEAL, Marine Corps Recon Sniper, Marine Corps Recon, Army Desert Infantry, and the Air Force Special Forces Command CCT. Each of them comes with authentic everything: uniforms, gear, and weapons. Each comes with its own custom base as well.
Pretty sweet for something that is apparently (as McFarlane makes it clear on their website) done without the involvement of the DoD. For more pics, check out the site here.
Categorized as: Headsup and Toys
Comments: None
Posted on 07.20.05 by Widge @ 1:15 am
Comments on this: 3 so far.
Add your own.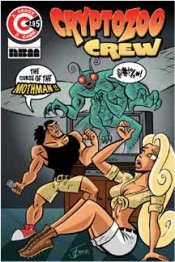 Meet Tork and Tara Darwyn. They are a husband and wife team of cryptozoologists, off tracking down such beasts as the Mothman, giant man-eating plants that put Audrey II to shame, and the Loch Ness Monster. Tork is a bit impetuous and hard-headed and Tara somehow manages to pull their collective fat out of the fire. I like it myself because it's high weirdness played for laughs, and you know how I love high weirdness. I subscribe to both Fortean Times and Skeptical Inquirer, for pity's sake. And as a bonus, there's plenty of bad pun action and monkeys. Everything goes better with monkeys.
It's amusing stuff from NBM, so for some samples and other goodness, check out the title's website here.
Categorized as: Comics and Headsup
Comments: 3 Comments
Posted on 07.17.05 by Widge @ 5:14 pm
Comments on this: none yet.
Add your own.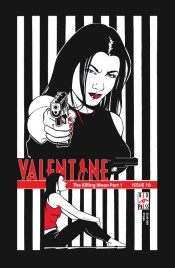 Dana Valentine is an assassin. A pretty damn good one, in fact. But there's a price for that talent: she's got big, gaping holes in her life and memories thanks to the MKULTRA program out of the CIA. So she's got a gun and she's got issues. So pissing her off is a really bad idea.
The issue we've got up here is the latest, the first part in a six-part arc that creator Daniel Cooney was debuting at the Con. Red Eye Press, the publisher of Valentine, is Daniel Cooney. And, hmmm, wonder why I would have an instant liking for anybody taking the law into their own hands and publishing themselves. Yeah, that's a puzzler.
Anyway, here's the good news: the book is snazzy. You've got guns, you've got cars being driven through houses, disembowelments and a solid story. Cooney's artwork is clean and his "shots" are nicely cinematic. I'm looking forward to going back and catching the first two trades. And you should check them out as well. Here's the Red Eye Press website for more info.
Categorized as: Comics and Headsup
Comments: None
Posted on 07.15.05 by Widge @ 5:13 am
Comments on this: just one.
Add your own.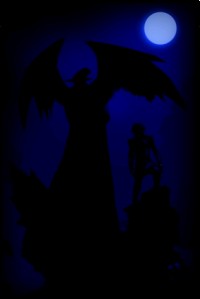 Well, here's something refreshing. A new group called Fenickx is putting out a whacked out dark fantasy book called Archaic, in which the Drakanov family gets its collective ass handed to it by an evil king as he begins to wipe the floor with eldritch races to make a huge power grab. However, a child from the family is sent to safety...but with a group of knights to protect him from the likes of crazed werewolves and other such fun, is he going to wind up as lycanthrope chow before he can set things right?
The first five issues are available here at the Fenickx booth and I've read through the first three. James S. Abrams' writing is solid enough to make a confusing world like Tzenebraum make enough sense to keep you from bleeding out the eyes, and Brett C. Marting's art is perfect for the story. Lots of glowing shit, darkness, weapons materializing out of nowhere, and magical smackdown action. More, please. They've got a teaser site up here. Check it out or if you're here, find them at Booth 305.
(more...)
Categorized as: Headsup
Comments: 1 Comment