Posted on 08.21.14 by Rob Levy @ 9:44 pm
Comments on this: none yet.
Add your own.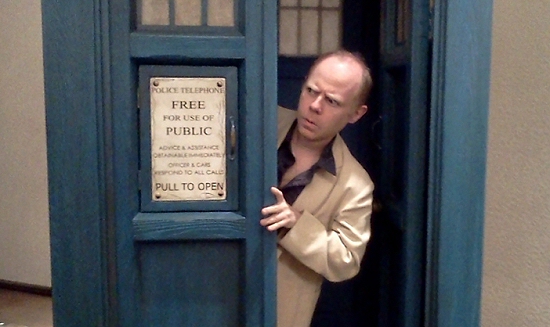 With the return of Doctor Who this weekend there is a whirlwind of excitement about the debut of Peter Capaldi and the return of the Paternoster Gang of Madame Vastra, Jenny and Strax.
Strax, a different sort of Sontaran, played by Dan Starkey, has become a fan favorite due in large part to his comedic antics and uncanny ability to misread every situation. Debuting in Season Six's "A Good Man Goes To War," Starkey's lovable Sontaran "nurse" became one of the highlights of the Matt Smith era. Subsequent appearances as Vastra and Jenny's "butler" in "The Crimson Horror," "The Snowmen" and "The Name of The Doctor" were brilliant and then brilliant again.
Categorized as: Interviews
Comments: None
Posted on 06.20.13 by Wolven @ 7:32 pm
Comments on this: none yet.
Add your own.

Orphan Black
is the story of a woman who watches herself die.
Wait, that's not quite it.
Orphan Black is the story of a mother struggling to connect with her child. Or is that two mothers? Or three? Four mothers? Two Children? Hm.
Orphan Black is the story of eight clones, living together, under one roof... No, wait, that's also wrong.
Developed for television by Graeme Manson and John Fawcett and airing on BBC America in the US, and Space in Canada, Orphan Black explores questions of choice, identity, free will, technological progress and freedom and belief, in a setting and with a cast which make every beat intense and every conversation as terse, or endearing, or incredulously aware of itself as it needs to be. Orphan Black is a story that asks the question, "What would you do if you knew, in your heart, in your mind, in your very being, that you were unique, original, you… and then found out that you weren't quite as you as you thought you were?"
I recently got the opportunity to have a talk with head writer and co-showrunner Graeme Manson about the philosophical concepts, world events, and other wells from which he draws in order to craft the arc or Orphan Black's story. Why don't we let him tell you what it's all about:
Categorized as: Interviews
Comments: None
Posted on 11.08.12 by Rob Levy @ 6:30 am
Comments on this: none yet.
Add your own.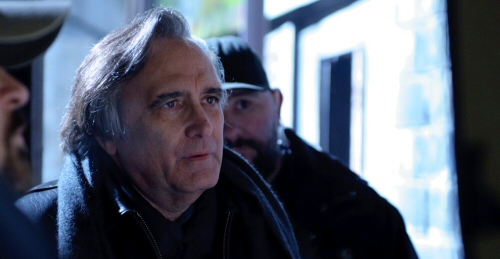 For over four decades
Joe Dante
has been one of America's most prolific film directors. Emerging from
Roger Corman
's cadre of talented filmmakers in the late 1970s, he quickly established himself as a versatile director who could work within several genres while oftentimes employing a regular group of returning actors from project to project.
His filmography is nothing short of amazing. Consisting of both cult and commercial hits including
Piranha
,
Rock n' Roll High School
,
The Howling
,
Police Squad
,
Gremlins
,
Gremlins 2
,
Innerspace
,
Looney Tunes: Back In Action
and
Matinee
. Dante also has worked in television, directing episodes of
The Twilight Zone
,
Amazing Stories
,
CSI: New York
and
Hawaii Five-O
. He also was a Creative Consultant and director for
Eerie Indiana
.
Categorized as: Interviews
Comments: None
Posted on 10.27.12 by Wolven @ 12:00 pm
Comments on this: none yet.
Add your own.
I first heard of and met Kim Boekbinder in 2008, when she and her sister Zoe appeared as the sister-cabaret duo Vermillion Lies, accompanying Amanda Palmer on her first solo US tour (That's also the year I first encountered The Builders and the Butchers, but that's another interview). Their songs were vibrant, funny, heart-wrenching, memorable, and very, very good. As I listened to all of their albums, I began to get a sense of each sister's lyrical voice and tone. Eventually, as the two moved on to their own solo careers, they developed and expanded those voices independently.
Just now, Kim has been working on a new album about space, collaborating with astronomers, physicists, and people who are just plain interested in the subject. She's been funding the project through Kickstarter, and has been providing regular updates to fans and supporters.
Recently, I got the opportunity to ask Ms. Boekbinder some questions about her work, the focus of her current project, and the shape of crowdfunding today.
Categorized as: Interviews
Comments: None
Posted on 05.19.12 by Wolven @ 3:21 pm
Comments on this: none yet.
Add your own.
A few weeks back, I hadn't slept well in days, and I came up with and posted the following:
STUPID IDEA ALERT! I'm REALLY FUCKING TIRED and so offering to creatives on my list SLEEP DEPRIVED INTERVIEWS!

Want to talk about your upcoming project release? Well cool! We might do that! Or I could spend several minutes asking you about what you see in specific directions, in the room you're in! WHO KNOWS?!

I know a few people working on things, but this goes out to Anybody on my friends list.

BUT BE AWARE BEFORE YOU SAY YES: I am VERY serious about this being completely chaotic. I'm VERY tired, w/ a shit ton to do, & need to keep my mind active.

ALTERNATELY! Anyone can interview me. About what? WHO KNOWS! I got lots going on. Same goes for my answers as my questions, so... Yeah.
Categorized as: Interviews
Comments: None
Posted on 01.03.12 by Widge @ 1:47 pm
Comments on this: none yet.
Add your own.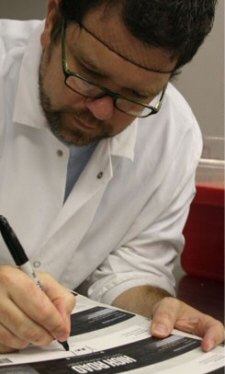 When we first stumbled across High Road Craft Ice Cream, it was almost as if they were targeting us specifically. As stated in our initial review, when you have "caffeine" in the name of your ice cream flavor, prepare for me to get engaged. And we've been hooked ever since. It's been fascinating to watch the company explode--indeed, between the first time we visited them for their factory tour a few months back to just a few weeks ago when we went back for this interview...if it hadn't been the same front of the building, you could have convinced me we were in a completely different space. They're recreating themselves to deal with their increasing demand. And good on them. Here we got the opportunity to chat with Chef Keith Schroeder about...a little bit of everything.
Widgett Walls: So you got started as an ice cream creator/supplier for restaurants only. Can you tell us about that?
Chef Keith Schroeder: We didn't have intention to raise a lot of money, so we raised $250K to get the business off the ground...[that's the equivalent of] a nice house, you know? And it was sufficient...it was sufficient to buy the machinery, hire the first couple of people, roll up your sleeves and...and make it happen. What happened was we...we kind of plateaued fast in the food service side of things--restaurants aren't doing that well as a category in the Atlanta area (or in the [rest of the] country, for that matter). When I talk to my suppliers about what's going on in food service out there, hotels that used to be really robust this time of year with tons and tons of parties are not--I imagine Papa John's is doing real well right now. This time of year, right? And so things have devolved a bit. But what we found in our discovery--that food service isn't doing as well as we would all hope it to be (I mean, my background is as a chef, so I'm sad...I'm sad that restaurants aren't doing awesome)...[but] retail's actually doing pretty well. And not only is retail doing well--our category in retail is doing incredibly well...it's up like 16% year-to-date as a category. So Haagen Dazs, Ben & Jerry's, and such--because people aren't going out to eat, so people say "Let's rent a movie on Netflix and we'll each get a pint of our favorite stuff." So that's our big discovery and learning. So our plan was: go get food service in the Southeast and do business with this-and-this distributor, and we did it! And they were like, "Now what?" "There's not enough money in that!"
Categorized as: Interviews
Comments: None
Posted on 11.15.11 by Widge @ 8:19 am
Comments on this: none yet.
Add your own.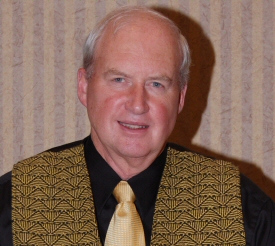 Last week I had the opportunity to meet and interview L.E. Modesitt, Jr. He's written more than fifty-five books, starting off with science fiction and then entering the fantasy genre and now at home in both. We got a chance to talk about his origins, his many occupations before becoming a full-time author, his works both past and future. Here's a sampling:
LEM:
"You are a novelist trying to cram novels into short stories. Go write a novel." And I did.
WW: So when you took his advice and wrote the novel. Indeed, if you were a novelist, trying to find six pounds into one pound bag, so to speak...Did you find it was liberating to have that room to stretch out or was it easy to get into or...what was the transition like?
LEM: (pause) It was harder than hell. Because short stories, short fiction really has to almost turn on a dime. It's one of the reasons why it's hard to write. At least why it's hard for me to write. I still do it. Novels, on the other hand...for the first three or four...oh, probably the first ten novels I wrote, what I got back from the editors was always, "You're being too cryptic. You need to expand this." And that makes sense, given where I'd come from [as a poet], because basically poetry is trying to say the most with the least number of words, short stories are trying to say a bit more but still trying to keep it very condensed, whereas with a novel, your reader wants to know pretty much everything.
Categorized as: Interviews and Podcasts
Comments: None
Posted on 10.27.11 by Widge @ 10:00 am
Comments on this: none yet.
Add your own.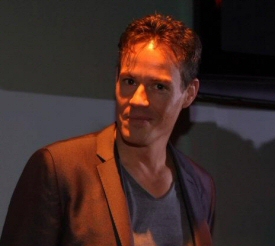 The film in question is The Dead, co-written and co-directed by The Ford Brothers, Howard J. and Jon. We've mentioned it before. It's one of the most intense zombie films I've seen in a while because it's not set in some American or Britain or anywhere-else-an urban or even suburban setting. Nope, it's set in Africa. An Africa of open country, very little in the way of shelter or resources, and desert. It's hard enough to make it there normally. Throw zombies in the mix and holy shit, you're having a bad day. But the Ford Brothers shot this thing on location in Burkina Faso and Ghana. So they had some bad days as well.
The film is pretty intense and has some of the scariest zombies I've seen in a long time. I highly recommend it for zed-fiends who want a new angle on the subgenre. The film is still rolling out across the country even now. Howard J. Ford was kind enough to chat with us on October 13th before a screening of the film in New York City. Please note: there's very little in the way of spoilers here, because I hate that, but we do make mention of some things in the film. So if you're a purist you might want to steer clear. But otherwise, enjoy.
Categorized as: Interviews
Comments: None
Posted on 05.12.11 by Rob Levy @ 1:04 am
Comments on this: 2 so far.
Add your own.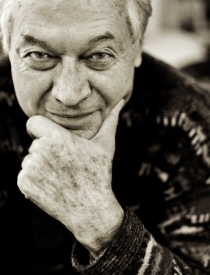 Roger Corman
is one of the few people who can truly be called an icon of cinema without any debate, argument or hesitation.
In a town full of crazy, Corman is one of the smartest and shrewdest minds in the industry. His work as a director and producer is unparalled while his films are loved by millions of fans all over the world.
For over five decades he has mentored almost every American director that matters. That list of other directors he has mentored reads like a who's who of Hollywood: Francis Ford Coppola, Martin Scorsese, Irvin Kershner, Ron Howard, James Cameron, Jonathan Demme, Peter Bogdanovich, John Sayles and Penelope Spheeris. He also has worked with several film legends including Vincent Prince, Boris Karloff and Peter Lorre. He also gave huge career breaks to Robert DeNiro, Peter Fonda, Jack Nicholson, Dennis Hopper and some guy named William Shatner.
Corman's prolific career has been brought to life in rich detail in a new documentary, Corman's World: Exploits of a Hollywood Rebel, which premiered at Sundance earlier this year.
Need Coffee's Rob Levy spoke with Corman over the phone, ahead of his appearance at the Vincentennial in St. Louis later this month. Corman candidly discussed his working relationship with Vincent Price, what he looks for in a story and brings down the house with the tale of how he made a film version of The Fantastic Four on the cheap.
Categorized as: Interviews
Comments: 2 Comments
Posted on 11.05.10 by Rob Levy @ 2:16 am
Comments on this: none yet.
Add your own.
Martina Topley-Bird
first garnered critical acclaim with her contribution to Tricky's debut,
Maxinquaye
. Her voice made the record iconic and established her as an artist with tremendous potential.
Her debut album Quixotic was nominated for Britain's Mercury Prize and was a critical success. Her second record, the Danger Mouse-produced The Blue God, saw her work with Damon Albarn and expand her standing as a siren on the rise.
With her latest record, Some Place Simple, Martina has sprinkled four new songs amongst selections from her first two albums, both of which had a great deal of difficulty getting a Stateside release.
The first thing you notice about Martina Topley-Bird is her voice. It is magnetic, dreamlike and otherworldly in its power. Her progress as a songwriter has progressed as well as she undauntingly strips bare her previous work to remold it for this album.
Rob Levy exchanged emails with the soultress about her music, writing, and all the fishes in the deep blue sea while she was on the road in Montreal touring with Massive Attack and Thievery Corporation.
Categorized as: Interviews
Comments: None