Posted on 09.07.10 by Widge @ 7:00 am
Comments on this: none yet.
Add your own.

I was fascinated when I learned that the Johnny Carson archives had been kept in a salt mine in Hutchinson, Kansas. Why a salt mine? Why Kansas? It seemed like such a strange detail to just throw out there in all of the articles about the digital conversion of the archives. So, curiosity sparked, I tracked down the company responsible: Underground Vaults. Jeff Ollenburger was nice enough to chat with me. All shall be explained.
Widgett: If you would, please, sir, state your name and occupation for the record.
Jeff Ollenburger: Okay, my name is Jeff Ollenburger. I'm the business development and sales manager for Underground Vaults and Storage.
Categorized as: Interviews
Comments: None
Posted on 07.18.10 by Rob Levy @ 8:36 pm
Comments on this: none yet.
Add your own.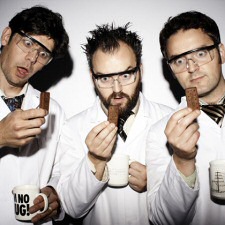 After leaving the indie pop darlings The Landspeed Loungers, Dave Cooke ventured out on his own making music as an acoustic artist known as
Being 747
. When an offer to beef up the music was offered by Steven and Paul Morricone of The Scaramanga Six,
Being 747
were reborn as a three-piece.
Being 747's first two albums, Fun & Games and Health & Safety treaded on the familiar turf of British indie pop, sprinkling it with spicy and spiky doses of clever lyrics and structured sonics.
Here's my chat with vocalist Dave Cooke and keyboardist, bassist, and vocalist Steven Morricone about the origins of both the band and their latest project, Amoeba to Zebra, a concept album about natural history and evolution inspired by the trio's passion for science and the Life on Earth book and television series popularized by David Attenborough.
Categorized as: Interviews
Comments: None
Posted on 06.24.10 by Widge @ 1:31 am
Comments on this: none yet.
Add your own.
Breck Eisner directed the recent remake of George Romero's The Crazies, which is hitting DVD and Blu-Ray next week from Anchor Bay. I was pleasantly surprised at how solid it was and found it a worthy remake to the original. We had a few minutes to chat with Mr. Eisner and sadly, we didn't get a chance to talk too much about future projects--I didn't have a chance to ask about the inevitable direct to video Crazies 2 that you know somewhere somebody's planning--but I did manage to get in one brief reference to a project towards the end. I think you would have done the same. Anyway, here we go..
Widge: One of the first things I wanted to ask you about was…we seem to be in Remake Alley when it comes to horror movies.
Breck Eisner: (chuckles)
W: They're coming at us from all directions, and although you were aware of the fact that you were stepping into George Romero's...not shoes, but director's chair, so to speak…
BE: Right. Yeah…
Categorized as: Interviews
Comments: None
Posted on 05.14.10 by Widge @ 2:16 am
Comments on this: none yet.
Add your own.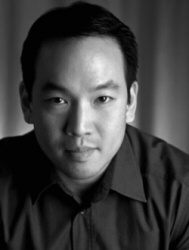 Roger Ma is the author of the excellent, informative and entertaining Zombie Combat Manual: A Guide to Fighting the Living Dead. Because let's face it, as Max Brooks himself stated, blades don't need reloading. But in a full-on zombiethon, even blades wear out. So you might have to go to town with whatever's handy. Roger and his Zombie Combat Club will keep the undead from handing you your ass. He was good enough to take time out of his schedule and chat with us. And away we go...
WIDGETT: So for the record: state your name and occupation, sir.
ROGER MA: Sure--Roger Ma, author of The Zombie Combat Manual.
W: And Roger, what do you do when you're not preparing the world for the eventual rise of the undead?
RM: I'm in marketing by profession, so I've done a lot of writing but more kind of advertising and marketing copy, so this is kind of the first foray into...I guess it could be considered nonfiction, but it depends on who you speak to.
W: It depends on how it's received.
RM: Yeah, exactly.
Categorized as: Interviews
Comments: None
Posted on 05.08.10 by Widge @ 6:36 am
Comments on this: none yet.
Add your own.
After checking out Daybreakers and learning I could chat with writer-directors Michael and Peter Spierig, I was looking forward to it. They took time out of their busy interview schedule and I managed to snag a slot with them at the end of a marathon day of interviews for them--so thanks to them for hanging in there. They warned me at the beginning that I wouldn't be able to tell them apart on the recording--so we apologize in advance if we make a wrong attribution or something.
WIDGETT: First of all, congratulations on Daybreakers. I did see it in the theater and it was a lot of fun. There's two things I think I'd like to say on behalf of people around the world: one is thank you for giving us non-sparkly vampires in a world that seems to be populated with the sparkly kind…
PETER SPIERIG: You're welcome.
MICHAEL SPIERIG: I don't know what you're talking about, by the way. Are there were sparkly ones out there?
W: I'm afraid so—it's a dangerous world out there.
[[ Continued ]]
Categorized as: Interviews
Comments: None
Posted on 04.25.10 by Rob Levy @ 9:10 pm
Comments on this: none yet.
Add your own.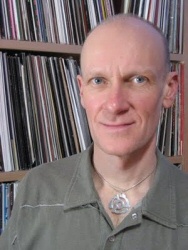 Since he was a teenager Tony Fletcher has had a serious passion for music. At first it led him to create and run a fanzine during the epicenter of the punk and post-punk movement. As an adult this passion grew, spurring a move to
New York
where he established himself as a distinguished music journalist, DJ and band manager.
In addition to writing for several publications, Fletcher has penned biographies on The Clash, Keith Moon, REM and Echo & The Bunnymen. His latest book, All Hopped Up & Ready To Go: Music From the Streets of New York 1927-77, is by far his most ambitious writing project to date.
As Fletcher bops and hops from club to club, weaving seamlessly from genre to genre, we discover not only his love for music but his excitement in discovering new sounds echoing from the past of the city he loves so much.
Written with perfect pitch and pacing All Hopped Up & Ready To Go begins with the Depression era rise of Afro Cuban jazz and Cubop and ends with the beginnings of hip-hop and the apex of the punk rock movement. The book takes the reader on a musical journey through the boroughs, bars, backstreets, nightclubs that has made New York arguably the most vibrant and significant musical city in the world.
Categorized as: Interviews
Comments: None
Posted on 01.12.10 by Widge @ 9:49 pm
Comments on this: 33 so far.
Add your own.
I was fascinated when I learned that there was an ATM on Antarctica, specifically at McMurdo Station. Just because, you know, it's not like your local ATM that they can zip a service tech out to. So to sate my curiosity, I gave a ping to Wells Fargo, who manages that ATM--and got a chance to chat with David Parker. All shall be explained.
This interview was conducted via Skype on January 5, 2010.
Widgett: David, if you could tell me first what you do for Wells Fargo….what's your official title?
David Parker: I'm a Vice President in the ATM banking division.
W: So you're the Vice President over all the ATMs globally, or how does that work?
DP: One of them. I actually run a group that includes what we call "ATM quality," which is ensuring that our ATMs are working, that they're live and operational, and that customers are having a good experience.
W: Okay, and we specifically wanted to talk about the ATM that I guess you're in charge of there in Antarctica. So, you would be in charge of the quality of the experience of those people using that ATM in Antarctica?
DP: Correct.
Categorized as: Interviews
Comments: 33 Comments
Posted on 11.18.09 by Widge @ 4:53 am
Comments on this: none yet.
Add your own.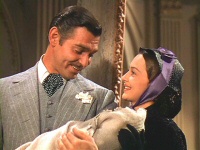 Greg Giese played two roles in Gone With the Wind, the newborn infant versions of both Bonnie Blue and Beau Wilkes. He was all of eleven days old. I got to spend a few minutes with him in Marietta during the World's Largest Virginia Reel stunt for the 70th anniversary of Gone With the Wind. A heckuva nice guy and fun to chat with.
[[ Vid this way... ]]
Categorized as: Interviews
Comments: None
Posted on 11.10.09 by Rob Levy @ 2:51 am
Comments on this: none yet.
Add your own.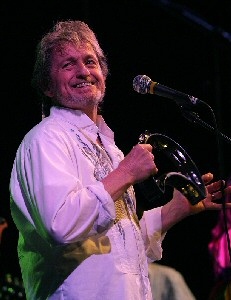 For four decades
Jon Anderson
has been most closely associated with Yes, one of Prog rock's most enduring acts. Besides his prolific work as a vocalist, Anderson has scored a ballet and performed on albums by a various array of artists including Kitaro, Mike Oldfield and Vangelis.
In the spring of 2008 Anderson endured a lengthy illness brought on by a serious asthma attack that left him unable to sing for six months. Undeterred, Anderson continued to paint and meditate while recovering.
Anderson is now singing again while performing in concert whenever possible. His creative spirit still burns as he continues to create interesting and inventive new music for old and new audiences.
Despite a busy schedule, Anderson has joined forces with several other famous musicians as an instructor at Rock 'n' Roll Fantasy Camp. The camp is an opportunity for Anderson to give back something to an entirely new generation of musicians.
Categorized as: Interviews
Comments: None
Posted on 08.31.09 by Wolven @ 1:59 am
Comments on this: none yet.
Add your own.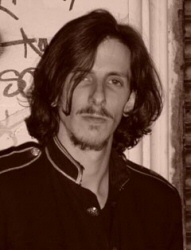 Wolven, while he works in his monstrous lab concocting his follow-up to his Magic in Comics post, offered up this archival interview he conducted with author Hal Duncan on September 14, 2006. Hal Duncan is the author of Vellum and Ink, both discussed below, and also Escape From Hell!, which came out last year.
Wolven: 1) For the record, what is your name?
HD: Hal Duncan.
W: 2) Many would say that "modern magical practice," as spoken of by people like Alan Moore, Grant Morrison, Phil Hine, and those others counting themselves as "modern magicians," rests in an idea of the manipulation of language as a way to manipulate concepts and thereby dictate perception and interaction with the world.
a. Do you think that if there is a "magic," then it rests in this kind of manipulation?
b. How would you define a magic in which you could believe?
HD: a) I think it would have to. I'm an atheist, nihilist, existentialist, materialist, when it comes down to it, albeit with an idiosyncratic view on materialism which doesn't preclude the irrational, the indefinite and the downright chaotic, so any theory of magic that requires a spiritual / material distinction, that posits it as an appeal to supernatural entities or incorporeal agents active in a "higher" realm, doesn't hold water for me. If magic were to exist, to me it would have to be a natural phenomenon.
Categorized as: Interviews
Comments: None