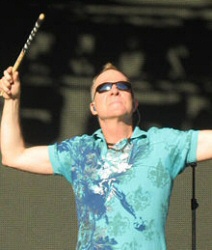 Fred Schneider is one of most iconic figures in American pop music. His work as a writer, artist, actor and vocalist for The B-52s has made him one of the most recognizable personas in contemporary music.
While The B-52s take a breather, Fred has joined another band, The Superions, with Dan Marshall and Noah Brodie. They have released several digital singles, "Totally Nude Island" and "Who Threw That Ham At Me?" and "Those Sexy Saucer Gals," while inventing a new dance called The Disco Garbage Can.
The Superions have released an EP, The Superions, and are releasing Destination…Christmas, an album of Yuletide treats featuring the lead single, "Fruitcake," on October 26th.
Rob Levy, our music minister on the scene, spoke with Schneider about The Superions, his career and The B-52s.