Posted on 05.06.11 by Jorge @ 5:32 am
Comments on this: none yet.
Add your own.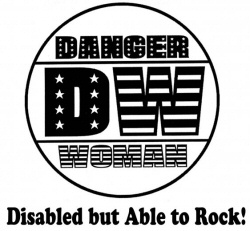 Directed by: Blake Myers
Widge's note: Please welcome Jorge de la Cova to the site, friend of our own Rob Levy. Rob mentioned this documentary in the latest Weekend Justice and, right on cue, here's Jorge with a review. Excellent timing.
How do you solve a problem like Betsy?
On the one hand, Betsy Goodrich, subject of the documentary film Disabled But Able to Rock, is a highly functional middle-aged woman living with autism and Asperger's Syndrome. On the other, Betsy lives the fantasy life of an eight-year-old, showering her love on her numerous stuffed pets. Betsy herself describes the difference between her life and the life of "normals" as a heightening of her senses. Lights and sounds on steroids.
Categorized as: Movie Reviews
Comments: None
Posted on 03.20.11 by Adarsh @ 12:44 am
Comments on this: none yet.
Add your own.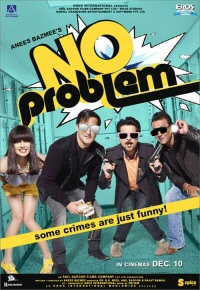 Written by: Ikram Akhtar, Nisar Akhtar & Rajeev Kaul, based on a story by Anees Bazmee
Directed by: Anees Bazmee
Starring: Anil Kapoor, Akshaye Khanna, Sanjay Dutt, Paresh Rawal, Suniel Shetty, Sushmita Sen, Kangana Ranaut
The trend of movies trying to tickle the funny bone were flocking in throughout 2010: the latest addition to the list was No Problem. Co-written and directed by Aneez Bazmee who has given Mega Hits previously in his career with comedy being his forte. The movie boasts of a huge star cast: Anil Kapoor, Akshaye Khanna, Sanjay Dutt, Paresh Rawal, Suniel Shetty, Sushmita Sen and Kangana Ranaut plus the chartbuster song "Mast Punjabi." With all these ingredients one would expect a good entertainer, but No Problem definitely has problems.
The movie has several parallel tracks, all of which get interlinked as the movie progresses. One is about two thieves, Raj (Khanna) and Yash (Dutt) who rob a village and escape to Cape Town, South Africa. Zandulal (Rawal) is from the village which has been robbed; he comes to Cape town in search of the two thieves. The other track is about a dumb-wit cop (Kapoor), whose wife Sanjana (Sen) suffers from a split personality. He holds a good rank at the police, thanks to his father-in-law, played by Shakti Kapoor, who is the head of the police force.
Categorized as: Movie Reviews
Comments: None
Posted on 01.22.11 by Adarsh @ 10:22 pm
Comments on this: none yet.
Add your own.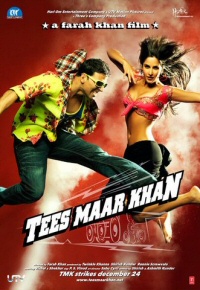 Written by: Shirish Kunder
Directed by: Farah Khan
Starring: Katrina Kaif, Anil Kappor, Akshay Kumar, Sanjay Dutt, Akshaye Khanna
Tees Maar Khan--the most awaited movie in the Hindi film industry in 2010 from the time it was announced in early January 2010--finally hits the screen. This was news for quite a few reasons: a major one being Farah Khan directing a movie without Shah Rukh Khan for the first time after their extremely successful and fruitful association previously in Main Hoon Na and Om Shanti Om. The hype and buzz surrounding Tees Maar Khan has reached unimaginable heights thanks to the sexy sultry super-hit item number "Sheila Ki Jawaani" featuring Katrina Kaif.
But now, coming to the movie itself: it's supposed to be a comical heist film. With Farah Khan known for making "Masala entertainers" and king of comedy Akshay Kumar in the lead with his lucky mascot Katrina Kaif (with hit music as well), one surely expects nothing short of a complete fun-ride. But the film blows both hot and cold.
Categorized as: Movie Reviews
Comments: None
Posted on 01.08.11 by Adarsh @ 7:14 pm
Comments on this: none yet.
Add your own.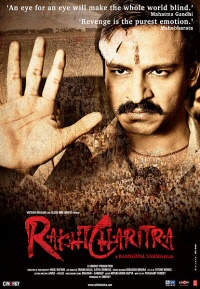 Written by: Prashant Pandey
Directed by: Ram Gopal Varma
Starring: Vivek Oberoi, Suriya, Shatrughan Sinha, Sudeep, Abhimanyu Singh, Kota Srinivasa Rao, Sushant Singh, Priyamani, Radhika Apte
Rakta Charitra, based on the life of slain communist/Naxal/political leader/cabinet minister Paritala Ravi, is the latest offering of Ram Gopal Varma. The movie is being released in two parts: first tracing his growth and the next about his fall. The subject is bloody--just going by the trailers alone, this surely is not a movie for the faint hearted. This is one of the most violent movies coming out from the Hindi film industry. The movie almost manages to meet the expectation it has set through the trailers. However, falls short of being a classic, though it had all the ingredients for it!
Rakta Charitra is the story of Pratap (Vivek Oberoi) who gets dragged into a family feud started by a political family (in Rayalaseema District of Andhra Pradesh, a south Indian state) which disowns his father and kills his father and brother. Once Pratap gets dragged into it, he transforms from being a normal college student into a bloodthirsty revenge-seeking son, who goes on a rampage, killing everyone involved in the deaths caused in his family. However, there is a big hurdle in the form of Bukka (Abhimanyu Singh), the nephew of the leader of the political family whom Pratap kills; he is now baying for Pratap's blood. Bukka is a short-tempered man, who tortures and kills people at will, abducts and rapes women and stays out of the hands of police thanks to his money and political power. Shivaji (Shatrughan Sinha) is a leading film personality who steps into politics and tries to widen his base in Rayalaseema, but gets chased out of there by Bukka. Seething in anger, Shivaji seeks the help of Pratap, and offers him a post in his cabinet, with the condition of removing Bukka. How Pratap goes about doing it and how he rises up the ranks of both rowdyism in Andhra Pradesh and Shivaji's cabinet along with the obstacles he faces is shown in this part of the story.
Categorized as: Movie Reviews
Comments: None
Posted on 12.29.10 by Adarsh @ 1:13 pm
Comments on this: none yet.
Add your own.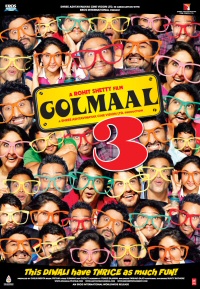 Written by: Robin Bhatt & Yunus Sajawal
Directed by: Rohit Shetty
Starring: Kareena Kapoor, Ajay Devgan, Mithun Chakraborty, Shreyas Talpade, Mukesh Tiwari, Arshad Warsi, Johnny Lever
The Golmaal team is back, after the hugely successful 1 and 2. The team is bigger--the franchise is getting bigger with each movie and so are the expectations. The first Golmaal started a trend of sorts: no-brainer clean comedy with a huge start-cast. One expects nothing but laughs from this franchise. The presence or absence of the storyline does not matter as long as they keep the laughs coming. Golmaal-3 follows on the same line as the previous two: no logic but it's a laughathon.
The movie is about the angry young man Gopal (Ajay Devgan)--who does not like fingers being pointed at him (literally), as he loses his temper and winds up breaking the fingers--his foul-mouthed girlfriend Daboo (Kareena Kapoor) and his stammering brother Laxman (Shreyas Talpade), who live with their mother Geetha (Ratha Pathak). They do petty business with a gangster Vasooli's (Mukesh Tiwari) investment. Sailing is smooth until they get competition in the form of three scheming brothers Madhav (Arshad Warsi), Laxman (Kunal Khemu) and the dumb Lucky (Tusshar Kapoor), who all live with their father Pritam (Mithun Chakraborty) also do petty business with a gangster Puppy's (Johnny Lever) investment. The two groups try to outsmart one another, resulting in losses to both of them. As fate would have it, Pritham turns out to be the long lost lover of Geetha...and they decide to get married which only adds to the chaos. How their grown up children take the decision, and what they do to outsmart one another at home, it is depicted in the most hilarious manner possible.
Categorized as: Movie Reviews
Comments: None
Posted on 11.26.10 by Adarsh @ 4:58 pm
Comments on this: none yet.
Add your own.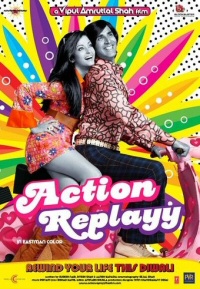 Written by: Aatish Kapadia & Suresh Nair with dialogue by Ritesh Shah
Directed by: Vipul Amrutlal Shah
Starring: Akshay Kumar, Aishwarya Rai, Aditya Roy Kapoor, Randhir Kapoor, Om Puri, Kiron Kher
The successful actor-director combination of Akshay Kumar and Vipul Shah are back with Action Replayy. This time for company they have Aishwarya Rai, who has had a line of-big-budget releases in 2010. It is supposedly based on a play, which is very much similar to Back to the Future (Part 1). The movie is supposed to be a romantic comedy with the flavor of the 70s, and with Akshay known for his comic timing one expects excellent entertainment...and the movie does not disappoint.
The story is about Bunty (Aditya Roy Kapoor), who is against the institution known as "marriage." Main reason being: he is fed up with the maritial fights between his nerdy father Kishen (Akshay Kumar) and shopoholic, dominating mother Mala (Aishwarya Rai). The main reason being: they don't love each other, but were married as their parents forced them into it. Thanks to his girlfriend's scientist-grandfather Anthony's (Randhir Kapoor) time machine, he gets to travel back in time to the 70s, the time when his parents are about to meet. How he goes about changing his nerdy father-to-be and dominating mother-to-be's lives and helps them fall in love with one another and change their future forms the main plot of the story.
Categorized as: Movie Reviews
Comments: None
Posted on 11.21.10 by Adarsh @ 12:00 am
Comments on this: none yet.
Add your own.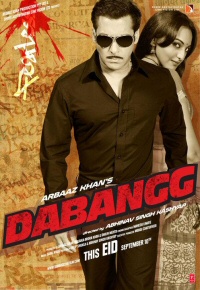 Written by: Abhinav Kashyap & Dilip Shukla
Directed by: Abhinav Kashyap
Starring: Salman Khan, Sonakshi Sinha, Tinnu Anand, Sonu Sood
The movie which has gained unimaginable hype and fame through its interesting and attractive trailer has finally arrived. The trailers did suggest that the movie was to be a complete masala action entertainer with Salman Khan as never-seen-before. Most of the movies do have excellent trailers and create a lot of buzz, but things fizz out once the movie releases due to lack of content. But now, here is a movie which exceeds all the expectations set by its trailers! It just provides a power-packed punch!
Dabangg is a story set in a village of Uttar Pradesh and revolves around the life of an inspector Chulbul Pandey (Salman Khan) who stays with his mother (Dimple Kapadia), stepfather (Vinod Khanna) and dimwit stepbrother Makkhi (Arbaaz Khan). Chulbul is a street-smart cop who robs from the local thieves and gangsters and uses that money to help out people in need (including himself). Cheddi Singh (Sonu Sood) is a corrupt leader of the ruling political party's youth division. Cheddi hates Chulbul's guts and sees him as a roadblock to continuing his illegal activities in the village--which is right, because Chulbul wants to put an end to them. What happens when their paths cross and how everyone involved in Chulbul's and Cheddi's lives get sucked into their struggle to get the better of one another forms the crux of the story.
Categorized as: Movie Reviews
Comments: None
Posted on 11.06.10 by Adarsh @ 6:54 am
Comments on this: none yet.
Add your own.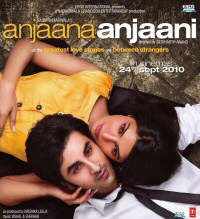 Written & Directed by: Siddharth Anand
Starring: Priyanka Chopra, Ranbir Kapoor
The successful director-actor team of Siddharth Anand and Ranbir Kapoor are back after the fun movie Bachna Ae Haseeno, with this supposedly greatest love story, Anjaana Anjaani. This time they have Priyanka Chopra for company. The expectations from it are huge given the stardom of the lead actors, the popularity of the songs, and the trailers which given an indication of another fun-filled ride. But alas, the movie disappoints.
The story is about two strangers-- Akash (Ranbir Kapoor) and Kiara (Priyanka Chopra), who meet during their unsuccessful attempt at committing suicide. They decide to help one another in ending their lives. However, again, all attempts to do so fail. During this process they become friends and end up agreeing on a pact to end their lives on New Year's Eve which is three weeks away. Next, they decide on doing all the things (wild, adventurous, stupid) which they would have wished to do before dying in the time they have left. The things they do and how that ends up affecting the current equation of friendship between them help them face the realities of life.
Categorized as: Movie Reviews
Comments: None
Posted on 10.07.10 by Adarsh @ 6:24 pm
Comments on this: none yet.
Add your own.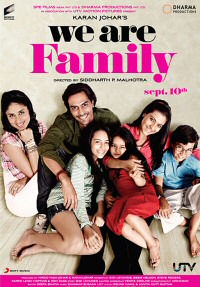 Written by: Karan Johar & Sidharth Malhotra
Directed by: Sidharth Malhotra
Starring: Kajol, Kareena Kapoor, Arjun Rampal, Nominath Ginsberg, Aachal Munjal, Diya Sonecha
We Are Family is the official Bollywood adaptation of the Hollywood movie Stepmom. I say official because the remake rights for this movie had been purchased by the production house Dharma Productions (which is a rarity in most of the production houses). The movie has Kajol, Kareena Kapoor (Asoka) and Arjun Ramphal in the leads with the child artists Nominath, Aachal and Diya supporting them. The movie delivers and it is a pretty good watch.
The story is about a divorced couple Maya (Kajol) and Aman (Arjun Ramphal) and their three kids Aleya (Aachal), Ankush (Nominath), and Anjali (Diya) living in Sydney. Aman is in love with Shreya (Kareena Kapoor) and intends to marry her. The trouble starts when he invites Shreya home to meet his kids. However, it comes as a shock to Maya as she is unaware of Aman's intentions of marrying Shreya, and a series of events ensure that the kids also end up hating Shreya. Aman is torn between his love for the kids and Shreya. A sudden turn of events results in Maya inviting Shreya into their life and family. Why Shreya gets invited into the family, what happens when the two women try to run the home in their own unique way, and what the kids and Aman go through during this process are the themes depicted through the movie.
Categorized as: Movie Reviews
Comments: None
Posted on 10.07.10 by PhantomV48 @ 12:35 am
Comments on this: just one.
Add your own.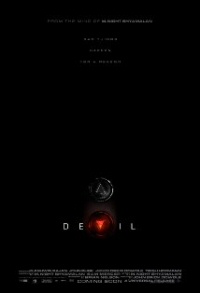 Written by: Brian Nelson, based on a story by M. Night Shyamalan
Directed by: John Erick Dowdle
Starring: Chris Messina, Bokeem Woodbine, Jenny O'Hara, Geoffrey Arend, Logan Marshall-Green, Bojana Novakovic
My Advice: Matinee for suspense-addicts. Rental for others.
Here. I want you to sit down for this. Are you sitting? Okay, good. And don't freak out. Here goes. Devil is the first in a new trilogy of M. Night Shyamalan films. Now, see, you're freaking out and I told you not to! It's not that bad. He isn't directing any of them. I'll say that again. M. Night Shyamalan is not directing, or writing the script for, any of the Night Chronicle films. There, see? It's not so bad! And it's safe to keep reading.
Categorized as: Movie Reviews
Comments: 1 Comment