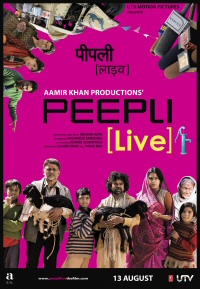 Written by: Anusha Rizvi
Directed by: Anusha Rizvi & Mahmood Farooqui
Starring: Omkar Das Manikpuri, Raghuvir Yadav, Shalini Vatsa, Farrukh Jaffar, Malaika Shenoy, Vishal Sharma, Nowaz
The call to fame of Peepli Live? The production house it's coming from: Aamir Khan Productions. Aamir, who over the recent years has become the most powerful star in Bollywood in terms of money earned by his films at the box office–and who has successfully ensured over this decade that any movie that has his name attached with it (either as an actor or producer), is a symbol of Good Quality. They have been consistently turning out to be big hits. Now, coming to Peepli Live, it is a satire on the life of Indian farmers and the pathetic state of the plans implemented by the government for their well being. Also targeted is the state of journalism in India. This continues Aamir's dream run as a producer, as this is an extremely simple but very well made film.