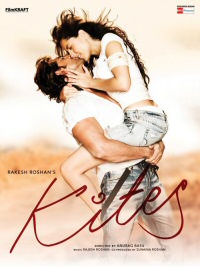 Written by: Anurag Basu, Robin Bhatt, Akarsh Khurana, and Rakesh Roshan
Directed by: Anurag Basu
Starring: Hrithik Roshan, Bárbara Mori
Kites is one of the most awaited releases of the year, generating tremendous buzz with huge hype surrounding it. It marks the return of Hrithik Roshan on the big screen after a gap of two years and ropes in Bárbara Mori (a Mexican actress) as the lead. Produced by his father's company Filmkarft, this is one of the most expensive films coming out from the Hindi film industry. The movie (as per reports) was designed to introduce Hrithik Roshan to the western world, and it has a complete English version which is being released as well. It's directed by Anurag Basu, who has already proved his mettle in Bollywood as one of the new age directors to reckon with. Now, the all-important question: does it deliver as a movie AND in showcasing Hrithik? On the movie front yes, it does partly, and the showcasing…Totally!