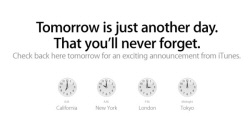 This podcast generally covers music and other transgressions. This episode is hosted by Prof. Rob Levy with Dr. J.M. Tuffley and Widgett Walls attending.
This episode's central topic is music we are thankful for. Also discussed: new releases; re-releasing Nine Inch Nails; Regina Spektor; Daft Punk; soundtracks; house and techno…a little; Kanye West; The Beatles on iTunes; Blip.fm and more.
[audio:http://www.podtrac.com/pts/redirect.mp3/www.needcoffee.com/podcasts/soundboard14.mp3]
Special thanks to Hyperbubble for our lead-in music. Show them love and buy their stuff.
Headsup: You can find the music we discuss at our Amazon Store.
(more…)