Posted on 02.09.15 by Widge @ 10:44 am
Comments on this: 3 so far.
Add your own.
Yes, I am that old. But my wrists are older. And that's because regular typing on a normal sort of keyboard makes you twist your wrists to get them in position to hit the keys. Because you bend and flex and whatnot to type, one's wrists can, at least internally, become truly FUBAR. Some people I know have had to have surgery for carpal tunnel syndrome...and I was afraid for a while there that I would need a bit of that myself. Here's how I've gotten my wrists to quit being so damn angry all the time.
First thing I did is changed my gear. I had a really sweet gaming keyboard--so I could make use of all the macros and extra programmable keys--and I hated to give it up, but my wrists demanded it. (And it was hell to get me to give up my Trackpoint keyboard in order to get the macros.) So, anyway, I started looking at alternatives.
Categorized as: Stimuli
Comments: 3 Comments
Posted on 01.31.15 by Widge @ 8:38 pm
Comments on this: just one.
Add your own.
Well, we learned this week that the Lego version of the Helicarrier will be released in March--with 2996 pieces and running about $350. I have a feeling this one is going to get snapped up like nobody's business--eBay auctions are already underway for $1000. This is basically this generation's G.I. Joe Aircraft Carrier. For parents, though, a warning: be prepared for your kids to re-enact the helicarriers from Winter Soldier. I'm just telling you now. Brickset has a number of pics. No pre-order link yet.
Rox appeared in an article and interview regarding her life and unclassified adventures--plus as much information about Spazhouse as we've seen since the VH1 Behind the Music special from 1997.
Categorized as: Stimuli
Comments: 1 Comment
Posted on 01.30.15 by Thespia @ 6:51 am
Comments on this: just one.
Add your own.
(Widge's Note: Just as the summer movie season is started to break down as more and more films get crammed in anywhere they'll fit on the schedule (with most of them showing up on Blu-Ray six weeks later anyway), so the convention season sprawls lazily over the entire year. Hell, in the Atlanta metro area I swear there's an anime con somewhere just about every damn weekend. Thespia is the most prepared executive producer one could ask for. If she doesn't have it, you probably don't need it. She gave some thought to convention preparedness--having been a source of con sanity for myself for years--and here's what she came up with. If you're a seasoned veteran of a thousand psychic wars, there's probably nothing new here--but conventions suck in newcomers all the time. Can you be too prepared? Enjoy.)
Cons can (and should) be a blast, but a lot of things can definitely dampen your mood: a dead cell phone, a torn costume, a bad headache, a lost badge...and the list goes on. Over the years, I've developed my own "preparedness kit" based on some hard-learned lessons. (One of the most important of these is that everything you choose to include has three costs: money, space, and weight.) The following is a list of what I have found to be the most economical in all three areas while still covering the essentials. It may look like a lot on paper, but if you pack it right, it should fit into a small bag (about the size of a lunchbox).
Categorized as: Stimuli
Comments: 1 Comment
Posted on 01.20.15 by ScottC @ 4:00 am
Comments on this: just one.
Add your own.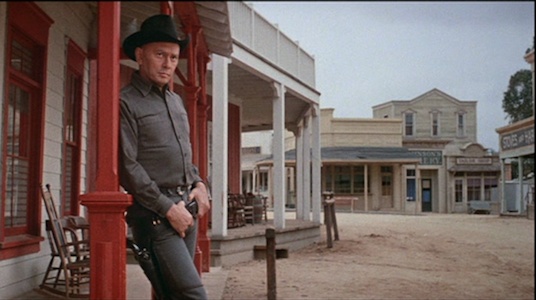 As most of you are aware, Game of Thrones will be starting its fifth season on HBO. Usually this means a series' expenses start growing ever faster and the quality is in danger of sliding downward. Now, Thrones may be the exception that proves the rule, but HBO is looking for the next big hour-long series. Like everything else in Hollywood, it will be based on an existing property. And since this is HBO, it should have plenty of sex and violence. So, the network is taking the over 40-year-old sci-fi classic Westworld and turning it into a series. I imagine many of you out there only have a vague idea of what Westworld is, so I thought I give you a brief primer on the film (yes, this is one case where we're simply not telling you to ask your parents) and what HBO could perhaps do to make it a continuing series.
Categorized as: Stimuli
Comments: 1 Comment
Posted on 12.18.14 by Widge @ 3:58 pm
Comments on this: none yet.
Add your own.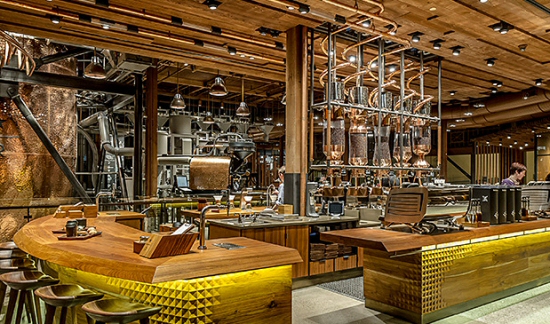 Okay, not technically an actual theme park. But goddamn, it sure looks like it. And I know some people dislike Starbucks for varied and sundry reasons. Me, I'm an equal opportunity coffee drinker. I just need the liquid sleep and 99.8% of the time, I don't care where it comes from.
Let's set all that aside for just a moment. Forget for a second that this is about Starbucks at all. Let's just focus on the coffee aspect of the following setup. In fact, do me this favor. Start the first video...and watch the second video muted. There may be ads preceding one or both, we can't do anything about that...but just...do this experiment. Sync them up as best you can and then see if it doesn't make you a little misty-eyed. If you don't, then I must question your true love of coffee.
Categorized as: Stimuli
Comments: None
Posted on 12.06.14 by Widge @ 11:09 am
Comments on this: none yet.
Add your own.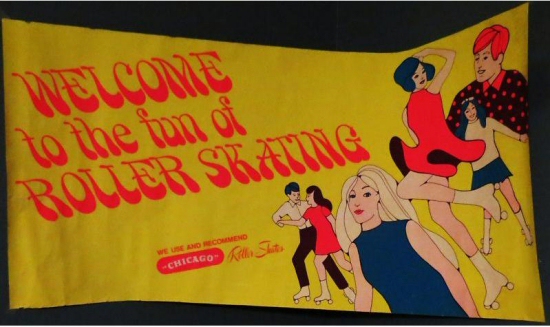 Apologies for the recent madness. I've been moving the site to a new server set up. We have close to 200 GB of images, podcasts, and other miscellaneous content that had to be ferried from one place to another. I have a degree in English. If you are thinking to yourself that this sounds like a great pitch for a new, darkly humorous sitcom...then you are correct.
I will spare you the full details of the reasons for the move, but suffice it to say that the old home was very old. and one of the things that you run into with an old server home are people trying to break in. if you run a WordPress site, I urge you to install some form of Limit Logins Plugin...because as I learned from one of Tim Ferriss' posts, native WordPress will let you try passwords all day long, making a brute force entry quite easy. And once you set this up and get notifications or view the log, I think you'll be amazed some bot hasn't already hacked you.
Also, on the new server, WordPress actually comes up without me having to go get a sandwich while I wait. So that's cool. Plus: that new server smell!
Some things may still be broken: like the ability to play podcasts direct on the site, since the plugin we were using for that is no longer kosher. If you spot something broken, feel free to email me or leave a comment here and I will add it to the list.
Anyway, enough with boring webmastery bits. We will shortly be back with slightly more regular (from a scheduling sense) content, and a new look for the site which will incorporate a mobile version. And then hopefully some ways to make the site more sustainable so I can afford to work on it more often.
Categorized as: Stimuli
Comments: None
Posted on 10.27.14 by Wolven @ 3:38 am
Comments on this: none yet.
Add your own.
Two big things happened this past week. One was quiet, but the other was very loud.
The quiet and more recent one was Marvel's Epicly Smooth rollout of the Age Of Ultron Trailer--yes, smooth, even in the face of it being leaked. Pretty much instantaneously, they popped it on their main YouTube page and all commercials for the upcoming Agents Of SHIELD episode with which the trailer was supposed to premiere went from "world premiere" to "world BROADCAST premiere" like it was Nothing. As I've said before, there's probably a "Leak Team" in most big studios these days, and if there isn't, there SHOULD be.
Categorized as: Stimuli
Comments: None
Posted on 10.20.14 by Widge @ 2:38 am
Comments on this: 3 so far.
Add your own.
NOTE: What follows involves serious spoilers if you have not already seen Episode 501 of The Walking Dead, "No Sanctuary." If you have, no worries about 502. I'm behind on everything. However, also spoilers for Captain America: The Winter Soldier, which if you haven't seen...then there's no hope for you and you should probably just read on.
Season Four--which the more I think about it, the more I enjoy it--left me rather worried. Not worried about the fates of the characters--I've been reading the comic since Day One, so I know "Don't Get Fucking Attached" is the rule of the day. (Granted, that's what Doc said to warn me about getting involved in A Song of Ice and Fire, but it applies.) No, I was worried about what was going to happen, since a descent into cannibal-fueled torture porn wasn't going to be my favorite thing in the world. Anyone who's been reading this site for a while knows that I find the torture porn subgenre to be reprehensible and downright lazy, invented by cinematographers who wanted to avoid chasing victims through the woods and thought a victim bound to a chair would simply be easier to light and shoot. And having practically everybody locked in a boxcar surrounded by a freaking army of heavily armed pretty-much-guaranteed-they're cannibals didn't seem to leave much room for anything else.
Categorized as: Stimuli
Comments: 3 Comments
Posted on 10.17.14 by Widge @ 11:18 pm
Comments on this: none yet.
Add your own.
So for movie night #18, we go back to the world of made for TV horror for 1967's Creature of Destruction. It's from producer-director Larry Buchanan, who those in the know about gloriously schlocky horror flicks will recognize as the man who brought you Mars Needs Women and It's Alive!. It's what happens when you hypnotize someone into thinking they're a prehistoric sea-spawned ancestor. In other words...just say no, kids. Enjoy.
Categorized as: 32 Days of Halloween and Stimuli
Comments: None
Posted on 09.29.14 by Widge @ 3:41 pm
Comments on this: none yet.
Add your own.
So it's like this. I would say we met a new hero while at the Need Coffee Fun Fest at DragonCon this year, but frankly, you were all heroes. However. One among you was knighted by not only the Queen of the Fun Fest but she is also Empress of the Daleks--both titles look very impressive on a C.V., by the way.
When I first conceived the notion of a Bad Poetry Slam contest, incorporating bongo playing, interpretative dance and, yes, bad poetry...I had no idea that by giving the topic of "Krispy Kreme" to a trio of enterprising maniacs we would be graced with such...well, Art.
Categorized as: Stimuli
Comments: None