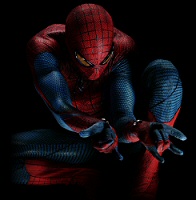 The Pareto Principle states that 80% of the worthwhile pop culture news can be snagged by only taking in 20% of the volume of regular pop culture news coverage. (Or something like that.) This post is designed for anyone who wants pop culture news in digestible bits, all in one shot, so that person can take a few minutes to get up to speed and then get on with their lives. Enjoy.
Amazing Spider-Man has a release date: July 3, 2012. And while a previous picture showed a slightly battered Andrew Garfield in most of the Spidey suit, the official site now has a pic that's supposed to be Garfield in full gear. I dunno…works for me. Click through to the official site to embiggen it.
Dominic Cooper has signed on to play Henry, the friendly neighborhood vampire, in Abraham Lincoln, Vampire Hunter. Source.
Atlas Shrugged Part 1 has a trailer and a release date of April 15th. It looks, however, frighteningly good. Whatever it turns out to be, I imagine it has a screenwriter that didn't blatantly misread the original novel. I won't mention any names, because that would be indiscreet. Randall Wallace. Trailer comes after the break.