Posted on 06.11.09 by Widge @ 1:50 pm
Comments on this: 3 so far.
Add your own.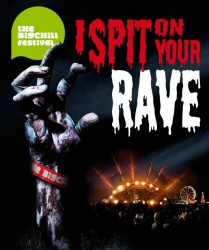 I Spit on Your Rave has the best movie title you will hear this week. The concept is it's 2018 and six years since a zombie virus unleashed upon the 2012 Olympics and mankind has gone the way of the dodo and good Marvel Comics. So out of boredom, a zombie music festival is born. This sounds so mental, I am filled with glee just telling you about it. Apparently, they're filming this at the Big Chill Festival with production starting on August 6th and they want everybody to show up and play a zombie extra. Not only do they get their movie, but they get the world record for "Most Amount of Zombies Captured on Camera". Is there anything about this film to not respect? Not at present. Here's their official site for more info. Source.
The Coraline musical is now running through July 5th. It seems to have pleased The Neil, so my hope is that a DVD of the performance will be on sale for those of us who don't have a prayer of seeing it in NYC before it closes. Source.
Categorized as: Stuff You Need to Know
Comments: 3 Comments
Posted on 06.03.09 by Widge @ 2:33 am
Comments on this: 4 so far.
Add your own.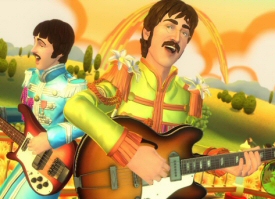 So it's E3 time again, and these bastards are doing everything in their power to break down my will and make me buy a gaming system. As I mentioned before, they struck a low blow by partnering with The Beatles to create a version of Rock Band that's all their own. Then, knowing I was already weakened, they put out a trailer like this:

Direct link for the feedreaders.

See what I mean? Total. Bastards. You can pre-order Beatles Rock Band here. I am still holding out.

Not helping is the fact that the zombie games just get more and more incredible looking. Be warned, though, the next trailer is...well, it's got zombies. So you can pretty much guess its nature.
Categorized as: Stuff You Need to Know
Comments: 4 Comments
Posted on 05.10.09 by Widge @ 11:37 pm
Comments on this: none yet.
Add your own.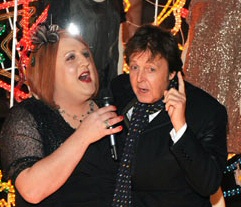 Because there's a lot of pop culture stuff out there. And you don't need an entire website to cover it minute by minute. It'll still be there when we get there. Trust us.
Peter Kay was in Los Angeles to snag an award and said he had been asked to make an American version of Britain's Got the Pop Factor and Possibly a New Celebrity Jesus Christ Soapstar Superstar Strictly on Ice. If you have seen it--and if you haven't, you should by *cough* any means necessary--then you, like me, know that it would never, ever work in America. We're still angsting over a tit from five years ago--I doubt if the wildly un-PC show would work even on cable. Kay seems not to be crazy about the idea for other reasons--he says he has no desire to "crack America"--but the show works in the UK and shouldn't be imported. It just can't translate. America's just not mature enough for that level of genius. Source. (To get a bit of Peter Kay as Geraldine McQueen, we posted her Christmas single here.)
Technically, this Day The Earth Stood Still shirt isn't something you need to know, but it's nice to know about if you saw the remake and felt dirty afterwards and feel like you need to do something to make amends.
Categorized as: Stuff You Need to Know
Comments: None
Posted on 05.04.09 by Widge @ 5:45 pm
Comments on this: none yet.
Add your own.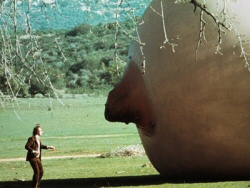 Pop culture news you can actually use. Or if not use, then at least read without feeling like you just lost five minutes of your life. Because those five minutes...they do add up.
The Supreme Court, because it didn't have anything else better to do, has ordered a federal appeals court to take another look at the thrown-out $550K fine against CBS for the 2004 Janet Jackson wardrobe malfunction.

Let me repeat that in simple terms: in the midst of an international recession and a flu hysteria pandemic, the U.S. government wants to re-open a case about a tit appearing on national television...five years ago. Dear rest of the world: please mock us for this. Because, honestly, we deserve it. What the fuck. Source.
Battlestar Galactica: The Complete Series is coming out July 28th. It's big. Twenty-five DVDs or Twenty Blu-Rays. You can pre-order the DVD version here or the Blu-Ray version here.
Categorized as: Stuff You Need to Know
Comments: None
Posted on 05.02.09 by Widge @ 5:43 am
Comments on this: just one.
Add your own.
Many sites want you to spend all day reading their regurgitated press releases. We would never dream of wasting your time like that. But like this--this is fair game.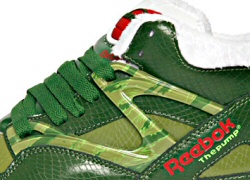 In a bit of retro madness/genius, Reebok is putting out shoes based on the movie Gremlins, which I'm sad to say, turns 25 this year. Shown is a snippet of the Gremlin shoe. There's also a Mogwai shoe. No idea where you can get a pair for yourself, though. Source.
Is it possible? Can it be? After years of lamenting over the loss of funnyman Chevy Chase--he's in a pilot for NBC that looks like it'll get picked up for series? It's called Community and I fear it will either be brilliant and last all of four episodes or be shit and last for all of four seasons. We shall see.
Death Note is going to be remade into a live-action film by Warner Brothers, or at least the first three volumes of the manga. The scribes who did Tarsem's aforementioned War of the Gods are on board. Source.
Categorized as: Stuff You Need to Know
Comments: 1 Comment
Posted on 04.15.09 by Widge @ 3:48 am
Comments on this: none yet.
Add your own.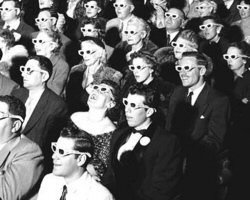 Amazon has the upcoming 2-Blu-Ray/1 DVD combo of Snow White (which we had previously mentioned) available for pre-order. You can pre-order that here or the straight-up 2-DVD version here. They're out October 6th and November 24th respectively. Also, Spaceballs hits Blu-Ray on June 16th. You can pre-order yours here.
AMG wants to be the first 3-D network. The gist of what you need to know is that AMG TV is being bought and the folks behind it want to build up enough of a library that they can have "the first full-time 3-D network in the country." How do you get the tech to have 3-D at home, so we can watch cool shit like Coraline and Monsters vs. Aliens and such? "two solutions: an add-on box for cable and satellite subscribers; and an 'enhancement' that will turn any HD television into a 3-D TV for about $50, including the cost of glasses." Ah, but the coolness is tempered: they call it a 5 on a scale of 1-10 for quality, but it beats what we have right now for home options. Man, the 3-D sci-fi and horror festivals alone might be worth the price of admission for that thing, I don't know about you guys... Source.
Categorized as: Stuff You Need to Know
Comments: None