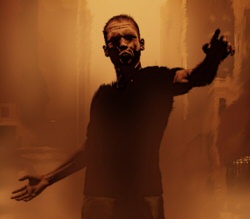 There's lots going on in the world of pop culture. Even on weekends. So while you're getting ready for your work week, fret not about this nonsense. We got it covered.
ThinkGeek's tauntaun sleeping bags are back in stock. So if you want to snag one, do that thing.
Threadless is having a $9 sale tomorrow only. So take advantage if you didn't before.
Night of the Living Dead: Origins is "a 3D CGI re-imagining" of the original film. Which makes it the third remake thus far. Oy. Bill Moseley (Otis from the Rob Zombie films) is voicing Johnnie (the role he had in the 1990 remake, which was directed by Tom Savini). Joe Pilato is on board to voice Harry–and yes, that's the same Pilato who was Capt. Rhodes in Day of the Dead (although the article mentions him being in Dawn–which he was, sure, but mostly in a cut scene if I remember correctly–I've seen all the versions way too many times to remember). The helmer, first-timer Zebediah de Soto, says "It's going to be the first zombie movie played on a epic scale. This is the Empire of the Sun of zombie films." Well, I can say this: at least Zemeckis isn't doing it mo-cap. We can be thankful for that much.

And you might well ask–wasn't somebody already doing an animated version of the film? Yes, but the filmmaker's blog hasn't had a related update since. So.