Posted on 07.26.09 by Widge @ 6:23 am
Comments on this: none yet.
Add your own.
San Diego Comic-Con happened this weekend. We, like you, are trying to pick up the pieces. We'll break out the Shop-Vac and let you see the results. You just relax and have an espresso.
So here's the trailer from Comic-Con for the upcoming Starz mini, Spartacus: Blood and Sand (which we warned you about previously). Which is cool, as long as you understand it appears to be Zack Snyder's Gladiator.
Categorized as: Stuff You Need to Know
Comments: None
Posted on 07.24.09 by Widge @ 5:40 pm
Comments on this: none yet.
Add your own.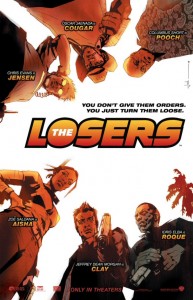 Don't panic because San Diego is going to be throwing news at your head. We'll try our best to run some interference. It's a madhouse out there--trust us, we've been before--but there's no reason for it to spread like something out of Romero's The Crazies. Enjoy.
Don't miss this: Amazon's deal of the day is The Definitive Collection of the original Twilight Zone on DVD. For $105.99, which is 65% off. It is worth it, especially at this reduced price. Trust me. It's the whole freaking series plus bonus bits. Get yours here.
So The Losers has started production. And here's the poster from original series artist Jock--click to embiggen. Jock and original scribe Andy Diggle have stated they've seen a still of Oscar Jaenada as Cougar--but to my knowledge that's not online anywhere. (Would love to see it, though, so feel free to correct me if I'm wrong.) If you haven't read the comics, you should. And if you haven't told me what dark arts I have to perform to get these guys to do The Authority, then you're falling down on the job. Get on it. Found at Comic Book Resources via the creators' respective Twitters...get them here: Jock and Andy Diggle.
The first ground test firing of the Ares I solid rocket booster is happening August 25th. For those not keeping score, Ares is what will replace the Space Shuttle. Last I heard it was 2015 when Ares was expected to hit, and that sounds far away to say until you realize that it's, you know, not. Ah well. Source.
Categorized as: Stuff You Need to Know
Comments: None
Posted on 07.11.09 by Widge @ 7:44 pm
Comments on this: just one.
Add your own.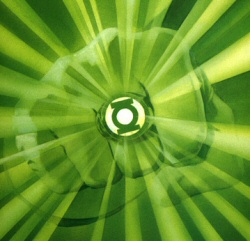 Feeling overwhelmed with pop culture news? Don't worry. It happens to us all the time and we're professionals. Don't worry. We've got this. Enjoy.
So we've got a Green Lantern. Ryan Reynolds has come on board with production starting January and a 2011 release date. This is what we call DC/Warner Brothers coming to their senses after the "brilliant" idea to have Jack Black play the role. I think Jack Black rocks as much as the next webmaster--but seriously, Ryan Reynolds is Hal Jordan. Jack Black is G'nort. You follow? Anyway, DC/WB wants an Iron Man out of this. Translation: people don't know this character as well as our Bigass Tentpole Characters (BTC) but if we do this right we can have a killer franchise. DC/WB, free advice--remember the 300 Trailer Test. Source.
So the District 9 trailer is making lots of people talk. With good reason. It looks freaking fantastic.
Categorized as: Stuff You Need to Know
Comments: 1 Comment
Posted on 07.07.09 by Widge @ 11:52 am
Comments on this: none yet.
Add your own.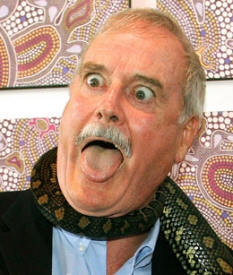 To paraphrase Lewis Carroll, we give you the stuff you need to know. When we get to the end of that, we stop. Enjoy.
It's an almost Monty Python reunion as everybody but John Cleese is on hand for when Not The Messiah (He's A Very Naughty Boy) hits Europe at last on October 23rd. It's for the 40th Anniversary of the show, and the fact that only a six-part docu is going to be aired and then hit DVD doesn't make sense--in the sense that that's all they're going to do. Blu-Ray release or...what? Because it's not like them to not try and make more money. Not that I necessarily blame them. I'm just saying. Source. Rob gave us the headsup.
Considering how much shit Tony Jaa's Ong Bak 2 went through to get made, I'm even more impressed with the trailer. Because it makes it look good.

Seriously, the dude just ran up an elephant's face to flip-kick a guy. How cool is that? Found at Twitch, where they have the French trailer in which Jaa fights a crocodile. Nice. Direct link for the feedreaders. Headsup via Unidentified Madman.
Categorized as: Stuff You Need to Know
Comments: None
Posted on 06.11.09 by Widge @ 1:50 pm
Comments on this: 3 so far.
Add your own.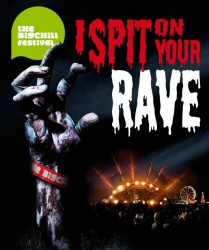 I Spit on Your Rave has the best movie title you will hear this week. The concept is it's 2018 and six years since a zombie virus unleashed upon the 2012 Olympics and mankind has gone the way of the dodo and good Marvel Comics. So out of boredom, a zombie music festival is born. This sounds so mental, I am filled with glee just telling you about it. Apparently, they're filming this at the Big Chill Festival with production starting on August 6th and they want everybody to show up and play a zombie extra. Not only do they get their movie, but they get the world record for "Most Amount of Zombies Captured on Camera". Is there anything about this film to not respect? Not at present. Here's their official site for more info. Source.
The Coraline musical is now running through July 5th. It seems to have pleased The Neil, so my hope is that a DVD of the performance will be on sale for those of us who don't have a prayer of seeing it in NYC before it closes. Source.
Categorized as: Stuff You Need to Know
Comments: 3 Comments
Posted on 06.03.09 by Widge @ 2:33 am
Comments on this: 4 so far.
Add your own.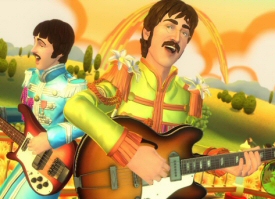 So it's E3 time again, and these bastards are doing everything in their power to break down my will and make me buy a gaming system. As I mentioned before, they struck a low blow by partnering with The Beatles to create a version of Rock Band that's all their own. Then, knowing I was already weakened, they put out a trailer like this:

Direct link for the feedreaders.

See what I mean? Total. Bastards. You can pre-order Beatles Rock Band here. I am still holding out.

Not helping is the fact that the zombie games just get more and more incredible looking. Be warned, though, the next trailer is...well, it's got zombies. So you can pretty much guess its nature.
Categorized as: Stuff You Need to Know
Comments: 4 Comments
Posted on 05.10.09 by Widge @ 11:37 pm
Comments on this: none yet.
Add your own.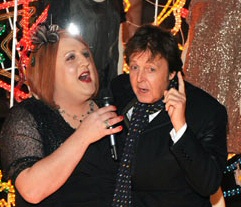 Because there's a lot of pop culture stuff out there. And you don't need an entire website to cover it minute by minute. It'll still be there when we get there. Trust us.
Peter Kay was in Los Angeles to snag an award and said he had been asked to make an American version of Britain's Got the Pop Factor and Possibly a New Celebrity Jesus Christ Soapstar Superstar Strictly on Ice. If you have seen it--and if you haven't, you should by *cough* any means necessary--then you, like me, know that it would never, ever work in America. We're still angsting over a tit from five years ago--I doubt if the wildly un-PC show would work even on cable. Kay seems not to be crazy about the idea for other reasons--he says he has no desire to "crack America"--but the show works in the UK and shouldn't be imported. It just can't translate. America's just not mature enough for that level of genius. Source. (To get a bit of Peter Kay as Geraldine McQueen, we posted her Christmas single here.)
Technically, this Day The Earth Stood Still shirt isn't something you need to know, but it's nice to know about if you saw the remake and felt dirty afterwards and feel like you need to do something to make amends.
Categorized as: Stuff You Need to Know
Comments: None
Posted on 05.04.09 by Widge @ 5:45 pm
Comments on this: none yet.
Add your own.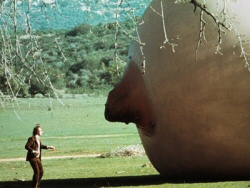 Pop culture news you can actually use. Or if not use, then at least read without feeling like you just lost five minutes of your life. Because those five minutes...they do add up.
The Supreme Court, because it didn't have anything else better to do, has ordered a federal appeals court to take another look at the thrown-out $550K fine against CBS for the 2004 Janet Jackson wardrobe malfunction.

Let me repeat that in simple terms: in the midst of an international recession and a flu hysteria pandemic, the U.S. government wants to re-open a case about a tit appearing on national television...five years ago. Dear rest of the world: please mock us for this. Because, honestly, we deserve it. What the fuck. Source.
Battlestar Galactica: The Complete Series is coming out July 28th. It's big. Twenty-five DVDs or Twenty Blu-Rays. You can pre-order the DVD version here or the Blu-Ray version here.
Categorized as: Stuff You Need to Know
Comments: None