Posted on 10.22.13 by Widge @ 11:00 pm
Day 23 has been about those evil little rascals. More on that in a moment. But first, we hit a pair of radio wonders. The first is television, yes, but it's from 1946--Lights Out began as a radio series in 1934. Eventually four specials were aired on television. Here's one of the stories: "Cat's Cradle." If you think your "host" is a bit over the top, then you haven't seen anything yet. Stand by.
Posted on 10.21.13 by Widge @ 10:45 pm
Well, Day 22 has traditionally been set aside for your friend and mine, Peter Cushing. So we'll begin with a small bit of promotional film--only a fragment, alas--but I think tabletop gamers everywhere will be rather excited to see it.
Posted on 10.20.13 by Widge @ 11:00 pm
Well, since we did a Lugosi serial last year about this time (The Phantom Creeps), it only makes sense to go back to the serial well and bring you something else along those lines. More on that in a moment.
First up, I think many of our readers will know about the Roald Dahl-led British series, Tales of the Unexpected. I did not realize, however, that a similar show ran for fourteen episodes stateside. In typical American nomenclature it was called Way Out. Here we have the episode "William and Mary," which has been adapted from Dahl's story multiple times (including once for Tales).
Posted on 10.19.13 by Widge @ 7:00 pm
Again, before we get to our Blaxploitative feature film for this evening, we spend some quality time with The Shat and his appearance on the Ray Bradbury Theater episode, "The Playground." Would anyone who frequents this site honestly consider all aspects of childhood to be flowers and sunshine and Atari 2600s? No. And your Uncle Ray knows this.
Posted on 10.18.13 by Widge @ 10:37 pm
Tonight, before we get to the madness of our feature presentation, we pay a visit the 1980s reworking of The Twilight Zone, to one of my favorites of that series. It's "Nightcrawlers," the answer to what would have happened had Stephen King been the author of First Blood. (It was based, actually, on a short story by Robert R. McCammon.) Incidentally, the trooper is played by James Whitmore Jr. Yes, son of Shawshank Redemption's James Whitmore.
Posted on 10.17.13 by Widge @ 10:43 pm
Yes, we'll get to our friends up top in a second. First up, we have the second episode of Kolchak, The Night Stalker (found via Rox, naturally). In this, our hero finds himself dealing with an old woman who's brought her son back from the dead so he can go around getting revenge for his murder. And anybody who gets in the way of that, well, it's going to be rough. And yes, if you only know Darren McGavin as The Old Man from A Christmas Story, shame on you. Get to know Kolchak. The series is available on DVD here.
Posted on 10.16.13 by Widge @ 11:00 pm
Before we get to some Belgian/Italian horror, we go first to New York City. A couple of years back, I posted a bit about The Procession of the Ghouls, which happens every year at the Cathedral of St. John the Divine. A bunch of costumes and puppets make their outlandish way through the cathedral, coupled with (this year) a screening of The Cabinet of Dr. Caligari. I decided to see what they had been up to recently. This home movie from 2012 I'm sure is just about half as cool as these things actually look. One day, I'm going to be there for this. Info on this year can be found here.
Posted on 10.16.13 by ScottC @ 8:50 pm
Coraline "Not Caroline" Jones is one of the most dangerous things known to humanity: a smart kid who is bored. Unlike the young lumpenproletariat who merely engages in standard juvenile delinquency, these young masters of disaster make nitroglycerin in the bathtub, or hack into various federal agencies, or perform science experiments on their siblings. But even more than that: Coraline belongs to that elite class where their troublemaking is not restricted to this plane of existence. She travels to a world which is similar to ours but not quite. In this other world, there is her Other Mother and her Other Father--they're like Coraline's parents, but with crucial differences. Those being that her Other Parents pay attention to Coraline, cook her non-exotic food, and just basically love her to pieces. Even her neighbors are far more interesting and the whole apartment building seems alive with magic. Of course, everyone having buttons for eyes is a little off-putting. And the Other Mother seems really needy. Especially when she wants Coraline to stay and have buttons installed as well. Coraline is going to have to be very brave and very clever because the Other Mother simply does not take 'No' for an answer.
Posted on 10.15.13 by Widge @ 11:21 pm
Tonight's a silent movie night and we'll get to that in a moment. First of all, let's sit back, relax, and enjoy Vincent Price giving you some badass spoken word fun. This is Witchcraft Magic: An Adventure in Demonology. Sample it if you're lacking time but it's Price, so it's worth checking out. Yes, even for an hour and forty minutes. If you want to save it for later, remember that it's on Spotify here. Or you can snag the whole thing as an MP3 bundle for just $5. Nice.
Posted on 10.15.13 by Widge @ 8:39 pm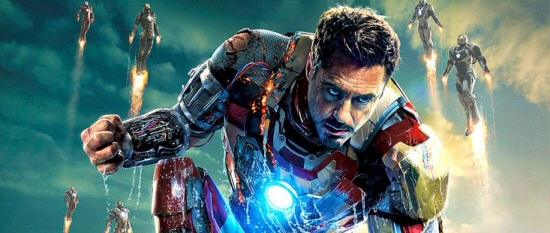 So, Iron Man 3 kicks off the second phase of the Marvel Cinematic Universe. I know there's some division among people as to what they did with this film--stuff we can't go into here for spoiler reasons--but I'm on the side of enjoying it. After rewatching #2 in prep for The Avengers, I figured the worst thing you could say about #2 is that, well, it wasn't the first film. And the first film was a pretty mind-blowing experience. I think #3 here ranks higher than that--it's not the first film, no, but it at least shows that the people running this train are aware that, unlike the comics, we can't just have Tony facing down Other Guys In Armor every time he shows up. Because that would get old as hell. I was sent a Blu-Ray disc to check out the setup, and it's a decent haul: the main event's audio and video are very solid and, for fans of the film, worth snagging on their own. The commentary with writer/director Shane Black and writer Drew Pearce takes a while to get going but when they are actually delivering info, it's good stuff. Other small bits include a gag reel, deleted scenes, and a behind the scenes featurette. Highlights include the One Shot "Agent Carter" which brings Hayley Atwell back in the role--and is pretty sweet (and might be a fifteen minute TV pilot?)--and also a breakdown of how much of the Air Force One attack was actually shot. I got the same feeling from it that I got from the semi-flip in Dark Knight...sort of not surprised to learn it was real. But all the people involved are fairly insane. Again, if you're enjoying the Marvel CU, then this is worth snagging. (Click here to buy it from Amazon.)