Posted on 10.16.13 by Widge @ 11:00 pm
Before we get to some Belgian/Italian horror, we go first to New York City. A couple of years back, I posted a bit about The Procession of the Ghouls, which happens every year at the Cathedral of St. John the Divine. A bunch of costumes and puppets make their outlandish way through the cathedral, coupled with (this year) a screening of The Cabinet of Dr. Caligari. I decided to see what they had been up to recently. This home movie from 2012 I'm sure is just about half as cool as these things actually look. One day, I'm going to be there for this. Info on this year can be found here.
Posted on 10.16.13 by ScottC @ 8:50 pm
Coraline "Not Caroline" Jones is one of the most dangerous things known to humanity: a smart kid who is bored. Unlike the young lumpenproletariat who merely engages in standard juvenile delinquency, these young masters of disaster make nitroglycerin in the bathtub, or hack into various federal agencies, or perform science experiments on their siblings. But even more than that: Coraline belongs to that elite class where their troublemaking is not restricted to this plane of existence. She travels to a world which is similar to ours but not quite. In this other world, there is her Other Mother and her Other Father--they're like Coraline's parents, but with crucial differences. Those being that her Other Parents pay attention to Coraline, cook her non-exotic food, and just basically love her to pieces. Even her neighbors are far more interesting and the whole apartment building seems alive with magic. Of course, everyone having buttons for eyes is a little off-putting. And the Other Mother seems really needy. Especially when she wants Coraline to stay and have buttons installed as well. Coraline is going to have to be very brave and very clever because the Other Mother simply does not take 'No' for an answer.
Posted on 10.15.13 by Widge @ 11:21 pm
Tonight's a silent movie night and we'll get to that in a moment. First of all, let's sit back, relax, and enjoy Vincent Price giving you some badass spoken word fun. This is Witchcraft Magic: An Adventure in Demonology. Sample it if you're lacking time but it's Price, so it's worth checking out. Yes, even for an hour and forty minutes. If you want to save it for later, remember that it's on Spotify here. Or you can snag the whole thing as an MP3 bundle for just $5. Nice.
Posted on 10.15.13 by Widge @ 8:39 pm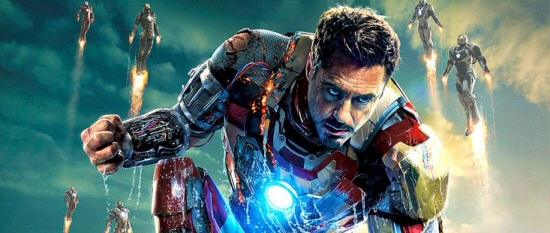 So, Iron Man 3 kicks off the second phase of the Marvel Cinematic Universe. I know there's some division among people as to what they did with this film--stuff we can't go into here for spoiler reasons--but I'm on the side of enjoying it. After rewatching #2 in prep for The Avengers, I figured the worst thing you could say about #2 is that, well, it wasn't the first film. And the first film was a pretty mind-blowing experience. I think #3 here ranks higher than that--it's not the first film, no, but it at least shows that the people running this train are aware that, unlike the comics, we can't just have Tony facing down Other Guys In Armor every time he shows up. Because that would get old as hell. I was sent a Blu-Ray disc to check out the setup, and it's a decent haul: the main event's audio and video are very solid and, for fans of the film, worth snagging on their own. The commentary with writer/director Shane Black and writer Drew Pearce takes a while to get going but when they are actually delivering info, it's good stuff. Other small bits include a gag reel, deleted scenes, and a behind the scenes featurette. Highlights include the One Shot "Agent Carter" which brings Hayley Atwell back in the role--and is pretty sweet (and might be a fifteen minute TV pilot?)--and also a breakdown of how much of the Air Force One attack was actually shot. I got the same feeling from it that I got from the semi-flip in Dark Knight...sort of not surprised to learn it was real. But all the people involved are fairly insane. Again, if you're enjoying the Marvel CU, then this is worth snagging. (Click here to buy it from Amazon.)
Posted on 10.14.13 by Widge @ 9:19 pm
In a short while, we'll be going to schlocksville to do battle with a blob. To sort of offset this, let's aim for some culture. Previously, I did a recording of Macbeth for 32 Days, and looking back over the archives I was reminded of this: the Patrick Stewart as Macbeth production which aired on PBS. This is freaking fantastic, Halloween aside, but watch until about three minutes in and see some of the best transition work I've witnessed in a while. The PBS player won't let you skip ahead. But trust me, it's worth it.
It's available on DVD but hey, if you're an Amazon Prime member, it's free streaming. You know, in case you want to see it on a bigger screen. (And you can sign up for a free 30-day trial of Prime here.
I'm a member--I recommend it.)
Posted on 10.13.13 by Widge @ 10:37 pm
Yes, we're hanging with Karloff in tonight's feature presentation. But before we get there, another Rox of Spazhouse find--and damn, it's an excellent one. Someone put together a short tribute video for this year's Peter Cushing centenary. And as far as I'm concerned, they get huge points for not forgetting his turn in Top Secret! Well played.
Then, it's story time. Jeffrey Combs, known for playing Herbert West in the movie version of Lovecraft's Re-Animator, reads the whole story in six parts. As I mentioned when I did the same thing, the language and attitudes of the story are considerably dated. So don't be surprised. And for some reason, this appears to be completely out of print and unavailable.
Posted on 10.12.13 by Widge @ 10:17 pm
Well, today's been a fairly crap day. We had to say goodbye to our very own Hellpuppy Kora, after an extended battle with cancer. In her honor and memory, we present an array of hound-related media for your enjoyment.
We begin with a cheese-ridden favorite: Zoltan: Hound of Dracula, in which man's best friend becomes man's best fiend. It's sort of like Benji but with more vampires. After that trailer, we switch over to a given: the Twilight Zone most appreciated by animal lovers everywhere--"The Hunt."
Posted on 10.11.13 by Widge @ 11:40 pm
First up, another Rox find: from the fourth season of Bewitched, "The Safe and Sane Halloween," it's what happens when Tabitha summons creature to go trick or treating with them. Why does Rox enjoy this so much? She says they "...look like something from Halloween III: Season of the Witch." That explains it.
We then follow television family fun with something a bit more sinister: Christopher Lee, from his radio series Fireside Tales, gives a fantastic rendition of W.W. Jacobs' "The Monkey's Paw." Enjoy...
Posted on 10.11.13 by Widge @ 5:20 pm
It's Weekend Justice: the Internet's #1 audio trainwreck--the podcast that wants to put Dirk Benedict and Abe Vigoda in a new TV show where they team-up and fight crime. And don't pretend you wouldn't watch the hell out of that.
Agenda:
The joy of DVRs
Aiding to the delinquency of a minor. Well, several minors.
Death rays on a budget
Rox vs. The Giant Ants
ScottC vs. The Legion of Super-Heroes
The Blacklist (SPOILERS)
Sleepy Hollow(s)
Breaking Bad vs. Newhart
Abe Vigoda, in a van, eating ice cream, going off a bridge backwards. At a concert.
Blackfish, psycho sea life and the psychos that hang out with them
Miscommunicating with Mildred
Agents of SHIELD confessions
A preference for shooting the hostage
Posted on 10.10.13 by Widge @ 11:37 pm
Before we get to the feature presentation, which was remade most recently as We Bought a Zoo, we bring you a pair of old-time radio jewels.
First things first, and the reason I came up with this opening: I didn't know until just today that Basil Rathbone had started in a comedy/mystery radio show entitled Tales of Fatima. At first, I was wondering what the hell Rathbone was doing dramatizing stories of the apocalypse that were told to three youngsters in Portugal. But no, apparently Fatima was the brand of cigarettes that sponsored the show. Then next, I was amused to hear that Rathbone is playing a fictionalized version of himself.