Posted on 05.08.13 by Widge @ 5:14 am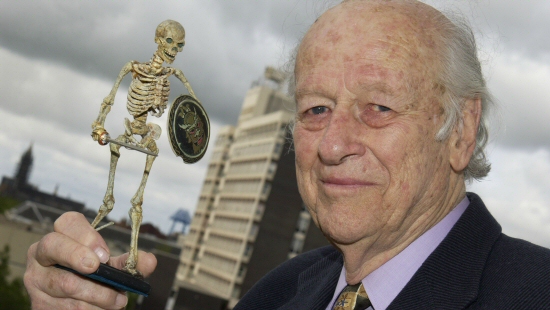 Kids, this is a scenario where I'm not going to tell you to ask your parents. I'm just going to flat out tell you myself. There once was a time when you couldn't make any damn thing you wanted show up in a movie using a computer. You used to have to use practical FX...exclusively. And so when you wanted something that shouldn't ordinarily move around on its own--say, a skeleton with a sword or a Gorgon--you would need to take a model of said thing, take a picture, move it, then take another picture and so on with excruciatingly slowness. Eventually, you could piece together all the pictures with their very, very slight changes and play them at speed...and you get the illusion of movement. Stop motion.
The granddaddy of visual effects and the King of Stop Motion was Ray Harryhausen. From 1949 to 1981, if you dug a genre film that used stop motion...there was a pretty good chance Harryhausen was the man behind it. Exhibit A comes after the jump.
Posted on 05.07.13 by Widge @ 12:46 pm
Don't want to use nasty pesticides in your garden? But also, don't want to have pests eating your garden before you get a chance to? Like most things in life, caffeine is here to save your ass.
Lifehacker clues us in: insects are like dogs apparently, in that they're not supposed to have caffeine.
While humans tend to enjoy the burst of energy that comes from caffeine, insects, particularly aphids, do not. Gather any or all of the following herbs: yarrow, tansy, pennyroyal, thyme, lavender, rue, catnip and artemisia. Mix at least a cup of this herbal mixture with 2 tablespoons used coffee grounds and 2 cups of water. Allow this to marinate for at least 24 hours before straining and placing into a spray bottle. This can keep for several weeks.
So this means that on those occasions where I've come back to my desk to find a dead bug floating in my coffee...they've simply had it with life and wanted to end it? Or is getting a bit of awesome brew worth the cost of their lives? Either way, it's slightly morbid and weird. Again, like most things in life.
Posted on 05.07.13 by Widge @ 5:59 am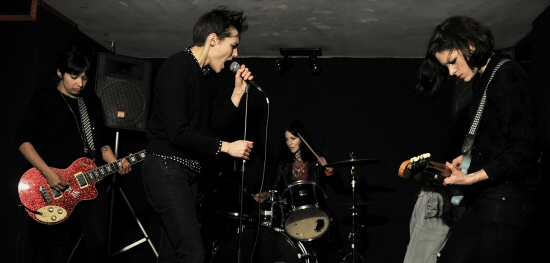 More music picks for your Tuesday. If you like what you hear, use the links provided to snag it for yourself from Amazon. Doing so through us gives us kickbacks, and those help pay for stuff like more bandwidth. And also so we can buy more music.
First up we have Savages, coming up after the jump with a variation on their opening track from Silence Yourself: "Shut Up." It has what is probably my favorite opening monologue since Timothy Leary's extended sample on the live Salival version of Tool's "Third Eye." Their album hits this week and it's caffeinated rock with a medium grind. We like it. (Amazon: CD; MP3; Vinyl.)
Posted on 05.06.13 by Wolven @ 8:08 am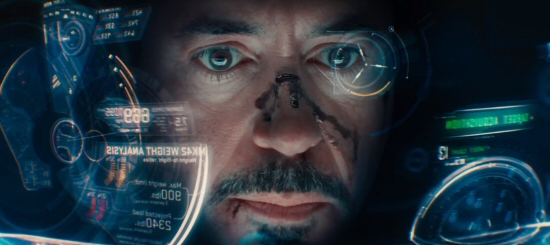 Hey folks. Other than that AWESOME NEIL GAIMAN ANNOUNCEMENT it's been a while. I was still kind of recovering from Fringe, to be honest. Anywhoddle, as you know, Bob, part of my remit here is that I talk about cyborgs, robots, artificial intelligence, time travel, magic, alternate realities, and human augmentation, and all the ways those things show up in popular culture; and so, with that in mind, if you thought I was going to miss out on seeing Iron Man Three as soon as was inhumanly possible, then you didn't read that last clause back there. Yeah, that one.
I've been looking forward to IM3 since it was announced, and since they started talking about what the screenplay was going to be based off of (more on that below)--so when we got to the theater and that theater was mostly empty, I was a little sad. I'd wanted a big crowded experience, and there were literally about twenty people in our showing. But still, I was with friends and I was content to enjoy this highly anticipated film in their company. That, plus the new Thor 2 trailer the manager was gracious enough to splice in for us guaranteed that it was a really fantastic time.
Posted on 05.04.13 by Widge @ 4:06 am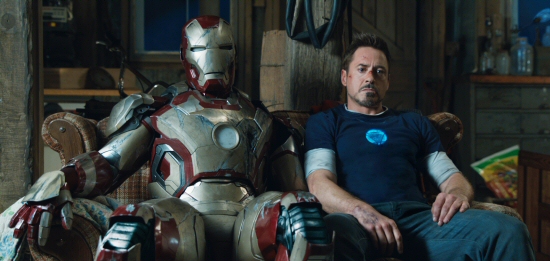 Episode #148 for Iron Man 3 3D, in which our protagonist explains how to get his brain to shut up (finally), thinks we should figure out how to get another contract for Downey starting right now and generally heaves a sigh of relief about Phase Two of the Marvel Cinematic Universe.
[[ Vid this way... ]]
Posted on 05.03.13 by Widge @ 6:20 am
It's Weekend Justice: the Internet's #1 audio trainwreck--the podcast that extends to its total length only when moist.
Agenda:
The generators keep getting smaller (and Leon's getting larger)
Florida will not stand on ceremony
The bounce to the ounce
Clap for Aaron. Or else.
What Widge does on his desktop
ScottC's terrible connection and much suffering
Danger and boobs
Jon reenacts parts of Amerika
Trying to troubleshoot ScottC. This could take a while.
The power of sighs
Alcohol report. Wait, no, Warehouse 13. Perhaps both.
Defiance
Game of Thrones: destroying the incest bell curve
Catching up with The Following
Posted on 05.02.13 by Aaron @ 12:13 pm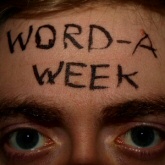 The Oxford English Dictionary will eventually become so large that it knocks the Earth out of its proper orbit. There's no need to concern yourself--it can't be stopped. What you can concern yourself with, however, is enjoying the language as best you can until the world ends. And because there are so many words out there, it's just not possible to keep them all in your head. Enter Aaron Poole. Consider him your USB Stick of Verbiage--a resource to be drawn upon when you need that special word to convey how you truly feel. And here he is now. Accept no substitutes! This word is one you can use! In conversation! When you're trying to remake the movie Dead Ringers! You can even use it on Twitter and Facebook! And the best part is: this word is free for you to use and share! It is guaranteed DRM-free.
We hope you will join Aaron as he lobs firecrackers of knowledge at the rabid penguin of ignorance, blazing alight thanks to the cigarette lighter...that is Language.
[[ Word this way! ]]
Posted on 04.30.13 by Widge @ 11:44 pm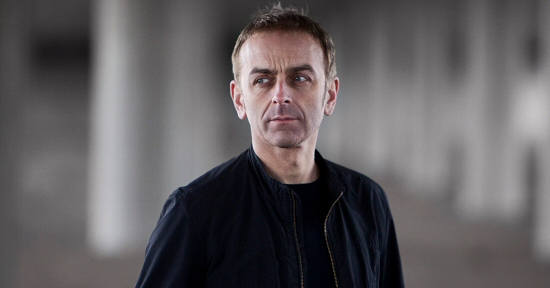 More music picks for your Tuesday, co-curated this week by Rob and Widge. If you like what you hear, use the links provided to snag it for yourself from Amazon. Doing so through us gives us kickbacks, and those help pay for stuff like more bandwidth. And also so we can buy more music.
First up, a pick from Rob: it's Karl Hyde of Underworld fame, with his first solo album, Edgeland. From Rob: "Half Of Underworld's solo debut is a record of blips, bleeps, expansive sounds and grooves." Indeed. The album is already out, though the MP3 version is, according to Amazon, not available until May 7th for some reason. After the jump we have "Sleepless," live in Tokyo from this year. (Amazon: CD; Vinyl.)
Posted on 04.29.13 by Widge @ 5:05 pm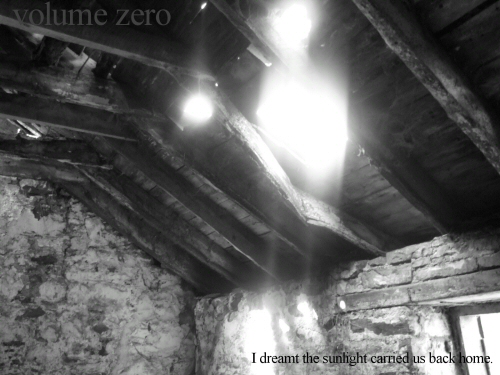 As we grind the machine that eventually will produce a shiny new Music Monday (or Tuesday...the machine isn't new anymore, and sometimes takes a while), please note: there are some offsite music resources that you can take advantage of.
Prof. Tuffley has Randomizer, his series of playlists where I discover 50% of my new music. (The other 50% comes from Rob, of course.) So whatever Tuffley's got cooking is worthy and must be checked out.
While I'm working on the music posts, those songs plus other things I can't find embeds for plus just random stuff that I like and amuses me goes into Volume Zero. You can find the most recent (the companion piece to last week's Music Tuesday), "I Dreamt the Sunlight Carried Us Back Home," here.
Or, hey, the embeds for the latest playlists of both are below the jump. Enjoy.
[[ Embeds this way... ]]
Posted on 04.29.13 by Widge @ 12:01 am
There's a lot of stuff that comes out all the time, and the companies are want your attention and mostly...your coin. But, you know, it's your coin and you have to take care where you spend it. With these posts we try to take you through recent releases so you can make up your mind. If you find the info here to be of use, do us a favor and purchase stuff from Amazon through us. Especially if you were going to buy the stuff anyway. That gives us kickbacks, which help pay for things. Like the server. And coffee. And therapy. We thank you.