Posted on 10.21.14 by Widge @ 9:27 am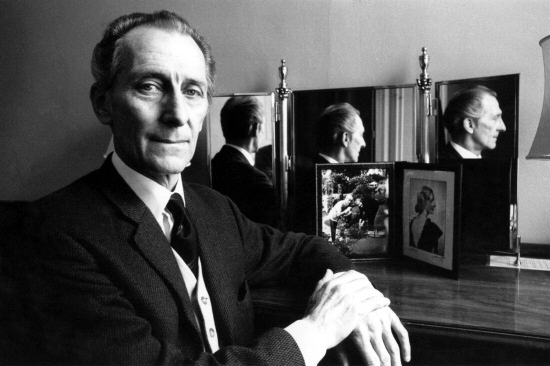 Day 22 has traditionally been a day for hanging out with Peter Cushing, so we have two brief snippets for you to kick things off. First up is footage from what purports to be the final meeting between Cushing and Christopher Lee. And after a while, you just wish the people taking photos would shut the hell up and let the two gents get back to telling anecdotes and laughing their asses off--because it's obvious they're having a blast. And then after that, we have some apparently silent footage from British Pathe...this is of Cushing on the set of 1966's Frankenstein Created Woman. Yes, it might seem a bit tame, but fiends like myself should find interesting to see Cushing mark up his script and will probably also wish there was audio. "I'm supposed to be doing what exactly in this tank of green liquid?" Enjoy.
Posted on 10.20.14 by Widge @ 8:26 pm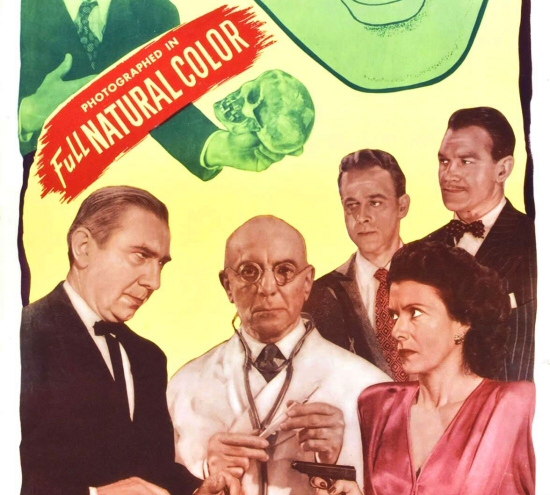 For tonight's feature we go back to 1947 for a bit of curiosity: the lone color film in which Bela Lugosi has a leading role. In fact, as you can see from the poster snippet, Scared to Death was "Photographed in Full Natural Color." I think you'll agree that this seems like natural color in the same way that TV commercials you find on VHS tapes where you recorded Battle of the Network Stars are in "natural color." Also notice how it's so cheaply made even in the first two minutes, people are flubbing lines and they just had to keep the take.
Oh Bela. You poor guy. You were so much better than all of this.
Posted on 10.20.14 by Widge @ 10:17 am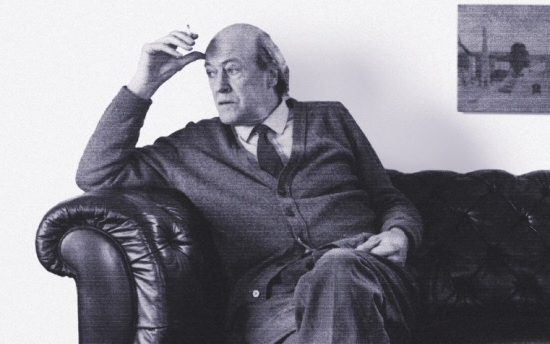 So for Day 21, I thought I would go back into the world of Roald Dahl and grab a couple of adaptations of his short stories from the aforementioned anthology Kiss Kiss. And this led me to Tales of the Unexpected, the series we've mentioned before but somehow never posted anything from. It has, quite frankly, one of the oddest opening credit sequences I have ever seen. So if you're pressed for time you should at least check that out.
But you should catch the episodes as well. There's "The Landlady," in which a young traveler finds a nice cozy bed and breakfast to lodge at...and then "Royal Jelly," about a miracle cure for an ailing infant. When I looked up the anthology on Wikipedia (which is always right--and my copy has been read to nearly pieces, so I don't open it unless I'm going to actually read it), they said of Dahl that he didn't write horror but simply the macabre. And that's a perfect way to describe his adult fiction. Enjoy.
Posted on 10.20.14 by Widge @ 2:38 am
NOTE: What follows involves serious spoilers if you have not already seen Episode 501 of The Walking Dead, "No Sanctuary." If you have, no worries about 502. I'm behind on everything. However, also spoilers for Captain America: The Winter Soldier, which if you haven't seen...then there's no hope for you and you should probably just read on.
Season Four--which the more I think about it, the more I enjoy it--left me rather worried. Not worried about the fates of the characters--I've been reading the comic since Day One, so I know "Don't Get Fucking Attached" is the rule of the day. (Granted, that's what Doc said to warn me about getting involved in A Song of Ice and Fire, but it applies.) No, I was worried about what was going to happen, since a descent into cannibal-fueled torture porn wasn't going to be my favorite thing in the world. Anyone who's been reading this site for a while knows that I find the torture porn subgenre to be reprehensible and downright lazy, invented by cinematographers who wanted to avoid chasing victims through the woods and thought a victim bound to a chair would simply be easier to light and shoot. And having practically everybody locked in a boxcar surrounded by a freaking army of heavily armed pretty-much-guaranteed-they're cannibals didn't seem to leave much room for anything else.
Posted on 10.19.14 by Widge @ 11:00 pm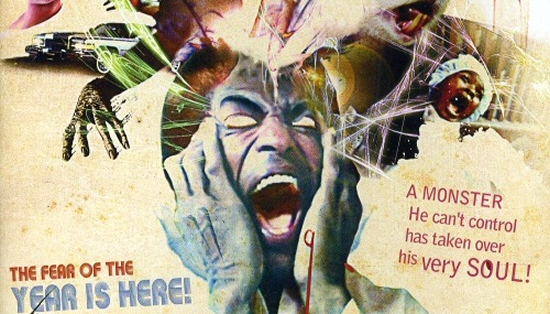 Five years ago, we posted the trailer for Dr. Black and Mr. Hyde. It is one of the greatest trailers in all of history, never mind the blaxploitation horror subgenre. If you have not seen it already, I strongly urge you to do that now. Because Blacula was a success, director William Crain followed up with this...starring Rosalind Cash (The Omega Man) and Bernie Casey (just about every damn thing...from Bill & Ted to American Gangster).
In case the title hasn't already revealed everything...the blaxploitation version of Jekyll and Hyde is what you have here. I'm just amazed after this, Blackenstein and Abby (the black Exorcist) that nobody's made The Creature From the Seriously Black Lagoon or something. I'm sure there's a spec script out there somewhere. Enjoy.
Posted on 10.19.14 by Widge @ 10:00 pm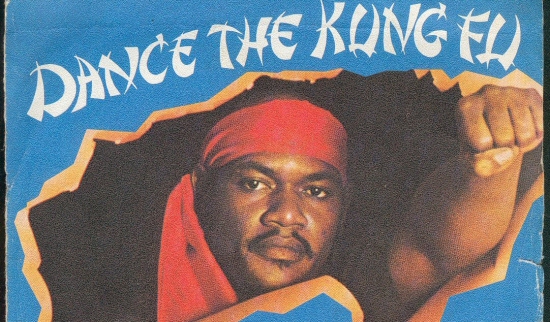 It's Weekend Justice: the Internet's #1 audio trainwreck, the podcast that dares to completely sully the name of its own damn website. Go figure.
Note: Please excuse random and brief noises. Not sure where they came from. Maybe it's all in my head.
Posted on 10.19.14 by Widge @ 2:47 pm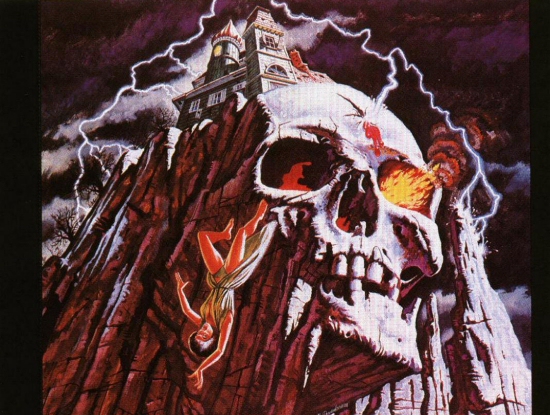 Day 20 here at 32 Days of Halloween has traditionally been reserved for the blaxploitation horror genre. And I know that there will come a day that we actually run out of these. But until then we press on...and it's time to check out the trailer from 1974's The House on Skull Mountain. First, you'll recognize faces. There's Mike Evans aka Lionel Jefferson. There's Janee Michelle, who we've previously seen in Scream Blacula Scream. And yes, that is indeed Victor French from Little House on the Prairie. Enjoy.
P.S. That is not Grayskull in the picture there. I know you were thinking of it, and there's no shame in that.
Posted on 10.18.14 by Widge @ 11:00 pm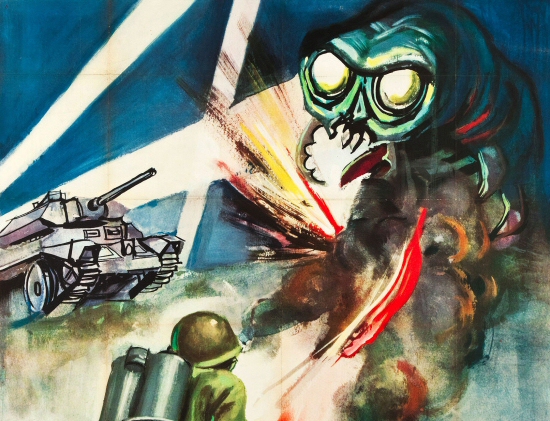 For tonight's feature, we have a serious When Animals Attack film...and yes, we've had lots of different critters trying to destroy humanity. But make way for Giant Mollusks, baby. It's The Monster That Challenged the World. From 1957...as the ponderous narration will tell you at the beginning, an earthquake unleashes the giant beasties from under the Salton Sea in California. And they decide to pay a visit to the surface world. And they ain't asking to borrow a cup of sugar.
The film stars Tim Holt (Treasure of the Sierra Madre), Audrey Dalton (Titanic (1953)) and Hans Conried. You know Conried, if nothing else, as the voice of Disney's Captain Hook. Nice.
Posted on 10.18.14 by Widge @ 12:00 pm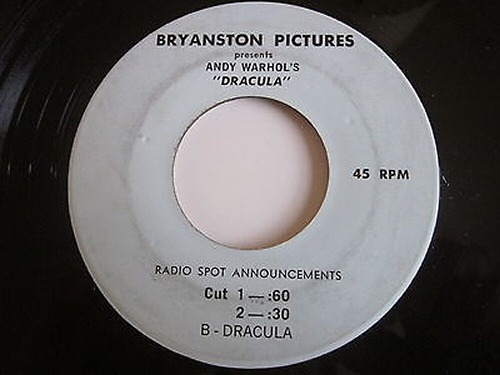 Back when radio was much, much bigger than it is today (sorry, Rob), if you were releasing a film of any kind, you were faced with a dilemma. A huge arena for promoting your film was radio--but how do you promote something that's primarily a visual experience with just audio? Especially if you've got a horror movie coming out--which is, genre-wise, even more visual than most? Answer: you do a radio spot. And you do it...badly.
Let's look at some examples. First up, The Amityville Horror from 1979...a few from this film. One thing you'll notice in all of these is a great deal of repetition. That's if you have something worth repeating. And "Get Out!" is definitely worth repeating. But that's a more...mainstream, respectable sort of horror film. The sort of radio spots I adore are ones like this for Werewolves on Wheels from 1971.
Posted on 10.17.14 by Widge @ 11:18 pm
So for movie night #18, we go back to the world of made for TV horror for 1967's Creature of Destruction. It's from producer-director Larry Buchanan, who those in the know about gloriously schlocky horror flicks will recognize as the man who brought you Mars Needs Women and It's Alive!. It's what happens when you hypnotize someone into thinking they're a prehistoric sea-spawned ancestor. In other words...just say no, kids. Enjoy.