Posted on 10.17.14 by Widge @ 3:55 pm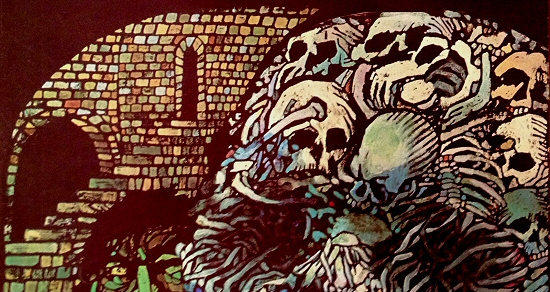 For Day 18 of 32 Days of Halloween, we turn to some readings of your friend and mine, H.P. Lovecraft. First, Rox located this excellent reading of "The Haunter in the Dark" from the H.P. Lovecraft Literary Podcast. Then following that, we go back to our allies at Caedmon, who put out a few albums of David McCallum (from The Man from UNCLE) reading Lovecraft. He brings you "The Rats in the Walls." Sadly, all of those McCallum readings are currently out of print. So enjoy it here while you can.
Posted on 10.16.14 by Widge @ 8:40 pm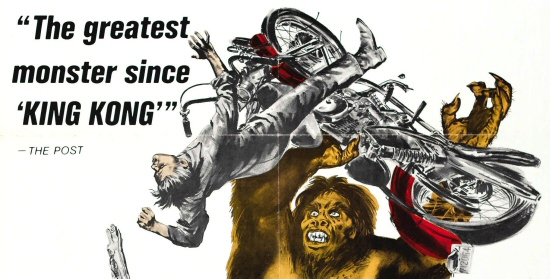 This film tonight...is a long distance dedication to our friend Leigh. She's not awake right now to see this get posted, but when she does regain consciousness, I think she'll be pleased. Because how can you improve upon the idea of John Carradine vs. Bigfoot? You can give it the tagline "Breeds With Anything..." Um. Ew. In addition to Carradine, the film's cast boasts Christopher Mitchum (son of Robert), Doodles Weaver (uncle of Sigourney), and Lindsay Crosby (son of Bing).
And be warned: this is a low budget 1970s horror flick. Prepare for long stretches of nothing happening, long stretches of nothing happening with the actors seeming to be well aware that not a goddamn thing is happening (an early scene with Carradine bopping while driving a car in silence--classic) and terrifying fashion.
Posted on 10.16.14 by Widge @ 11:04 am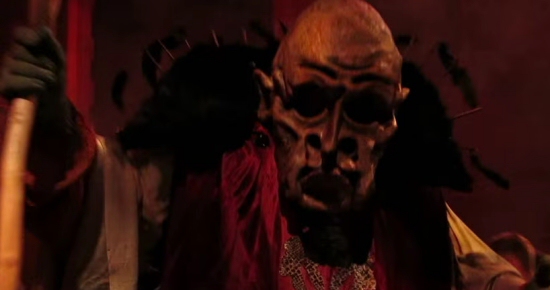 Ever since finding out about Frank Lee's Procession of the Ghouls back during Year 5 of this 32 Days of Halloween madness, I have been freaking obsessed. How I haven't managed to get up there and see it yet...no idea. We previously posted the mini-docu about the behind the scenes and origins and whatnot of this magnificent spectacle: a troupe of goblins and spectres of all sorts making their way through the Catheral Church of St. John the Divine in New York. It's sort of like a Krampus parade but indoors and if it had been conceived by the Henson Creature Workshop. Plus, afterwards they show a silent film. This year it's Hunchback of Notre Dame. (Seeing that in the fourth largest Christian church in the world...? On Halloween night! How cool would that be, right?)
This YouTube video isn't the best...but it will give you a taste of last year's Procession. For info on this year's, check out the official website here. And we posted a similar video for the 2012 Procession here.
Posted on 10.15.14 by Widge @ 11:00 pm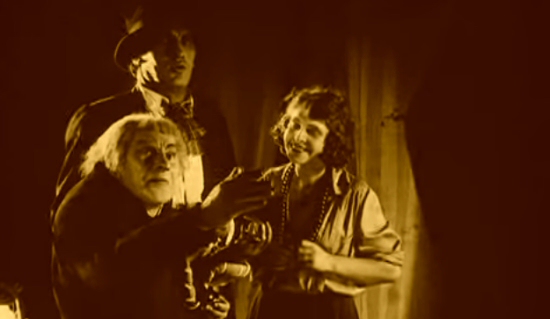 Before Paul Leni came to the U.S. to make 1927's The Cat and the Canary, he directed this silent film--and hey, it's generally accepted that Day 16 has a silent movie for its movie pick so...thanks, Paul! Anyway, a writer answers an ad at a wax museum and takes up the task of writing stories involving some of the models. Those stories become parts in this 1924 silent anthology flick, and among the characters are Ivan the Terrible...played by the silent film genius Conrad Veidt, who we've seen a couple of times before.
And because we like to give you options, we have the film with one score--and then we have it again...with a live score performed in 2013 by Mike Patton, Matthias Bossi, Scott Amendola and William Winant. Pretty badass. It apparently was filmed...but I don't see where that's been released. However, someone has synced up the score with the film...and that's below as well. If somebody knows where this is available, let me know--I would totally buy it.
Posted on 10.15.14 by Widge @ 11:45 am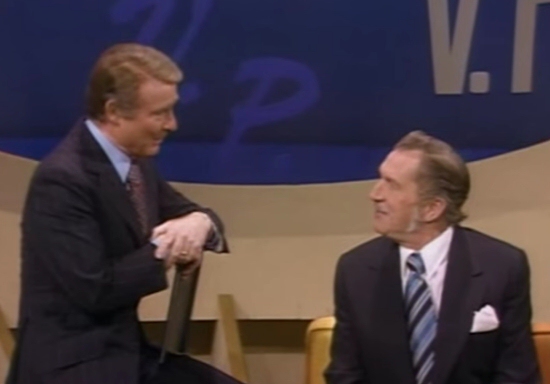 Previously we posted the This is Your Life episode with Boris Karloff. Well, now it appears that the Vincent Price episode has become available online. Amusing mostly to watch the shift from bewildered to slightly taken aback to delighted as Price moves through the proceedings. Kids ask your parents, but the whole idea was to ambush celebrities and then bring them in to have people from their past trotted out to say a few words. In case it's not clear, the first man from the past for Price was Hans Conried.
Posted on 10.14.14 by Widge @ 10:00 pm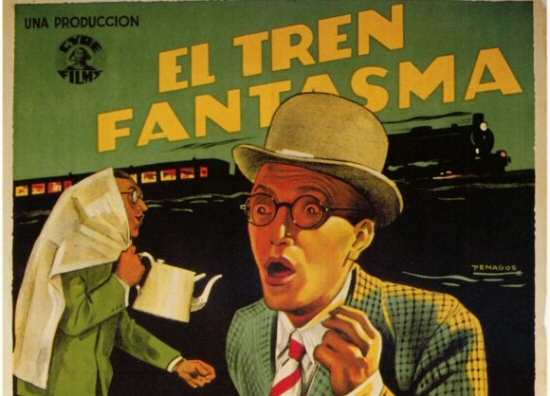 Rox has been panning for gold in the film archives and comes up with tonight's pick. Starring the comedy double act of Arthur Askey and Richard Murdoch, the 1941 film, The Ghost Train, was based on the highly popular play from 1923 by Arnold Ridley. I say "highly popular" because at least six filmed adaptations of the play occurred before this one. Askey and Murdoch starred in Band Waggon, "the first comedy show to be designed specifically for radio" (says Wikipedia, which is always right). The series became a film starring Askey and Murdoch, and their third film together was this one--propaganda'ed up for being made in the midst of World War II.
To compare this to a different version, afterwards you'll find a later radio adaptation for the BBC from 2008. Because we can. Enjoy.
Posted on 10.14.14 by Widge @ 10:31 am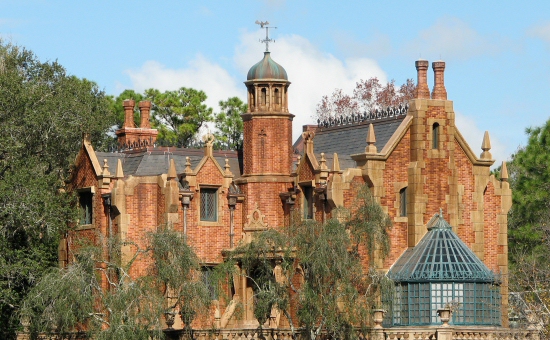 True enough...we've posted this next bit before...but it wasn't embedded and it was eight years ago. And not even for Halloween. So I would say it's fair game again. I'm talking about the Edward Haber and Citizen Kafka bit entitled "Abbott and Costello Meet the Antichrist." Which fills me with joy, so it should for you as well.
Posted on 10.13.14 by Widge @ 9:29 pm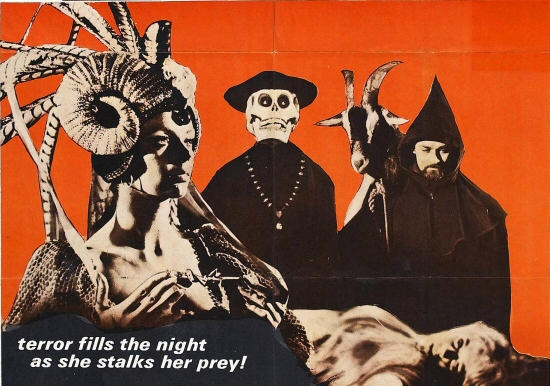 Known also as The Curse of the Crimson Altar and just The Crimson Altar, The Crimson Cult (as it was called stateside) features the final filmed role of Boris Karloff (although other films would be released posthumously). The film also stars Christopher Lee, Barbara Steele and Michael Gough. Tigon was the production company that made this, trying to do battle with Hammer and also Amicus in the late 60s and early 70s. You would be forgiven for thinking this was meant to be an anthology film, seeing as how the three main leads have their performances all over the place (and not together in any sense of the word) and how the thing feels weird and disconnected...even for 1968. But no, it's based on Lovecraft's "Dreams in the Witch House"--though no credit is given.
And Barbara Steele's Lavinia voice is so godawful with all the effects they put on it, it makes you beg for a vocoder...which ordinarily people will open their veins to avoid. For the film, I recommend a pairing with an alcoholic beverage. And I recommend...anything with alcohol in it. Enjoy.
Posted on 10.13.14 by Widge @ 12:31 pm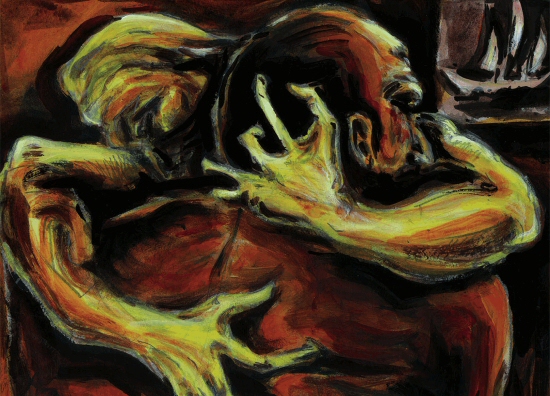 For today's kickoff, let's go back to 1887, and a well-known short story by Guy de Maupassant, The Horla. The title character or being or thing is imagined to be an invisible creature not unlike a vampire that can possess and control the minds of men. Our protagonist falls prey to either its sway or the sway of its idea, one or the other. I was not aware until I looked it up on Wikipedia (which is always right), that "Horla" "...is not French, and is a neologism. Charlotte Mandell, who has translated 'The Horla' for publisher Melville House, suggests in an afterword that the word 'horla' is a portmanteau of the French words hors ('outside'), and là ('there') and that 'le horla' sounds like 'the Outsider, the outer, the one Out There.'"
We have two interpretations of the story for your perusal. The first is recent and is from BBC Radio, read by David Tennant. It's from the series A Night With a Vampire, originally broadcast in 2010, when Tennant probably felt in advance he had to do something to make up for the Fright Night remake. I put it first because the idea of following Peter Lorre's version from Mystery in the Air...well, that would be cruel. Nobody does histrionics like Lorre. Enjoy.
Posted on 10.12.14 by Widge @ 7:00 pm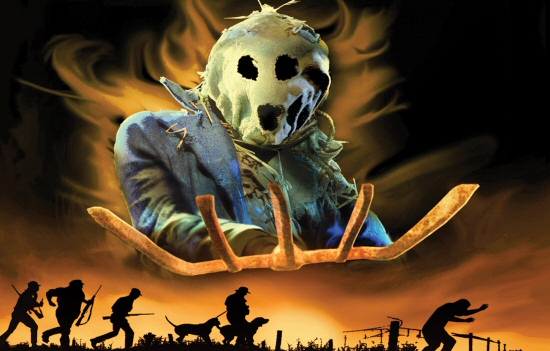 A young girl and an older Steinbeckian Lennie-esque man have a friendship which upsets a lot of people in the small town where they live. When the girl is injured in a dog attack, it's assumed that Bubba (the aforementioned friend) was the culprit. In search of justice, a small cadre of assholes wind up killing Bubba...this of course while the later is hiding out in a field, dressed as a scarecrow. Well, justice is coming, all right. Because a killer scarecrow is going to seek out the murderers and make them pay...hence, it's the Dark Night of the Scarecrow.
I didn't realize there were enough "killer scarecrow" films to warrant there being a true sub-genre (or I guess it's just a sub-sub-genre of the "masked maniac" sub-genre) but hey, it was cited in Wikipedia, which is always right. The star of this telefilm (and head of the gang of assholes) is Charles Durning. The director was Frank De Felitta (author of Audrey Rose). And it was picked out for you by Rox of Spazhouse.