Posted on 12.07.03 by Dindrane @ 6:02 am
Film:


DVD:

Written by: Blanche Hanalis, based on the novel by Frances Hodgson Burnett
Directed by: Alan Grint
Starring: Gennie James, Barret Oliver, Jadrien Steele, Michael Hordern, Billie Whitelaw, and Derek Jacobi
Features:
Production Notes
Biographies
Released by: Artisan
Region: 1
Rating: NR; suitable for all audiences
Anamorphic: N/A; presented in original TV aspect
My Advice: Buy it
Mary Lennox (James) is leading a spoiled, perfect life in the Raj, where, as she says, the British rule like gods. But when her parents die and she is sent to live with a family friend in England, everything changes for Mary. She is truly alone--no friends, no family, no country even, as Yorkshire is very different in every way from her native India. When she finds the key to an abandoned walled garden, however, a garden with a past nearly as tragic as her own, things start to change. She finds a purpose and eventually friends--the mysterious Dickon (Oliver) who can talk to animals and make anything bloom, and the sickly heir to Misselthwaite Manor, Colin (Steele). As the garden is coaxed back to beauty, so are Mary and Colin, and even the adults Mrs. Medlock (Whitelaw) and Colin's father, Archibald Craven (Jacobi). The story in this version is quite faithful to Burnett's original, perhaps the most faithful of the handful of versions out there, with the exception of the frame story with adult Mary and Colin--an addition that surprisingly works well and continues the positive, yet pensive, tone of the book and movie.
Posted on 12.07.03 by Widge @ 5:54 am
Written by Neil Gaiman
Illustrated by Dave McKean
Published by HarperCollins
Coraline Jones is a young lady who is very, very bored. Her family has just moved into a new flat and her mother and father have plenty of work to do that doesn't involve keeping her entertained. Her new neighbors, two former actresses and the ringmaster of an all-mouse circus, seem interesting enough--but interactions with them can only take up so much time. In her explorations of her new surroundings, Coraline finds a door that doesn't go anywhere. When the building, formerly a house, was converted into flats, they separated one half of the structure from the other with a brick wall--so this door opens onto brick. But one day the door opens on a corridor, one that leads to her other flat. And to her other parents, who want nothing more than to keep her entertained and well-fed...forever.
Many, many moons ago I had the distinct pleasure of hearing Gaiman do a reading of about the first third of this novel, which he introduced as a "spooky story for little girls", and I never forgot Coraline or her button-eyed other parents...and how the entire thing creeped the hell out of me. And now that the rest of the story is known, I can say it was definitely worth the wait.
Posted on 12.07.03 by Doc @ 5:50 am
Film:


DVD:

Created by: Rick Berman and Michael Piller
Starring: Avery Brooks, Rene Auberjonois, Siddig El Fadil, Terry Farrell, Cirroc Lofton, Colm Meaney, Armin Shimerman, and Nana Visitor
Features:
New Frontiers: The Story of Deep Space Nine making-of featurette
Michael Westmore's Aliens: Season 2 makeup and costuming featurette
Deep Space Nine sketchbook: Season 2
Crew Dossier: Jadzia Dax
New Station, New Ships production featurette
Released by: Paramount
Region: 1
Rating: NR, suitable for 12+
Anamorphic: N/A, appears in its original 1.33:1 format
My Advice: A must-have for fans of the series
Posted on 12.07.03 by Dindrane @ 5:49 am
Film:


DVD:

Royal Wedding
Written by Alan Jay Lerner
Directed by Stanley Donen
Starring Fred Astaire, Jane Powell, and Peter Lawford
The Last Time I Saw Paris
Written by Richard Brooks, based on original story by F. Scott Fitzgerald
Directed by Richard Brooks
Starring Elizabeth Taylor and Van Johnson
Released by: Good Times
Region: 1
Rating: NR
Anamorphic: N/A; appear in the original 1.33:1 aspect ratio
My Advice: Rent it.
The musical Royal Wedding stars Fred Astaire and Jane Powell as a brother-sister dance team, Tom and Ellen Bowen. To capitalize on the crowds in London for the royal wedding, the Bowen's agent books them to perform in London. While on the cruise ship on their way to London, Ellen, notorious for her six-day affairs with young men, meets her match, young Lord Brindale. Once in England, however, Tom has a romance of his own, but neither the road to true love nor the road to a hit act runs at all smooth. This movie also showcases the famous dance number where Astaire dances on the walls and ceiling.
Posted on 12.07.03 by Widge @ 5:43 am
Film:

DVD:

Written by: Dorothy Ann Blank, Richard Creedon, Merrill De Maris, Otto Englander, Earl Hurd, Dick Rickard, Ted Sears & Webb Smith, based on the story by Jacob Ludwig Carl Grimm & Wilhelm Carl Grimm
Directed by: David Hand
Starring: Adriana Caselotti, Lucille La Verne, Pinto Colvig, Roy Atwell, Otis Harlan
Features:
Animated menus hosted by the Magic Mirror, featuring new animation
Guided tours of the disc's features, hosted by Angela Lansbury
New version of "Someday My Price Will Come," performed by Barbra Streisand
"Still the Fairest of Them All," a 40-minute documentary about the making of the film
"Heigh Ho" from Disney's Sing-Along Songs
"Dopey's Wild Mine Ride" game
"The Goddess of Spring" Silly Symphony animated short
Posted on 12.07.03 by Dindrane @ 5:42 am
Being a Romance Within the Realms of Faerie
Story:


Art:

Written by Neil Gaiman
Illustrated by Charles Vess
Published by DC/Vertigo
Contents: Collects all four installments of the initial graphic novels
Price: $19.95
My advice: Own it.
Whether you're a fan of Gaiman's Sandman series and other graphic works or more of his novels, you'll appreciate
Stardust. But first, a bit of clarification: Gaiman also has published a novel under the same name, which is basically the same story but without the fine Vess illustrations. They are truly not to be missed, and you'll be glad you bought the graphic novel version. Faery tales, after all, should be illustrated, from childhood through adulthood.
Posted on 12.07.03 by Dindrane @ 5:31 am

Written by: Walter F. Otto
Translated by: Robert B. Palmer
Published by: Indiana University Press
Dionysus may not have been one of the Olympians and is therefore often left out of basic books on Greek religion. However, as Otto's book proves, this does not in any case prove that Dionysus' worship was not both vital and widespread. Forget what some people might tell you about Bacchus, the frat boy god--his cults were definitely more than wine, women, and song, even if that was, at times, part of them.
First, a note on the use of the word "cult" by both the author and myself. As Palmer states in his translator's note, the word is not intended to carry any judgement or placement within a religion's hierarchy. Instead, it merely means the acts of worshippers, sometimes as distinct from concrete, formalized liturgy. Cults are, essentially, a particular expression of a given religion, along with the attendant rites and ceremonies. Nothing negative is meant by the term.
Posted on 12.07.03 by Doc @ 5:16 am
Film:


DVD:

Written by: Alan Plater, et al., based on the stories of Sir Arthur Conan Doyle
Directed by: Paul Annett, John Bruce, David Carson, Ken Grieve, Alan Grint, and Derek Marlowe
Starring: Jeremy Brett and David Burke
Features:
Entire 13-episode run of 1984-85 TV series: A Scandal in Bohemia, The Dancing Men, The Naval Treaty, The Solitary Cyclist, The Crooked Man, The Speckled Band, The Blue Carbuncle, The Copper Beeches, The Greek Interpreter, The Norwood Builder, The Resident Patient, The Red Headed League, The Final Problem
Photo gallery
Info on the Sherlock Holmes and Jeremy Brett fan societies
Original Sidney Paget illustration galleries
Released by: MPI Home Video
Region: 1
Rating: NR, suitable for 13+
Anamorphic: N/A
My Advice: Elementary...own it.
Posted on 12.07.03 by Doc @ 5:07 am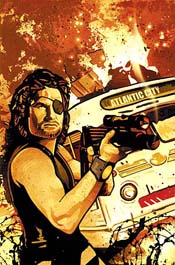 Story:

Art:
Written by William O'Neill
Pencils by Tone Rodriguez
Inks by Digital Chameleon
Colors by Chris Blythe
Lettered by Dreamer Design and Robin Spehar
Published by CrossGen/Hurricane Entertainment
Price: $2.99
My Verdict: Fans of either Escape film should own it.
Issue #1 of the Snake Plissken Chronicles joins our one-eyed hero "early the next day" (presumably following one of the films, and given his locale (outside Atlantic City), I'm assuming after the first film). As is perhaps typical for everybody's favorite anti-hero, he can't manage a brief whiz on the side of the road without attracting the attention of some knife-wielding freak. After terrifying his would-be assailant, Snake proceeds on his way, only to be accosted by a gang of bike-riding thugs who lay claim to the freeway outside Atlantic City.
Posted on 12.07.03 by Dindrane @ 5:07 am
Film:


DVD:

Written by: Yukiru Sugisaki
Directed by: Mitsuro Hongo
Art Director: Toshihisa Koyama
Features:
Voice Actor Academy
Cast and Crew Interviews
Trailers
3 episodes totalling 75 minutes for each disc
Japanese and English audio
English subtitles
Dindrane's Anime Warnings:
Wretched, wicked students who ignore their teacher
Mysterious diva
Unexplained cat ears poised on the heads of young girls
Friends as rivals, not partners
The director talking through a tiger-striped oven mitt
Released by: Bandai
Region: 1
Rating: 13+ for minor profanity, violence, and tobacco use
Anamorphic: N/A, made for TV
My Advice: Borrow them.
[[ Review continues ]]