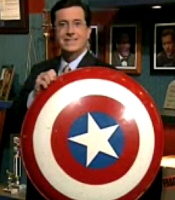 In a blaze of publicity, Marvel Comics announced the death of Steve Rogers (aka: Captain America). The parting shot made headlines across the globe, and came at just the right time for the cable news pundits--because you can always stop talking about a dead supermodel's baby daddy just long enough to talk about a dead fictional character.
Yes, I'm being a bit cynical about this. After all, with everything else that's going on in the world--analyzing the political impact of Captain America's "death" seems like a terribly inappropriate thing for a responsible media outlet to do. But then again, who am I to say--considering the last time a Four Color Fury column showed up, Anderson Cooper was still the host of The Mole. But everything changes, I'm told.
And besides, it's not as if Marvel hasn't done this before...