Posted on 12.07.03 by Doc @ 1:44 am
Film:


DVD:

Series Concept by: Gene Roddenberry
Starring: Patrick Stewart, Jonathan Frakes, Wil Wheaton, Brent Spiner, Gates McFadden, LeVar Burton, Michael Dorn, and Marina Sirtis
Features:
All 24 episodes of Season 3 (1989-90)
Four making-of documentaries
Cast and crew interviews
Released by: Paramount.
Region: 1
Rating: NR
Anamorphic: N/A; appears in its original 1.33:1 format.
My Advice: It's Star Trek, for cryin' out loud. Own it. You don't need me to tell you.
Star Trek: The Next Generation provided an entirely new generation of Federation crew members, but perhaps more importantly, bombarded a new generation of sci-fi fans with fresh ideas and interesting stories to draw them into Gene Roddenberry's sweeping future, where humanity freely explored the far corners of the galaxy and regularly interacted with hundreds of alien races. In this respect, the "generation" referred to in the show's title may have more to do with those of us on the sofa side of the equation than the starship side.
Posted on 12.07.03 by Dindrane @ 1:43 am
Written by: Bruno Bettelheim
Published by: Vintage Books
Written by a child psychologist, The Uses of Enchantment investigates how faery tales affect children, including a story-by-story analysis of many of the most common tales. It is Bettelheim's claim that faery tales are invaluable in educating, strengthening, and supporting children. He argues that the frightening aspects of faery tales, including their unadulterated violence and sexual aspects, should not be removed; rather, such things enable children to grow up stronger, believing that every conflict has a resolution. Trying to isolate children from the reality of violence, the author claims, does them a very real disservice; faery tales can serve to redress this imbalance.
There are, however, some problems with Bettelheim's claims. While many of his claims regarding the symbolism of the tales are interesting, claiming the source of a given mytheme, ripped from its story-context, is dangerous even for the most seasoned analyst, particularly when only one possible reading (the Freudian one) is accepted. In typical Freudian fashion, he neglects the fact that sexuality isn't the only issue in growing up. Undoubtedly, faery tales can be quite valuable to a child's progression, or even an adult's, but the author does not always succeed in making his more challenging points. Bettelheim does not address the fact that many faery tales, even some of those included in common anthologies, do not end well for the hero/heroine. How, then, could a child, consciously or otherwise, learn to believe in the power of goodness or even their own power to find resolutions? Also, faery tales were not originally just for children; they were for adults as well. To claim, then, that they were intended to teach children valuable lessons is fallacious. Perhaps they can be used in the manner he suggests, but that would be a modern use, not an ancient one.
Posted on 12.07.03 by Dindrane @ 1:36 am
Film:


DVD:
Written by: Reg Gadney
Directed by: Jim Goddard
Starring: Martin Sheen, John Shea, E.G. Marshall, Geraldine Fitzgerald, Vincent Gardenia, and Blair Brown
Features:
Original footage of Kennedy's Inaugural Address
30-minute film by the DoD regarding the Cuban Missile Crisis
Excerpts from Kennedy's historic Berlin Wall speech
19-minute film of Kennedy's last trip to Texas, including footage from the two cities he visited before Dallas and footage from a limo behind the President in the Dallas motorcade
Documentary of the Kennedy presidency from the JFK Library in Boston
Never-before-seen footage
Released by: Wellspring
Region: 1
Rating: NR
Anamorphic: N/A; presented in its original 1.33:1 format
My Advice: Get it if you're interested in American history
Posted on 12.07.03 by Dindrane @ 1:35 am
Film:


DVD:

Directed by: Stuart Burge, John Gorrie, Tony Smith, and Rudolph Cartier
Starring: John Gielgud, Joan Plowright, Peter Firth, Jeremy Brett, Helena Little
Features:
Contains The Importance of Being Earnest (1986), The Picture of Dorian Gray (1976), An Ideal Husband (1969) & Lady Windermere's Fan (1972)
"The Life and Loves of Oscar Wilde" featurette
Released by: BBC Home Video
Region: 1
Rating: NR, suitable for audiences 13+
Anamorphic: N/A; appears in its original 1.33:1 format
My Advice: Get it.
The Importance of Being Earnest (2002 feature film version reviewed here) tells the story of friends Jack (Paul McGann) and Algernon (Rupert Frazer), each of whom use an imaginary persona to escape the pressures of their lives. When this becomes an impediment to their happiness, they have to find a graceful way out of their predicaments that won't leave each other stranded. The Picture of Dorian Gray relates the story of the wealthy, but dissolute man (Firth) who attempts to preserve his own physical beauty by means of a very special portrait. An Ideal Husband follows the adventures of London society when the honesty of several characters is questioned by mistakes from their past. Will the love matches, political appointments, and personal beliefs all work out as they should, or will Mrs. Cheveley succeed in destroying everyone? Finally, Lady Windermere's Fan explores a young woman's attempt to enter London's society, as well as a look at what generosity, marriage, and loyalty really mean.
Posted on 12.07.03 by HTQ4 @ 1:34 am
Film:


DVD:

Written by: John Logan, based on a story by Rick Berman, Logan and Brent Spiner
Original Songs & Music by Jerry Goldsmith
Directed by: Stuart Baird
Starring: Patrick Stewart, Jonathan Frakes, Brent Spiner, LeVar Burton, Michael Dorn, Marina Sirtis, Gates McFadden, and Tom Hardy
Features:
Running audio commentary with director Baird
Documentaries:

New Frontiers & A Bold Vision of the New Frontier: Stuart Baird and the direction of Nemesis
A Star Trek Family's Final Journey & Red Alert: Shooting the Action of Nemesis: interviews with the cast

Deleted Scenes
Photo Gallery
Released by: Paramount
Region: 1
Rating: PG-13
Anamorphic: Yes
My Advice: Rent it.
Posted on 12.07.03 by Dindrane @ 1:33 am
Film:


DVD:

Written by: John Fasano, Joe Harris & James Vanderbilt
Directed by: Jonathan Liebesman
Starring: Chaney Kley, Emma Caulfield, Lee Cormie, Grant Piro, Sullivan Stapleton, Steve Mouzakis
Features:
Running audio commentary by director Liebesman, producers William Sherak and Jason Shuman, and writer Vanderbilt
Running audio commentary by writers Fasano & Harris
Storyboard comparison
Deleted scenes
The Legend of Matilda Dixon featurette
Making-of featurette
Released by: Columbia Pictures
Region: 1
Rating: PG-13
Anamorphic: Yes
My Advice: Rent it.
Posted on 12.07.03 by Dindrane @ 1:28 am
Film:

DVD:

Written by: Sam Hall, Joe Caldwell, Ralph Ellis, Gordon Russell, Ron Sproat, Francis Swann, Art Wallace and Violet Welles
Directed by: Dan Curtis, Pennberry Jones, Dennis Kane, Henry Kaplan, John Sedwick, Jack Sullivan, Sean Dhu Sullivan, Lela Swift, and John Weaver
Starring: Jonathan Kidd, Joan Bennett, Kathryn Leigh Scott, Louis Edmonds, Nancy Barrett, David Henesy, Lara Parker, Clarice Blackburn, Anthony George, Grayson Hall, Joel Crothers, and David Ford.
Features:
Released by: MPI Home Video
Region: 1
Rating: NR, safe for 12+
Anamorphic: N/A; appears in its original 1.33:1 format
My Advice: Get it NOW, along with the previous sets
Posted on 12.07.03 by Everest @ 1:21 am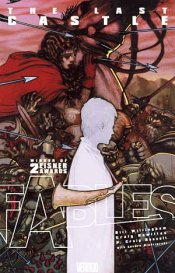 Story:

Art:
Written by Bill Willingham
Pencils by Craig Hamilton
Inks and Framing Sequence Art by P. Craig Russell
Colors by Lovern Kindzierski
Lettering by Todd Klein
Published by DC/Vertigo.
Price: $5.95.
My verdict: Definitely. Own it.
The Premise: Fairy Tales are real. The characters in them are real. They live forever--or at least until they're forgotten. Strangely enough, they live in New York, in their own little corner of the city. They've been there for a couple hundred years, though unbeknownst to the regular population of the city (a la Highlander). Snow White effectively runs Fabletown, Bigby Wolf is the local law enforcement, Jack (of Beanstalk fame) is an errand runner and general trouble-maker. All your other favorites are there too: Prince Charming (along with all his ex-wives--Sleeping Beauty, Cinderella, etc.), Little Boy Blue, the Lilliputians, Goldilocks, all Three Blind Mice, etc.--trust me; they're all there.
Posted on 12.07.03 by HTQ4 @ 1:19 am
Film:


DVD:

The Masque of the Red Death
Written by: Charles Beaumont & R. Wright Campbell, based on the story by Edgar Allan Poe
Directed by: Roger Corman
Starring: Vincent Price, Hazel Court, Jane Asher, David Weston
The Premature Burial
Written by: Charles Beaumont & Ray Russell, based on the story by Edgar Allan Poe
Directed by: Roger Corman
Starring: Ray Milland, Hazel Court, Richard Ney, Heather Angel, Alan Napier
Features:
Roger Corman Behind the Masque
Roger Corman Unearths Premature Burial
Original Theatrical Trailers for both films
Released by: MGM
Region: 1
Rating: NR
Anamorphic: Yes
My Advice: Rent it on a Friday night
Posted on 12.07.03 by Doc @ 1:19 am
Written by Bruce Campbell.
Published by St. Martin's Press (LA Weekly Books).
Up front, I must confess that I'm not much of a (auto)biography reader. Sure, I'll watch the occasional A&E special to find out about somebody famous and of interest, but to invest the time to read an entire book dedicated to some single individual. Not unless you're talking about James Joyce, brother. Nobody who made their name in Hollywood gets that kind of credit and commitment from me.
Except Bruce Campbell. The man is a patron saint of mine, and I've seen just about everything he's committed to celluloid (or thought I had before I read this). So when I got a chance to scope out his new autobiography, I was game. I knew, vaguely, the story of making the Evil Dead films with his buddy Sam Raimi, and was curious to hear the insider's scoop on that process. And given Campbell's well-documented wiseacre wit, it promised to be pretty amusing, too.
What followed was a whirlwind read of the 300-page tome, over the course of a day and a half. I didn't read this book - I inhaled it. And it was all I had hoped for. Campbell glazes over his early life pretty quickly, and moves on to the fateful conjunction of Sam Raimi, Rob Tapert, and himself in a normal, Michigan high school. I knew, before reading the book, that these guys had hooked up early in life, but to think of how much history exists between them is a little staggering. He talks about their beginnings making Super-8 films, and their first couple of attempts to make something "bigger." But the bulk of the book's first half covers the creation of the cult-film legend, Evil Dead. Beating the streets for money, the neverending shoot from hell in the hills of Tennessee, all the way through the first screening and the movie's eventual cult-blockbuster status, you can tell this story means a lot to Bruce, and it should. The sheer guts and determination are impressive.