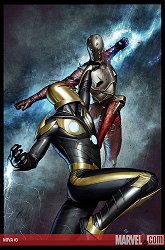 Well, after my survey of the April Previews for DC covers, I wondered what I would find when I looked through all the Marvel covers.
By my count there were sixty titles that qualified, leaving off stuff like the licensed titles, Marvel Adventures and so forth. I left out the Ultimate titles but kept in Marvel Knights titles, since I'm not even sure what Marvel Knights means anymore as an "imprint." It used to be the place they sent titles that needed serious retooling, but now it's for "darker" characters. That don't swear, I guess. Because that would mean Marvel Max. I don't know. Anyway.
Covers where blood was in evidence? A lot less. Only three. And two probably shouldn't count, because they involve zombies. Those would be Black Panther #29 and Marvel Zombies/Army of Darkness #4. But fair is fair. The other one is Battling Jack Murdock #1, but that's about a fighter. So. We should count our blessings they didn't call it Jack Murdock: Born, I guess.
Oddly, there were no covers that featured heroes suffering or having been smacked down. At least not like over at DC. Instead the pattern I did see was ten covers that featured the new sales gimmick du jour at the Shack of Shite (formerly the House of Ideas): heroes smacking other heroes.