Posted on 12.07.03 by Dindrane @ 1:28 am
Film:

DVD:

Written by: Sam Hall, Joe Caldwell, Ralph Ellis, Gordon Russell, Ron Sproat, Francis Swann, Art Wallace and Violet Welles
Directed by: Dan Curtis, Pennberry Jones, Dennis Kane, Henry Kaplan, John Sedwick, Jack Sullivan, Sean Dhu Sullivan, Lela Swift, and John Weaver
Starring: Jonathan Kidd, Joan Bennett, Kathryn Leigh Scott, Louis Edmonds, Nancy Barrett, David Henesy, Lara Parker, Clarice Blackburn, Anthony George, Grayson Hall, Joel Crothers, and David Ford.
Features:
Released by: MPI Home Video
Region: 1
Rating: NR, safe for 12+
Anamorphic: N/A; appears in its original 1.33:1 format
My Advice: Get it NOW, along with the previous sets
Posted on 12.07.03 by Everest @ 1:21 am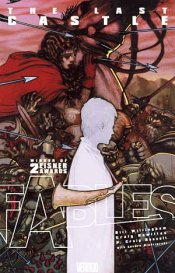 Story:

Art:
Written by Bill Willingham
Pencils by Craig Hamilton
Inks and Framing Sequence Art by P. Craig Russell
Colors by Lovern Kindzierski
Lettering by Todd Klein
Published by DC/Vertigo.
Price: $5.95.
My verdict: Definitely. Own it.
The Premise: Fairy Tales are real. The characters in them are real. They live forever--or at least until they're forgotten. Strangely enough, they live in New York, in their own little corner of the city. They've been there for a couple hundred years, though unbeknownst to the regular population of the city (a la Highlander). Snow White effectively runs Fabletown, Bigby Wolf is the local law enforcement, Jack (of Beanstalk fame) is an errand runner and general trouble-maker. All your other favorites are there too: Prince Charming (along with all his ex-wives--Sleeping Beauty, Cinderella, etc.), Little Boy Blue, the Lilliputians, Goldilocks, all Three Blind Mice, etc.--trust me; they're all there.
Posted on 12.07.03 by HTQ4 @ 1:19 am
Film:


DVD:

The Masque of the Red Death
Written by: Charles Beaumont & R. Wright Campbell, based on the story by Edgar Allan Poe
Directed by: Roger Corman
Starring: Vincent Price, Hazel Court, Jane Asher, David Weston
The Premature Burial
Written by: Charles Beaumont & Ray Russell, based on the story by Edgar Allan Poe
Directed by: Roger Corman
Starring: Ray Milland, Hazel Court, Richard Ney, Heather Angel, Alan Napier
Features:
Roger Corman Behind the Masque
Roger Corman Unearths Premature Burial
Original Theatrical Trailers for both films
Released by: MGM
Region: 1
Rating: NR
Anamorphic: Yes
My Advice: Rent it on a Friday night
Posted on 12.07.03 by Doc @ 1:19 am
Written by Bruce Campbell.
Published by St. Martin's Press (LA Weekly Books).
Up front, I must confess that I'm not much of a (auto)biography reader. Sure, I'll watch the occasional A&E special to find out about somebody famous and of interest, but to invest the time to read an entire book dedicated to some single individual. Not unless you're talking about James Joyce, brother. Nobody who made their name in Hollywood gets that kind of credit and commitment from me.
Except Bruce Campbell. The man is a patron saint of mine, and I've seen just about everything he's committed to celluloid (or thought I had before I read this). So when I got a chance to scope out his new autobiography, I was game. I knew, vaguely, the story of making the Evil Dead films with his buddy Sam Raimi, and was curious to hear the insider's scoop on that process. And given Campbell's well-documented wiseacre wit, it promised to be pretty amusing, too.
What followed was a whirlwind read of the 300-page tome, over the course of a day and a half. I didn't read this book - I inhaled it. And it was all I had hoped for. Campbell glazes over his early life pretty quickly, and moves on to the fateful conjunction of Sam Raimi, Rob Tapert, and himself in a normal, Michigan high school. I knew, before reading the book, that these guys had hooked up early in life, but to think of how much history exists between them is a little staggering. He talks about their beginnings making Super-8 films, and their first couple of attempts to make something "bigger." But the bulk of the book's first half covers the creation of the cult-film legend, Evil Dead. Beating the streets for money, the neverending shoot from hell in the hills of Tennessee, all the way through the first screening and the movie's eventual cult-blockbuster status, you can tell this story means a lot to Bruce, and it should. The sheer guts and determination are impressive.
Posted on 12.07.03 by Dindrane @ 1:18 am
Film:


DVD:

Directed by: Yoshiaki Iwasaki
Original Story by: Ken Akamatsu
Features:
Character profiles
English and Japanese audio
English subtitles
Dindrane's Anime Warnings:
Ghosts
Angry Naru
Fan service in foreign costumes
Released by: Bandai
Region: 1
Rating: 13+
Anamorphic: N/A; appears in its original 1.33:1 format.
My Advice: Buy it.
Posted on 12.07.03 by HTQ4 @ 1:11 am
Film:


DVD:

Written by: James Clavell and W. R. Burnett, based on the book by Paul Brickhill
Directed by: John Stuges
Starring: Steve McQueen, James Garner, Richard Attenborough, James Donald, Charles Bronson, Donald Pleasence, and James Coburn
Features:
24-Minute Making-of Documentary
Trivia and Production Notes
Released by: MGM
Region: 1
Rating: NR
Anamorphic: Yes
My Advice: Rent it.
During WWII, Allied service men were instructed that in case of their capture and imprisonment in a Prisoner of War camp, they were to try to escape as many times as they possibly could. This would keep the Germans busy with sending men after them for recapture, thereby reducing the number of German soldiers that could be placed on the front lines of the major battles. As the war wore on, a certain group of men in the Royal Air Force became infamous for their abilities to organize and execute these escape plans. As a result, the Germans built a fortress called Stalag Luft North, from which they claimed no man could escape. Needless to say, doing this simply gave the men trying to escape more fuel to make it happen. When "Big X" (Attenborough), the master of escape plans, was transferred to the camp, he arrived with plans to make sure that not only would they escape, but they would allow large numbers of men to escape. So, they devised a plan to take 250 men out of the camp. Hence the term "Great" in the title.
Posted on 12.07.03 by Doc @ 12:55 am
Film:


DVD:
Written by: Richard Maibaum and Paul Dehn, based on the novel by Ian Fleming
Directed by: Guy Hamilton
Starring: Sean Connery, Honor Blackman, Gert Fröbe, Shirley Eaton, Tania Mallet
Features:
Remastered audio and video
Audio commentary with Guy Hamilton
Second commentary with cast and crew
The Making of Goldfinger documentary
The Goldfinger Phenomenon documentary
Massive still gallery
Original publicity featurette
Original radio interviews with Connery
Making-of booklet
Original trailer, TV, and radio spots
Released by: MGM
Region: 1
Rating: PG
Anamorphic: Yes.
My Advice: Own it, natch.
Posted on 12.07.03 by HTQ4 @ 12:55 am
Film:


DVD:

Written by: John Hughes
Directed by: Howard Deutch
Starring: Molly Ringwald, Andrew McCarthy, James Spader, Jon Cryer, Harry Dean Stanton
Released by: Paramount
Region: 1
Rating: PG-13
Anamorphic: Yes
My Advice: If you were in high school in the 80s, own it...at least until a better DVD presentation comes out.
Andie (Ringwald) lives in a small house with her single father, Jack (Stanton) in a sort of role reversal. She is always the one getting him to get out of bed and telling him to get a job. They love each other very much, but Jack is still getting over his wife leaving him. Anyway, it's Andie's senior year and she is focused on the prom. Her friend Duckie (Cryer) is completely in love with her, but he just can't bring himself to tell her. He is also completely blind to the fact that she is crazy about a boy from the other side of the tracks named Blaine (McCarthy). Blaine asks her out on a date and eventually out to the prom, but there are other problems. His friends don't like her, and her friends don't like him. Will the socio-economic divide between them be too much for their relationship to handle?
Posted on 12.07.03 by Dindrane @ 12:54 am
Film:


DVD:

Written by: James Mangold and Steven Rogers
Directed by: James Mangold
Starring: Meg Ryan, Hugh Jackman, Liev Schreiber, Breckin Meyer, Natasha Lyonne
Features:
Commentary by director James Mangold
Original Theatrical Version and Director's Cut
Deleted Scenes With Commentary
"On The Set" Featurette
Sting "Until" Music Video
Photo Gallery
Costume Featurette
English Audio
French Audio on the Director's Cut
Spanish subtitles
Released by: Miramax
Region: 1
Rating: PG-13
Anamorphic: Yep. Presented in 1.85:1 AR, enhanced for 16x9 TVs
My Advice: Rent it.
Posted on 12.07.03 by Widge @ 12:45 am
Film:


DVD:

Written and Directed by: Dean Deblois & Chris Sanders
Starring: Daveigh Chase, Chris Sanders, Tia Carrere, Ving Rhames, David Ogden Stiers
Features:
DisneyPedia: Hawaii--The Islands of Aloha
Create Your Own Alien Experiment game
A Stitch in Time: Follow Stitch Through the Disney Years
Hula Lesson
Young Voices of Hawaii featurette
"Burning Love": Behind the Scenes With Wynonna
"I Can't Help Falling in Love With You" by the A-Teens music video
The Look of Lilo and Stitch
Animating the Hula
On Location With the Directors
Deleted scenes
Four theatrical teaser trailers
Trailers for Jungle Book 2, Country Bears, Atlantis 2, 101 Dalmatians 2, Inspector Gadget 2, "Stitch's New Movie," Sleeping Beauty on DVD, Walt Disney World and Kim Possible
Released by: Walt Disney Video
Region: 1
Rating: PG
Anamorphic: Yes.
My Advice: Rent it.