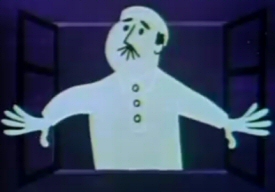 It's time for another cavalcade of Christmas cartoons, since that's the traditional Day 3 approach to things.
We kick off with the Max Fleischer 1939 classic, "Somewhere in Dreamland." That's apparently Mae Questel (Betty Boop) providing the voice of the mother.
Then we have the 1959 Halas-Batchelor classic short, "The Christmas Visitor." Yes, kids, remember: only Santa can use a cigar to decorate a Christmas tree. I myself have had mishaps with cigars, so just say no, kids.
And lastly, someone's created a video to accompany a Jiminy Cricket reading of "Twas the Night Before Christmas." Enjoy.
(more…)