It's Weekend Justice: the Internet's #1 audio trainwreck. It's the podcast that focus on television like a sawed-off shotgun filled with Jell-O. This podcast was engineered–some might say over-engineered–by experts to escort you from the work week in the most chaotic manner possible. Please note: this podcast is profane, definitely oversexed and definitely overwrought. It is wrong and unsafe. You have been warned.
[audio:http://www.podtrac.com/pts/redirect.mp3/www.needcoffee.com/podcasts/wjustice102111.mp3]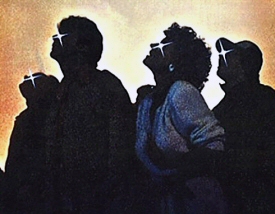 Agenda:
Spock, the closet and Rox's sincerity
Don't hate on Neil Gaiman, fuckers
Jon, Lord of the Uni-Pull
New podcast advertisement!
Scott, helpful person
The sound of the 1870s
Widge's beer and return to Alabama
Leigh's abandoned costume (idea)
Alice in Wonderland redux
Bacon funnel cakes!
Howard Hessman and autographs
Sex and Medieval Times
The Irish and The Welsh and some islanders