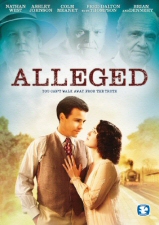 It's Alleged, out on DVD from Image Entertainment. Here's what they have to say for themselves:
Love and faith are put to the ultimate test in this drama set against the landmark Scopes "Monkey Trial" of 1925. Charles Anderson (Nathan West,
Miracle
) is a talented young reporter engaged to Rose (Ashley Johnson,
The Help
), who works with him at the Tennessee small town newspaper his late father founded. The "Trial of the Century" brings brilliant adversaries William Jennings Bryan (Fred Dalton Thompson,
The Genesis Code
) and Clarence Darrow (
Brian Dennehy
,
Cocoon
) to Charles' hometown. But as the trial unfolds, Charles is caught up in the media circus and becomes torn between his journalistic integrity and impressing his mentor, the colorful
Baltimore Sun
editor H. L. Mencken (
Colm Meaney
,
Star Trek: The Next Generation
), who presses him to "make a story" instead of report one.
I just like the notion of seeing Thompson and Dennehy in the courtroom. Plus, Dennehy is playing the "real" version of the fictionalized Henry Drummond, who he played in the recent Broadway revival of Inherit the Wind. So, bonus. Anyway, we have two copies of the DVD to give away. Want to win one? Excellent. Here's how that happens: you enter using the form below. Remember you can enter once a day. If we draw your name when the contest ends, you snag it! Good luck!
(more…)