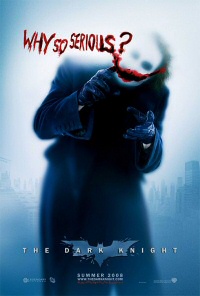 Written by: Christopher Nolan & Jonathan Nolan, based on a story by David S. Goyer & Christopher Nolan, which was based in turn on characters created by Bob Kane
Directed by: Christopher Nolan
Starring: Christian Bale, Heath Ledger, Aaron Eckhart, Michael Caine, Morgan Freeman, Maggie Gyllenhaal, Gary Oldman
My Advice: Don't miss it.
Batman (Bale) has been doing a good job cleaning up the streets of Gotham. In fact, he may be doing too good a job. Or too bad a job, depending on how you look at it. The organized crime collective is getting backed into a corner. Not only do they have Batman after their asses, but a new DA, Harvey Dent (Eckhart), actually wants to clean things up. And of course, Jim Gordon (Oldman) and his crew are fighting the good fight as well. Seeing no other way to deal with the situation, they accept the assistance of a newcomer: The Joker (Ledger). Trouble is, they don't know what they've unleashed.