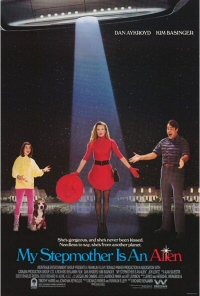 Jimmy Durante by far is one of the best musicians to come out of America. In fact, every single time I hear him sing, it makes me think of at least one movie in particular: My Stepmother is an Alien.
Now, I know you are probably wondering "Why this connection?"
Have you ever had the feeling that you had some sort of connection to a film from your childhood that you just can't seem to get away from? That one film that makes you think about your childhood and go "Yeah, that was a great moment." As silly as this may be, for me that film was My Stepmother is an Alien.
The story goes like this: the first film that I ever saw by myself in the theaters just after sneaking out of school (sorry Mom) was this film. Granted the movie did come out in 1988, and I was still but a wee lass, the film was always being re-shown at the local dollar theater a few blocks away from where I went to summer school. (On a sidebar: Take you hats off to the Dollar Movie Theaters around the U.S.A. they work their butts off to give us cheap entertainment…pause for a moment of silence and a sip of whatever you may be drinking.)