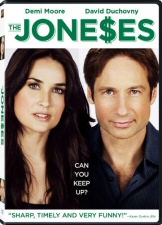 Demi Moore and David Duchovny star in The Joneses, coming to DVD from Fox. Here's what they have to say for themselves:
The flawless and fashionable Joneses are the envy of their posh, suburban neighborhood filled with all the trappings of the upper middle class. They are the ultimate trendsetters with an endless supply of high-tech toys, designer clothes, fast cars and the latest gadgets. But as the neighbors try to keep up with the Joneses, none are prepared for the truth about this all too perfect family.
Want a trailer? Sure thing…
Direct link for the feedreaders.
Would you like a copy? Great, because we have 3 to give away. For your chance to win, just fill out the form below. You can even enter once a day if you like. If we draw your name at the end of the contest, you win. Good luck!
(more…)