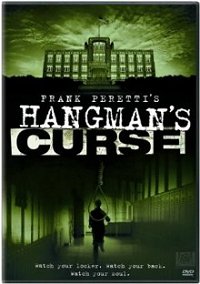 Film:


DVD:

Written by Kathy Mackel & Stan Foster, based on the novel by Frank Peretti
Directed by Rafal Zielinski
Starring David Keith, Mel Harris, Leighton Meester, Douglas Smith, Edwin Hodge
Features:
Featurettes: "Frank Peretti: From Page to Screen," "The Spider Wrangler: The Spiders of Hangman's Curse"
Theatrical trailer
Released by: Fox.
Rating: NR
Region: 1
Anamorphic: Yes.
My Advice: Rent it for pre-teens.