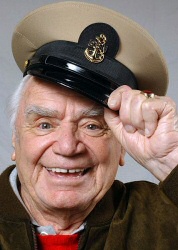 Jordan Ladd and Sally Kellerman will star in The Wishing Well for the Hallmark Channel. Do you need to know that? No. What you need to know is that also on board is Ernest Borgnine and this will be his 200th movie. He was in The Black Hole. He was in The Wild Bunch. He was in The Dirty Dozen. And if that wasn't enough, he was co-pilot of Airwolf. Ernest Fucking Borgnine, ladies and gentlemen. 200 movies to his name, still working. Hell yes. Source: Hollywood Reporter.
Absolutely Fabulous is going to attempt to be Americanized. Fox is working on it. Jennifer Saunders is on board as one of the executive producers. It will be based in L.A. "but retain the basic template of the original, revolving around the friendship of two boozy, over-40 best friends who are desperate to stay hip and youthful and who carry on under the disapproving eye of Edina's teenage daughter, Saffy." You may commence betting whether the pilot ever airs and how many episodes it will last…startiiiing…now. Source: Variety.
Tim Burton's Alice in Wonderland has its queens: Anne Hathaway is White, Helena Bonham Carter is Red. Not bad. Source: Hollywood Reporter.