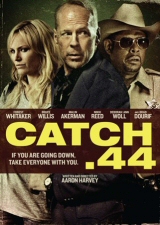 It's Catch .44, hitting DVD from Anchor Bay. Here's what they have to say for themselves:
In the tradition of
Pulp Fiction
,
Traffic
and
Go
, and from the producers of
Machete
and
16 Blocks
, Anchor Bay Films takes aim with the December 20th release of Catch .44 on Blu-rayâ"¢ and DVD.
For Tes (Malin Akerman, Watchmen, The Proposal, Couples Retreat) and her two cohorts Kara (Nikki Reed, Thirteen, the Twilight franchise) and Tara (Deborah Ann Woll, "True Blood"), the job sounded simple enough: intercept a double-cross drug shipment for their crime boss Mel (Bruce Willis, the Die Hard films, Red, The Expendables) at an isolated diner. But when an unstoppable chain of events unfolds, everyone soon realizes no one is who they seem and the job may be something other than eliminating the competition. What started as simple instructions has now turned into a deadly cat-and-mouse game – with large guns pointed at everyone. Catch .44 also stars Brad Dourif (The Lord of The Rings: The Two Towers, Dune), Michael Rosenbaum ("Smallville") and Shea Whigham ("Boardwalk Empire").