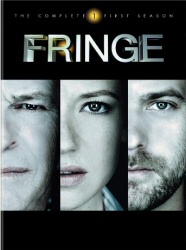 So. We're all SF nerds here, right? We've all watched the first four seasons of Futurama, and we're all watching Fringe? Yeah, of course we are. So you'll all be with me, and you'll understand what I mean when I say that, I recently realised that
Reiden Lake:FRINGE::The Cryochamber:FUTURAMA
Okay, maybe that doesn't make a lot of sense, no matter what you're watching. I will explain sum up, but first I want to acknowledge a debt of brain machinations to a conversation with M1k3y, who asked the questions what got me thinking through this explanation of my analogy.
Here There Be Spoilers.
What I mean is that they're both lynchpins for their respective universes. In Futurama, we see that, because of Fry, there's a temporal anomaly at the cite of the cryochamber–the point where he goes forward in time (the Why of that is explained in the SUPER INTRICATE ARC of the first four seasons). In fact, we see in a What-If Machine episode that if Fry isn't frozen, then the entire Universe CEASES TO BE.