Disclaimer: Warner Bros. Home Entertainment requests we note that it provided a free copy of the titles featured below. The opinions I share are my own.
Out now are two titles for Batman fans: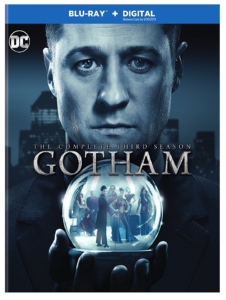 First is Gotham, the crime drama television series that follows a young James Gordon (Ben McKenzie) in his early days in the Gotham Police Department. Also woven into the plot lines are the origin stories of Bruce Wayne and multiple DC villains. In the third season, Gordon becomes a self-made bounty hunter as he tracks the Indian Hill fugitives in an attempt to protect Gotham. While Gordon is chasing Hugo Strange and Fish Mooney, Bullock and Barnes are left to deal with the rise of additional supervillains, Poison Ivy and Mad Hatter, who along with Penguin and Riddler are wreaking havoc on the city. Amidst the chaos, young Bruce Wayne learns more about the Court of Owls criminal organization and begins to discover that there are even more secrets surrounding his parents' murder. With the stakes rising ever higher, good and evil clash together like never before, and only time will tell which side will ultimately win power over the city and citizens of Gotham.
Out now on DVD and Blu-ray is Gotham: The Complete Third Season, which includes all twenty-one episodes of the third season along with some extras.  Heading the bonus features are three featurettes— one on the infamous Court of Owls (12 minutes), one on the new villains introduced in Season Three (10 minutes), and one on Ben McKenzie's directorial debut (2 minutes).  Also included are the Gotham 2016 Comic Con panel and some deleted scenes.  Streaming options are available on iTunes (with all bonus features) and on Amazon (with only the Comic Con panel), both priced at $29.99. The DVD and Blu-ray are available on Amazon for $36.99 and $39.99, respectively. Pricing is pretty close on all of these options, so do your own calculations on pricing / features / format and see which one feels like a good fit.