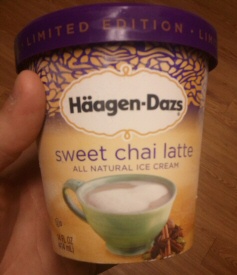 There is a vicious rumor going around that all I drink is coffee. Vicious and untrue, I assure you. There are three drinks that I would climb over you and your grandmother to get my hands on, and only one of them is coffee. Granted, the second might be considered a distant cousin of coffee, but…anyway. They are, in order of how likely I am to go through you to get at them: Thai coffee, chai (especially iced) and mango lasse.
In short, the first is incredibly strong coffee mixed with spices, a nice helping of cream and a formidable amount of sugar and drinking it is like having your adrenal gland squeezed by God. The third is basically a yogurt and mango smoothie and is freaking delicious. But the second? The chai? Ah, yes, that is something special.
Basically, chai is black tea that involves a number of other spices. The spices vary depending on where it's coming from and whatnot, but I'm most familiar with either Oregon Chai (and I couldn't find a list of their ingredients) and Tazo Chai (which is what Starbucks uses to make their chai lattes). The Tazo comes with black pepper, cardamom, cinnamon, ginger, cloves and star anise. And I'm sorry, but just saying "Spices" in an ingredients list is lame.
Anyway, all of that to say: I was pleased to see that Haagen-Dazs, purveyor of pints of frozen creamy crack, were tackling the chai latte with their Limited Edition Sweet Chai Latte.