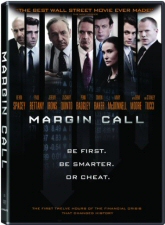 It's Margin Call, out from Lionsgate on DVD on December 20th. Here's what they have to say for themselves:
Set in the high-stakes world of Wall Street, MARGIN CALL is an entangling thriller involving the key players at an investment firm d uring the earliest hours of the 2008 financial crisis. When an entry-level analyst unlocks information that could prove to be the downfall of the firm, a roller-coaster ride ensues as the firm's employees must weigh whether to save their own company (and their jobs) at the risk of fleecing millions of investors.
The film picked up the Best First Feature prize from the New York Film Critics Circle, as well as two Independent Spirit Award nominations including Best First Feature and Best First Screenplay for J.C. Chandor. The film has also been honored with a Robert Altman Award for ensemble.