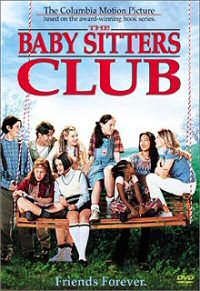 Film:


DVD:

Written by Dalene Young, based on the novel by Ann M. Martin
Directed by Lynn Hamrick and Melanie Mayron
Starring Schuyler Fisk, Bre Blair, Rachael Leigh Cook, Larisa Oleynik, Tricia Joe, Stacy Lynn Ramsower, Zelda Harris, Vanessa Zima, and Christian Oliver
Released by: Columbia TriStar Home Entertainment
Rating: PG-13
Region: 1
Anamorphic: Nope.
My Advice: Skip it.
Seven teenagers start a babysitting business called, appropriately, The Babysitter's Club. The leader of the gang, Kritsy (Fisk) decides that they will start a summer camp for the kids they babysit to keep the business active during the summer (also to keep the friends together all summer). However things begin to go awry when competition kicks in, in various forms. Some of the other girls at school want to muscle in on their action (not in a West Side Story kind of way, but in that passive-aggressive high school girl kind of way) and some of the girls in the club acquire a few summer crushes along the way. Not only that, but the parents and neighbors start to complain about the business.