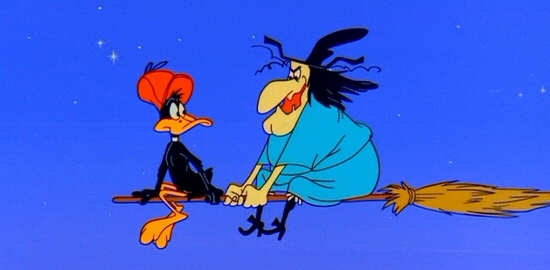 Oh my stars and garters, can it really be that time again? Yes, by my sainted uncle's liver–the fourth hand on the Ouija Board tells me that it's time. October storms forth and takes the last day away from September (which, let's face it, wasn't really using it anyway) and thus we declare Year Eight of 32 Days of Halloween. Because thirty-one day Halloween celebrations are for pussies.
Generally speaking, we begin each year with some form of cartoon, alternating between Disney and Looney Tunes. It's Looney Tunes time again, which led me naturally to the final Looney Tunes appearance of Witch Hazel (voiced by June Foray) in A Haunting We Will Go from 1966.
But very quickly it became clear that we had two other "Haunting We Will Go" films out there–and they deserved a place as well. First things first. Daffy Duck, kick us off, sir.