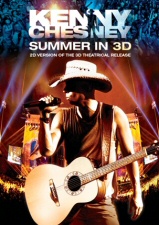 Coming out from Image Entertanment, it's Kenny Chesney Summer in 3D. Here's what they have to say for themselves:
[It's] the one and only video footage of a live Kenny Chesney concert. With over 35 million records sold and 20 #1 hits, Kenny Chesney has been declared the most popular live music act of the 21st century, having sold over one million tickets in each of the past 8 summers. He has received 6 Academy of Country Music awards (including 4 consecutive Entertainer of the Year Awards), as well as 6 Country Music Association awards. Chesney also recently announced what will be his biggest tour in five years.
Directed by Joe Thomas, Kenny Chesney Summer in 3D captures his unparalleled live performances filmed over 6 nights. The video was shot from onstage, the front row, the wings and even the Goodyear blimp, and also includes extensive and rare archival footage, behind-the-scenes moments and photographs held together by Chesney's own narrative. It takes the viewer inside the life, the loves, and the soulful foundation of his remarkable success.