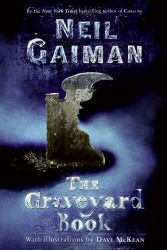 When it comes to The Neil's fantastic book, The Graveyard Book, there are many running themes. There's growing up. There's going out into the world. There's family. And…there's dessert.
No, seriously. It started with The Neil promising cupcakes to everybody at HarperChildren's if the book stayed on the New York Times children's bestseller list and now it's apparently snagged him a pie since it's been on the list for more than a year.
And that got me thinking that this is a special occasion and very, very cool for Mr. G. Not just because of the pie–although I'm sure it shall be a damn fine pie indeed. And we should do something to celebrate.
So here's the shot: it's The Graveyard Dessert Challenge. Your mission, should you choose to accept it, is to create–yes, actually create, not just sketch up or write up a recipe–a Graveyard Book-inspired piece of dessert. Could be cupcakes. Could be pie. Could be piecakes. We care not. Just must be dessert. Let your brain go nuts. You make the dessert, you take pictures of the dessert and you can explain what it is and how it relates to Graveyard Book.
What do you get out of the deal? (Besides dessert, of course.)