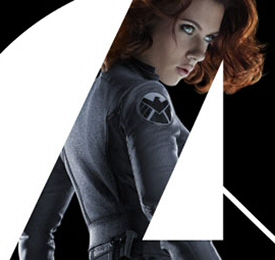 Each week we try to bring you a catch-up post on the latest in pop culture news. Because reading a whole bunch of individual posts just takes too much bloody time. And we want you to have a life. So enjoy.
Speaking of having a life: it's Black Friday. And if you're going to snag some Black Friday deals (or anything at all, really) from Amazon, please do it through us. You can even use this link. When you do, we get kickbacks and those help to keep Need Coffee alive. Many thanks, amigos.
Marvel has released a series of Avengers teaser posters. That's a snippet there with Scarlett as Black Widow. For the whole lot, featuring all the major characters, check out this link.
Arrested Development lives. It's coming back in early 2013 thanks to Netflix. No idea where a rumored feature film is at this point. Dear Netflix: keep some money handy for when AMC gets stupid and decides Walking Dead is too expensive. Just a tip. Source: Variety.