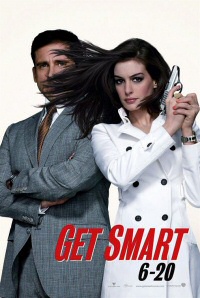 Written by: Tom J. Astle & Matt Ember, based on the show by Mel Brooks & Buck Henry
Directed by: Peter Segal
Starring: Steve Carell, Anne Hathaway, Alan Arkin, Dwayne Johnson, Terence Stamp
My Advice: Rental.
Maxwell Smart (Carell) has a dream. He wants to become a field agent for CONTROL, the organization that's so super secret they had to stage their own dissolution after the Cold War. But they're still around and still protecting the world from KAOS. Trouble is, KAOS has gotten the upper hand thanks to the machinations of Siegfried (Stamp) and a lot of CONTROL agents have been put on the bench. Or, you know, killed outright. Thus it's up to the two agents that CONTROL still has under wraps, Agent 99 (Hathaway) and Smart himself, to get to the bottom of what's happening and save the world.