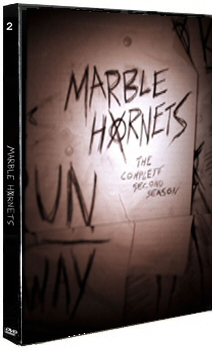 Series:


DVD:

Directed by: Troy Wagner & Joseph DeLage
Written by: Troy Wagner, Joseph DeLage, Tim Sutton & Kirill Baru
Starring: Troy Wagner, Joseph DeLage, Jessica May & Tim Sutton
Genre: Internet Horror series.
YouTube channels: Marble Hornets; totheark
Twitter: @marblehornets
Previously: My review of Season 1.
Series review: Marble Hornets Season 2 begins with our protagonist Jay waking up in a hotel seven months after Season 1 with no idea of how he got there, or what happened since entry 26. He and a girl named Jessica are the only tenants in the hotel, and Jay soon learns that Jessica has also forgotten how she got there. Jay later finds footage that he shot in the missing seven months, and he begins to piece together what has happened to him, and those in his proximity.