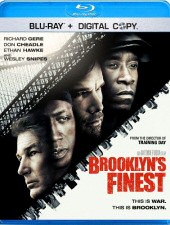 Brooklyn's Finest, starring Richard Gere, Don Cheadle, Ethan Hawke, and Wesley Snipes, is coming to Blu-ray, and we have a copy to give away. Here's what they have to say for themselves:
When NYPD's Operation Clean Up targets the notoriously drug-ridden BK housing project, three conflicted New York City police officers find themselves swept away by the violence and corruption of Brooklyn's gritty 65th Precinct and its most treacherous criminals. Each man finds himself spiraling toward the same fatal crime scene and a shattering collision with destiny, in this action-packed crime drama directed by Antoine Fuqua (Training Day).
Trailer? Okay, sure.