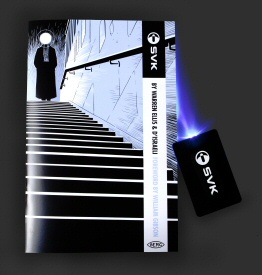 My parents were always supportive of my tendency to read just about everything, so I never really had the experience of reading comics by flashlight under the covers when I was meant to be asleep. I'm sure if I did have that memory, reading SVK would have invoked childhood associations with clandestine information.
SVK is the new Warren Ellis/D'Israeli/BERG joint: a comic that was sold only by mail order and printed with a special ultraviolet dye that you need the ultraviolet torch to read (it's a British book by British creators–the transAtlanticism makes sense). The gimmick is that thought balloons–long thought to be out of favor among Anglo-Saxon creators–are printed in ultraviolet (UV), so you (the reader) need the torch to read them.
As there is UV ink on almost every page of the book, it is generally worthwhile to basically read the whole book via the UV torch. This works best in a dark room, so that you are actually relying on the torch for all of your light–"a flashlight under the covers." Printed only in black and white, the only color is the UV, which works perfectly. The book is illustrated by D'Israeli, a master craftsman who cut his teeth on black and white pieces for 2000AD like Leviathan.