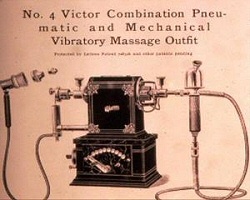 Pop culture news won't change your life. The minutes you save reading these posts instead of other sites, where they just pile on info you don't need–those minutes can change your life. We're here to empower you. You're welcome.
Move swiftly, friends. Any season of X-Files you want is $13.99 today only–for just a few hours more–at Amazon. Here's that link you need.
Considering a recent episode of Weekend Justice, this news will interest some members of the league. The movie is Hysteria and takes place in Victorian-era England around the same time that the vibrator was invented. It stars Hugh Dancy and Jonathan Pryce as doctors treating the titular affliction. Dancy and Rupert Everett experiment with the new device while Maggie Gyllenhaal will play Pryce's daughter. Yes. I say do a double feature between this and the Darwin movie Creation and that way you're sure to offend somebody! Source.