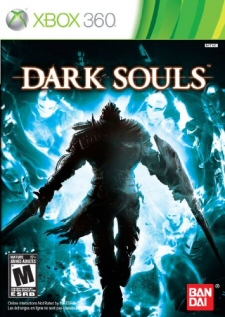 Release Date: October 4, 2011
Developed by: From Software
Published by: Namco/Bandai Games
Rating: Mature
Genre: Third Person Hack-and-Slash RPG.
Platforms: PS3, Xbox 360
Score:

As the spiritual sequel to Demon's Souls, Dark Souls had big shoes to fill. Demon's Souls was a sleeper hit of 2009, its crippling difficulty and innovative online play quickly creating ripples through the gaming community. From Software, not content with releasing more of the same, set out to create a game that built on the innovations of the original. Not only has Dark Souls filled the shoes of its older brother, it has surpassed its sibling in almost every aspect.
In the world of the game, those marked with the Dark Sign are doomed to be undead. The sign provides immortality, but one day the one marked will become Hollow and lose all humanity. Undead that are not hunted or imprisoned journey to Lordran, a land overseen by ancient lords. Gwyn: God of Sun, The Witch of Izalith, and Nito: the first of the dead worked to destroy the dragons that ruled the world and allow the proliferation of mankind. However, Lordran has fallen into despair. Gwyn himself has died and become Hollow and evil; malice has spread across the land. You play as an Undead, chosen to leave their asylum and restore Lordran.