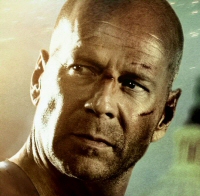 Written by: Mark Bomback
Directed by: Len Wiseman
Starring: Bruce Willis, Timothy Olyphant, Justin Long, Mary Elizabeth Winstead, Kevin Smith
Review: You know you have a fantastic movie when you see cameos from not only actors, but other movies as well. And you know you have a downright kick-ASS movie when I, Siege, never once think, "God, would they blow something up already!?"
Not. Even. Once.
Time: 15 seconds.

Where to Find Stuff