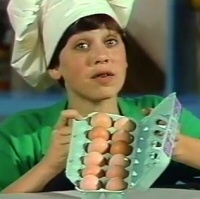 It's Monday morning. And that means you could wander into work with no preparation whatsoever, to be beset upon by the demons that make up the work week. But why would you do that? Instead, use a little bit of horrid surreality and inoculate yourself against the chaos that is to come. It will get your brain ready. And it only hurts for...well, depends on how long the videos last.
This session we'd like to talk about rap. When executed well, it can be a solid classic. But when used for the wrong reasons it can terrify and stupefy.
Exhibit A: a rap performed by all-stars of the musical genre in 1989. On one hand, you have to commend them for trying to stand up for an environmental cause that they appear to believe in. On the other hand, it's hard to take any video seriously in which people are dancing like...that. The...inclusion of Kid n Play doesn't help matters.

Direct link for the feedreaders.
Next we have a vid thanks to the lunatics at Everything is Terrible!, in which we learn about eggs. Now there's no doubt it's important to know about eggs, but must we learn it via a small boy who has been possessed by the spirit of some rapping demon. That's what I think is happening in this video, I'm not sure about you...