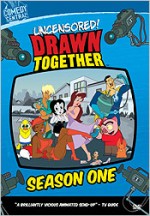 Filter refuses to leave you alone. They're stalking you. And, you know what? We're helping them. So you might as well surrender and enter our new contest, in which you can win a prize pack based around Drawn Together, the sick animated reality television show that the folks at the FCC secretly adore but won't own up to loving.
First up, there's the DVD set, which is sweet. But, you know, wrong. So it's sweet and wrong, and here's why: you get the first season's episodes spread across two discs, uncensored and extended; audio commentaries by the creators; deleted scenes; a censored/uncensored game; four never-before-seen segments; and a karaoke sing-along. That latter bit scares the shit out of me--I don't know about the rest of you.
Is that enough? All right, you greedy bastards. You also get a Drawn Together keychain complete with condom which you can either remove or not...I mean, I wouldn't trust a condom associated with cartoon characters myself, but whatever floats your boat. A dry erase board (no idea how large...don't plan on covering a whole wall, though) and door hangers.
Interested? Never mind...we don't care if you are or not. But do you want to win? Fine. Some ground rules apply:
You have to fill out the form--properly--for the entry to be valid.

We're not going to give away or sell your address or e-mail address or anything without your permission.

You can only enter once. For those of you who need it spelled out to you, that's one person per street address AND e-mail address. You whackjobs who send us fifteen entries a month for the Mystery Box with addresses like "123 Main Street," "123 Main Avenue" and "123 Main" are weak. So don't even try it. We'll throw out all the extraneous entries and mock you.

Contest is open to U.S. residents only this time around.

Contest ends at 11:59PM EST, on Wednesday, November 9th.

And--while you're waiting to find out if you've won or not, check out this Drawn Together personality quiz. It is with a vast wrongness as well.
Contest Closed! For available contests, click here.