Here's yer DVD goodness...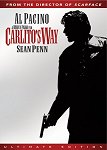 DVD of the Week: Carlito's Way. Al Pacino is in fine form here (as is Sean Penn) in this Brian DePalma-directed flick about a felon trying to go straight (hmm, I've heard this somewhere else) who is having difficulties doing so. Considered a fine gangster pic, this gets a better release from Universal than we had previously, anyway. It comes with a featurette talking with DePalma along with deleted and extended scenes. There's also a making-of featurette and more. This was released, no doubt, to capitalize on the direct to video prequel. Well, take advantage if that's your thing. (Buy it)
TV DVD of the Week: The Peter Jennings Collection. For any fan of the late newscaster, Anchor Bay has just the ticket for you. Here's six of his investigative reports, love em or lump em, from ABC...covering subjects from the drug ecstasy to American obesity to American privacy in a post-9/11 world. You'd have to be a serious hardcore fan to want to invest in this, but if nothing else, if you want to revisit, I'm sure somebody has it for rental. (Buy it)
Anime DVD of the Week: Kyo Kara Maoh, Vol. 3. Demon Kings, demon musical instruments, demon pregnancies...it's a little demon franchise all in the four episodes that comprise this Geneon release. Wacky, no? Well, Yuri and his compatriots have to get to the bottom of all of it...and quickly, because the conflict is definitely getting stepped up. In addition to the quartet of episodes you get an art galley. (Buy it)
Animation DVD of the Week: Alvin & the Chipmunks: A Chipmunk Christmas. For those that want Paramount to start releasing the complete series of Alvin, Simon and Theodore, listen up: here's the Xmas special and two episodes from the series on one disc. Not only can you send a signal that you'll buy more but you get to enjoy these holiday-themed bits with those young ones in your family who have no clue who the characters are. Take advantage of the low price point and educate them. (Buy it)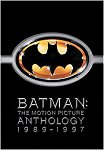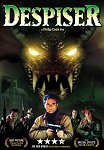 Boxed Set of the Week: Batman: The Motion Picture Anthology. We give these movies a lot of grief...especially the later ones. But hey, they earned them. However, if you liked the movies, you owe it to yourself to snag this. And if you just like Batman, then for posterity's sake, you should probably snag it regardless. You get two discs for each film, and each comes with a director's commentary. The first film comes with a featurette that has Bob Kane on the set, a history of the character both in comics and in film (that spans all the films' discs), and a crapload--I'm talking crapload--of art and production design and whatnot featurettes. They say that there's eighteen hours of features on here and they are not screwing around. For more info, check out the official site. (Buy it)
Brit DVD of the Week: Are You Being Served? Christmas. Now bear in mind who this is targeted to: if you've already got all the various series boxed sets, then you have these. This BBC release contains four episodes that are split out to take advantage of the season and anybody who just wants to gift someone else on their list with a taste of Grace Brothers. And hey--low price point as well. Bear that in mind, those of you who want to convert others. (Buy it)
Family DVD of the Week: The Adventures of Sharkboy and Lavagirl in 3-D. Okay, fine. You saw the trailer and thought: Christ, that looks dumb as hell. But just like Spy Kids 3-D, if you're reading this site you're probably outside its demographics. How can you not like a film that's designed to be a ten year old's ultimate movie? And plus it's Rodriguez showing off and working on a film with his kid. How can you not at least respect it for that, huh? Anyway, this Dimension release comes with a Rodriguez commentary, both 3-D and 2-D versions, and of course--3-D glasses. (Buy it)
Indie Video of the Week: Despiser. If there's one thing we admire around here, it's people who grab the bull by the horns and do stuff themselves. I wonder why that is. Anyway, take an interesting idea--purgatory is among us now, just operating on a different wavelength and it's been taken over by baddies who are being opposed by folks who have popped in there from different points in time, kinda like From Beyond meets Riverworld sorta--and have a director who bites off way more than he can chew in the effects department...and you get this movie. It's got warts--a lot of them--but it's kinda hard to hate the movie, honestly. This release from Alpha Video comes with a making-of featurette, a director's commentary, bloopers, deleted scenes and more. (Buy it)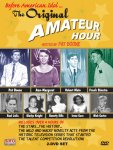 Horror DVD of the Week: Undead. Crazy dudes with stacked-up multi-shotguns. Meteorites falling out of the sky. Crazed zombies. Do I really need to say anything else? Of course not, you're sold. I had you at "multi-shotguns." Now, admittedly, this is one of those popcorn-muncher undead flicks, but it's got a respectable hoot factor nonetheless. This Lions Gate release comes with a cast commentary, a making-of featurette, an effects featurette, make-up tests, some extended and deleted scenes, plus more. (Buy it)
Archive DVD of the Week: The Original Amateur Hour. Okay, what does that mean: archive DVD? Well, sometimes you just want to look at something from the angle of posterity. All it takes is a look at the cover--where you can see younger versions of everybody from Frank Sinatra to Raul Julia to Gladys Knight--to kick off curiosity in many of you. So the fan of early television, or any of the completists regarding the artists contained within, will want this. The cover of this Kultur release also says "Before American Idol," and yes, boys and girls, with this TV show the audience would vote with postcards? Don't ask me what postcards are. Go to your room. Jesus. (Buy it)
Fu DVD of the Week:
The Bruce Lee Ultimate Collection
. A whole lot of Bruce Lee is here from Fox, with five movies--four of which are even Bruce Lee movies! What a deal!
The Big Boss
,
Fist of Fury
,
Game of Death
,
Game of Death 2
, and
Way of the Dragon
. We'll forgive them for including the flick Doc reviewed. Anyway, since the Master Collection appears to be a special order these days, or if you just want a refresher, snag or rent this one. (
Buy it
)
UMD of the Week: First Blood. Long before it turned into a franchise and then a joke, you have to admit that the first movie was pretty damn cool. Kind like "The Most Dangerous Game," if Rainsford was an utter and complete killing machine. And you know, if Zaroff was Dennehy. But this first installment shines, especially when you're watching it at red lights and standing in line at Publix. The ability to do so comes with having a PSP and snagging this from Lions Gate. And hey, a UMD with bonus bits! Sweet: commentary with Stallone and an alternate ending is provided. (Buy it)