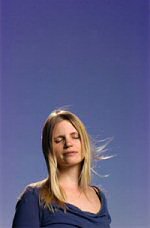 Quick rundown of the latest tracks from the music blogosphere that have cranked our collective tractor. For the ultimate musical timesuck, check out the Hype Machine.
The Cat Empire. Brass section that's sharp enough to cut glass coupled with some sweet beats. "Hello" is fun in a gel caplet. They remind me of Reel Big Fish crossed with Black Grape. Experience some at Aurgasm. Official site. Buy the album.
Magnet. "Hold On." Magnet is apparently just one guy, which, as a singer who can't write music to save my misbegotten life and who doesn't play well with others–folks like him disgust me in the best way. "I'm my own band! Moohahaha!" They laugh at me through my headphones. Mocking bastards. Anyway, this reminds me of a folksy Kenna, and it is nice and smooth. Found via the inevitable Gorilla vs. Bear. Official site. Buy the album.
Petracovich. Check out "Nighttime." Gorgeous, slightly melancholy, moderately cryptic, begs to be listened to while driving down the highway, full moon, windows down. Found originally via Shake Your Fist, file's still live and available via Pocket|Trax. Official site. Buy the album.
Tin Hat Trio. Piano, guitar, percussion and liberal doses of strings. That's some excellent stuff and we are absolute suckers for strings. Found as well via Aurgasm. Official site. Buy the album.
Voxtrot. "I will never live like you but you will probably die like me…" I think what draws me to songs like "Raised by Wolves" is that if you just listen without paying attention, it sounds like just another pop rock song. Then you listen to the lyrics and there's a totally different thing going on. Found via Tonight Let's Dance. Official site.