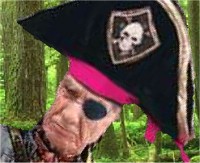 For those needing a primer in the ways of Arrrr, How Stuff Works has published How Pirates Work to get you ready for Pirates 2 tomorrow. Which we pray to the cinema gods: please don't let it suck. Please.
Image, of course, taken from the best pirate movie ever, How to Kill a Mockingbird.
Direct link for the feedreaders.