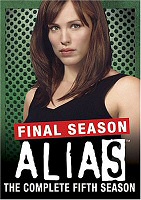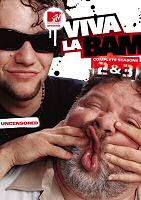 Alias – The Complete Fifth Season. CIA agent Sydney Bristow has a lot to deal with in this final season. It's not exactly healthy to be her boyfriend. And she finds out she's pregnant. She gets an early start on the whole maternal thing when she has to help Rachel Gibson (Rachael Nichols) come to terms with working for a shadowy group posing as the CIA, something Sydney is all too familiar with. Together with the maverick agent Tom Grace and spy daddy Jack Bristow (Victor Garber), they will fight to stop arch nemesis Arvin Sloane from possessing the greatest creation of the Renaissance genius Milo Rambaldi. Buena Vista has packaged all 18 ass-kicking episodes with plenty of extras as always. There are commentaries on four episodes, a behind the scenes featurette at the 100th episode, and at the music for the series. You also get a look at the new recruit Rachael Nichols, the master of McGuffins, Rambaldi, and of course, a blooper reel. Buy it from Amazon.
[fusion_builder_container hundred_percent="yes" overflow="visible"][fusion_builder_row][fusion_builder_column type="1_1″ background_position="left top" background_color="" border_size="" border_color="" border_style="solid" spacing="yes" background_image="" background_repeat="no-repeat" padding="" margin_top="0px" margin_bottom="0px" class="" id="" animation_type="" animation_speed="0.3″ animation_direction="left" hide_on_mobile="no" center_content="no" min_height="none"]
Bewitched – The Complete First Season.
This is where I'd put a synopsis of the DVD, but this is
Bewitched
. Everyone knows
Bewitched
. Everyone. When aliens finally get off their butts and come to Earth, they're not going to say "Take us to your leader"; they're going to ask what was up with the two Darrens. With the release of the first season from Sony, you get to see Samantha (Elizabeth Montgomery) and Darren Stephens (Dick York) start their new and interesting life together at 1164 Morning Glory Circle. You can see the first appearances of the indomitable mother in law Endora (Agnes Moorehead), the vigilant to a fault neighbor Gladys Kravis (Alice Pearce), and boss Larry Tate (David White). So pick up this set and reminisce when television could make a funny sitcom. You also get a featurette of the history of the show and another that points out some of the continuity errors you may have missed the first hundred times you watch it.
Buy it from Amazon.
Viva La Bam – Complete Seasons 2 & 3. Many have criticized shows like Jackass and Viva La Bam for their juvenile antics and psychotic glee in harming themselves and others. But really, if you had a shitload of money and an army of attorneys at your disposal, you'd pull some of the same crap Bam Margera and his cadre of accomplices. MTV packages 16 episodes which see Bam moving into a large farmhouse with a large plot of land where he can cause large trouble. But we also see him sating his near inexhaustible appetite for destruction in New Orleans, the Mall of America, and on the open seas. Also in the set is some deleted scenes, montages of some of the more insane moments of the series, two music videos and a behind the scenes featurette on one, and a photo gallery. While not intellectually simulating, this set will make the evil little 5 year old in all of us very happy. Buy it from Amazon.[/fusion_builder_column][/fusion_builder_row][/fusion_builder_container]