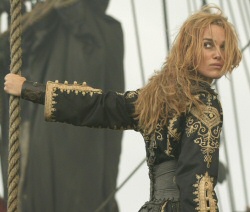 The director of Atlas Shrugged has been shunted from the project, so Cinematical reports. I'm in favor of this. Maybe the next director can jettison the screenwriter, in favor of somebody who's actually read the book–and understood it. In the interview I read with him, I got the feeling that Randall Wallace figured he could make up a new ending to the book, because surely no one's finished a book that size, right? Surely not… Found via Atlasphere.
Disney parks are being Dixarified. Don't panic, because the Pixar folks have been working closely on the projects. Okay, well, it is Disney. I suppose a little panic is warranted.
Hedviga Golik was last seen in 1966. She was found this past May sitting in front of her television, dead for forty-two years. All I can say is that some people took the cancellation of The Donna Reed Show harder than others.